Daniela Ryf enters history with her fifth IRONMAN 70.3 world title in Nice
He has won the IRONMAN 70.3 Nice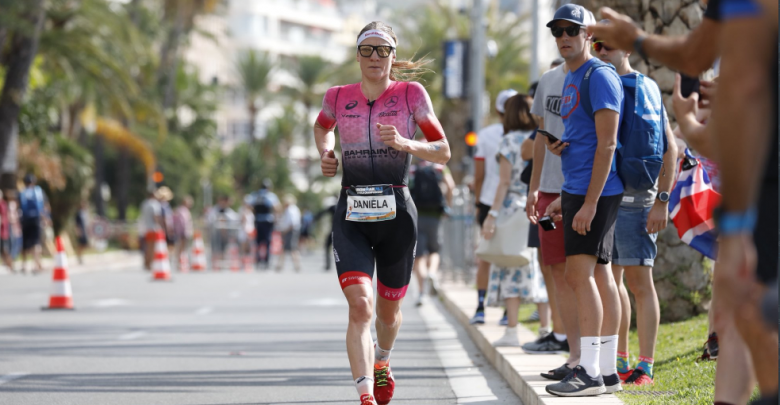 The Swiss triathlete Daniela Ryf has achieved victory today in the IRONMAN World Championship 70.3 in Nice, where he has achieved his fifth victory, something that nobody has achieved, neither in women nor in men.
Danyela Ryf it was the clear favorite, although at the starting line they were Lucy Charles y Holly Lawrence, o Anne Haug o Emma Pallant among others. Judith Corachán He was our only representative in the test.
The test began at 7 in the morning with the 1.900 meters of swimming where the first to leave the water was Lucy Charles taking 1 minute ahead of Pámella Oliveria, Holly Laurence and 1: 09 to Daniela Ryf. Judith was leaving more than 2 minutes from Charles.
Already on the bike, in the first kilometers of uphill a group formed by Ryf, Laurence, Imogen Simmonds, Payla Findlay, Lisa Norden and Amelia Watkinson caught up with Charles marching in a stretched all together on the 27 kilometer race.
Cycle segment profile
In passing through the first level at the 36 control point, Amelia Watkinson with a great pace marched ahead passing in first position with an advantage of 29 seconds over Ryf, 36 over Simmonds and 43 over Laurece and Charles. The latter would have to stop in a penalty box for 4 minutes for a penalty.
On the descent, Ryf made an attack seeking to leave alone getting a minute of advantage in the passage through the kilometer 60 over Laurence, Simmons and Watkinson. Lisa Norden was fourth going to 4: 51 handicap. Lucy Charles spent 7ª with 5: 32 disadvantage. At this point Judith spent more than 15 minutes from Ryf.
Finally, Daniela Ryf continued to increase her advantage to reach T2 with 2: 34 of advantage over Simmondsy Laurence and 4: 17 over Watkinson. Lucy Charles, who kept cutting differences was sixth to 7: 10. Corachán got off the 20º bike for more than 17 minutes.
In the running race Daniela Ryf He knew how to maintain his advantage to achieve victory in a time of 4: 23: 04, getting his fifth world title in the specialty.
The second classified has been Holly Lawrence (4: 27: 02) followed by Imogen Simmonds (4: 28: 10) occupying the third final position.
Lucy Charles finally it has been fifth finishing the test to 8: 45 of the Switzerland. The Spanish Judith Corachán It has finished in the 14º place.
Top 15 Women's Ranking
1 Ryf, Daniela (SUI) 04: 23: 04
2 Lawrence, Holly (GBR) + 03: 58 04: 27: 02
3 Simmonds, Imogen (SUI) + 05: 06 04: 28: 10
4 Sodaro, Chelsea (USA) + 08: 03 04: 31: 07
5 Charles-Barclay, Lucy (GBR) + 08: 46 04: 31: 50
6 Kahlefeldt, Radka (CZE) + 10: 34 04: 33: 38
7 Watkinson, Amelia (NZL) + 11: 02 04: 34: 06
8 Genet, Manon (FRA) + 11: 10 04: 34: 14
9 Pallant, Emma (GBR) + 11: 22 04: 34: 26
10 Svensk, Sara (SWE) + 12: 19 04: 35: 23
11 Lee, India (GBR) + 13: 06 04: 36: 10
12 Sali, Kaisa (FIN) + 14: 14 04: 37: 18
13 Findlay, Paula (CAN) + 16: 17 04: 39: 21
14 Hering, Jackie (USA) + 16: 46 04: 39: 50
15 Corachan, Judith (ESP) + 20: 47 04: 43: 51
The times of Daniela Ryf
Swimming 1.900 m; 26: 32 (1 average: 24 100 / m)
Cycling 90km: 2:33:38 (average of 35,93 km / h)
21km foot race: 1:18:37 (average 3:44 min / km)
Daniela gets a record, 5 world titles
With this victory, 5 has already joined the IRONMAN 70.3 World Championships (2014, 2015, 2017, 2018 and 2019) getting a feat that has not done any triathlete in either female or male category, get 5 70.3 world titles
5️⃣x IRONMAN 70.3 World Champion!#AnythingIsPossible pic.twitter.com/pZ5WXqJHo3

- IRONMAN Triathlon (@IRONMANTR) September 7, 2019


Tomorrow the male test

Tomorrow it will be the turn of the men's competition, where world champions such as Javier Gómez Noya, Alistair Brownlee, Sebastian Kienle, Patrick Lange or Frederick Van Lierde will fight for victory,

You can follow the test live through this link