The Pro poster for the Ironman 70.3 World Championship
This 2019, is expected one of the best tests of recent years with the presence of several world champions.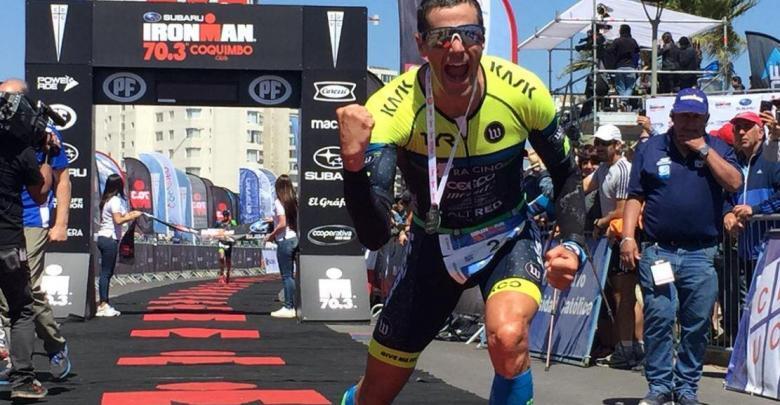 El Ironman World Championship 70.3 will be held in Nice next 8 September 2019 where for now the only Spanish who has a place is Fernando Alarza.
In the Output list we find Kristian Blummenfelt, Terenzo Bozzone, Ben Hoffman, Patrick Lange, Lionel Sanders , Andy Potts o Andrew Starykowicz among others. In the female category we see Laura Philipp Danyela Ryf, Mirinda Carfrae, Holly Lawrence, Lisa Norden, Emmna Pallant or among others.
To date, a total of 77 professionals have a guaranteed place on the starting line on the beach to the famous Promenade des Anglais. Professional athletes will be able to win a pass for this test until the 30 of June of 2019.
Professional male list
| | | | |
| --- | --- | --- | --- |
| Alarza | Fernando | Spain | IRONMAN 70.3 Portugal |
| Amorelli | Igor | Brazil | IRONMAN 70.3 Ecuador |
| Angert | Florian | Germany | IRONMAN 70.3 Jönköping |
| Appleton | Sat | United States | IRONMAN 70.3 Santa Rosa |
| Azevedo | Philip | Portugal | IRONMAN 70.3 Shanghai |
| Blummenfelt | Kristian | norway | IRONMAN 70.3 Bahrain |
| Bowstead | Mark | New Zealand | IRONMAN 70.3 Taupo |
| Bozzone | Terenzo | New Zealand | IRONMAN 70.3 Western Sydney |
| Butterfield | Tyler | Bermuda | IRONMAN 70.3 Phillipines |
| Cheek | Alan | Mexico | IRONMAN 70.3 Cozumel |
| Carnation | Mauritius | Germany | IRONMAN 70.3 Vichy |
| Collington | Kevin | United States | IRONMAN 70.3 Buenos Aires |
| Hoffman | Ben | United States | IRONMAN 70.3 Santa Cruz |
| Iden | Gustav | norway | IRONMAN 70.3 Bahrain |
| Kibby | Mitchell | Australia | IRONMAN 70.3 Qujing |
| Lagerstrom | Eric | United States | IRONMAN 70.3 Steelhead |
| Lange | Patrick | Germany | IRONMAN 70.3 Ruegen |
| Laundry | Jackson | Canada | IRONMAN 70.3 Augusta |
| Lecomte | Tom | France | IRONMAN 70.3 Lanzarote |
| Libin | Alex | United States | IRONMAN 70.3 Buenos Aires |
| Maciel Da Silva | Paulo Roberto | Brazil | IRONMAN 70.3 Cartagena |
| Mainwaring | David | Australia | IRONMAN 70.3 Sunshine Coast |
| Mendez Cruz | Mauricio | Mexico | IRONMAN 70.3 Phillipines |
| Millward | Callum | New Zealand | IRONMAN 70.3 Boulder |
| North | Banjo | Philippines | IRONMAN 70.3 Phillipines |
| O'Donnell | Tim | United States | IRONMAN 70.3 Poland |
| Phillips | Mike | New Zealand | IRONMAN 70.3 Bintan |
| Pictor | Sat | United Kingdom | IRONMAN 70.3 Weymouth |
| Potts | Andy | United States | IRONMAN 70.3 Coquimbo |
| Reed | Timothy | Australia | IRONMAN 70.3 Phillipines |
| Sanders | Lionel | Canada | IRONMAN 70.3 Indian Wells, La Quinta |
| Serrano | Francisco | Mexico | IRONMAN 70.3 Los Cabos |
| Smales | Elliot | United Kingdom | IRONMAN 70.3 Dun Laoghaire |
| Sowinski | Milosz | poland | IRONMAN 70.3 Xiamen (China) |
| Starykowicz | Andrew | United States | IRONMAN 70.3 Waco |
| Vinuto Josino | Yuri | Brazil | IRONMAN 70.3 Rio de Janiero |
| Von Berg | Rodolphe | United States | IRONMAN 70.3 Nice |
| White | Michael | Austria | IRONMAN 70.3 Zell um See |
Female professionals list
| | | | |
| --- | --- | --- | --- |
| Brandon | Lauren | United States | IRONMAN 70.3 Ecuador |
| Brown | Christen | United States | IRONMAN 70.3 Cartagena |
| Carfrae | Mirinda | Australia | IRONMAN 70.3 Santa Rosa |
| Chura | Haley | United States | IRONMAN 70.3 Waco |
| Crowley | Sarah | Australia | IRONMAN 70.3 Santa Cruz |
| Davis-Hayes | Cecilia | United States | IRONMAN 70.3 Buenos Aires |
| Frederiksen | Helle | Denmark | IRONMAN 70.3 Vichy |
| Ganzon | Alexandra | Philippines | IRONMAN 70.3 Phillipines |
| Genet | Manon | France | IRONMAN 70.3 Nice |
| Goss | Lauren | United States | IRONMAN 70.3 Coquimbo |
| Hann | Clear | United Kingdom | IRONMAN 70.3 Ruegen |
| Haskins-Kortuem | Sarah | United States | IRONMAN 70.3 Steelhead |
| Jerzyk | Agnieszka | poland | IRONMAN 70.3 Portugal |
| Komander | Ewa | poland | IRONMAN 70.3 Poland |
| Lawrence | Holly | United States | IRONMAN 70.3 Bahrain |
| Lee | India | United Kingdom | IRONMAN 70.3 Weymouth |
| Ballast | Carrie | Australia | IRONMAN 70.3 Los Cabos |
| Lewis | Sarah | United Kingdom | IRONMAN 70.3 Bahrain |
| Luxford | Annabel | Australia | IRONMAN 70.3 Sunshine Coast |
| Mccauley | Jocelyn | United States | IRONMAN 70.3 Taupo |
| Mckenzie | Beth | United States | IRONMAN 70.3 Bintan |
| north | Lisa | Sweden | IRONMAN 70.3 Jönköping |
| Olive tree | Pamella | Brazil | IRONMAN 70.3 Rio de Janiero |
| Palace | Romina | Argentina | IRONMAN 70.3 Buenos Aires |
| Pallant | Emma | United Kingdom | IRONMAN 70.3 Dun Laoghaire |
| Philip | Laura | Germany | IRONMAN 70.3 Zell um See |
| Ryf | Daniela | Switzerland | IRONMAN 70.3 Poland |
| Salthouse | Ellie | Australia | IRONMAN 70.3 Boulder |
| Sanjana | Frankie | United Kingdom | IRONMAN 70.3 Bahrain |
| Schulz | Jenny | Germany | IRONMAN 70.3 Lanzarote |
| Seymour | Jeanni | South Africa | IRONMAN 70.3 Augusta |
| Simmonds | Imogen | Switzerland | IRONMAN 70.3 Shanghai |
| Sodaro | Chelsea | United States | IRONMAN 70.3 Indian Wells, La Quinta |
| Steffen | Caroline | Switzerland | IRONMAN 70.3 Phillipines |
| Thoes | Svenja | Germany | IRONMAN 70.3 Cozumel |
| Vodickova | Radka | Czech Republic | IRONMAN 70.3 Phillipines |
| Wells | Hannah | New Zealand | IRONMAN 70.3 Western Sydney |
| Withrow | Kelsey | United States | IRONMAN 70.3 Qujing |
| Würtele | Heather | Canada | IRONMAN 70.3 Xiamen (China) |
| | | | |
| --- | --- | --- | --- |
| Brandon | Lauren | United States | IRONMAN 70.3 Ecuador |
| Brown | Christen | United States | IRONMAN 70.3 Cartagena |
| Carfrae | Mirinda | Australia | IRONMAN 70.3 Santa Rosa |
| Chura | Haley | United States | IRONMAN 70.3 Waco |
| Crowley | Sarah | Australia | IRONMAN 70.3 Santa Cruz |
| Davis-Hayes | Cecilia | United States | IRONMAN 70.3 Buenos Aires |
| Frederiksen | Helle | Denmark | IRONMAN 70.3 Vichy |
| Ganzon | Alexandra | Philippines | IRONMAN 70.3 Phillipines |
| Genet | Manon | France | IRONMAN 70.3 Nice |
| Goss | Lauren | United States | IRONMAN 70.3 Coquimbo |
| Hann | Clear | United Kingdom | IRONMAN 70.3 Ruegen |
| Haskins-Kortuem | Sarah | United States | IRONMAN 70.3 Steelhead |
| Jerzyk | Agnieszka | poland | IRONMAN 70.3 Portugal |
| Komander | Ewa | poland | IRONMAN 70.3 Poland |
| Lawrence | Holly | United States | IRONMAN 70.3 Bahrain |
| Lee | India | United Kingdom | IRONMAN 70.3 Weymouth |
| Ballast | Carrie | Australia | IRONMAN 70.3 Los Cabos |
| Lewis | Sarah | United Kingdom | IRONMAN 70.3 Bahrain |
| Luxford | Annabel | Australia | IRONMAN 70.3 Sunshine Coast |
| Mccauley | Jocelyn | United States | IRONMAN 70.3 Taupo |
| Mckenzie | Beth | United States | IRONMAN 70.3 Bintan |
| north | Lisa | Sweden | IRONMAN 70.3 Jönköping |
| Olive tree | Pamella | Brazil | IRONMAN 70.3 Rio de Janiero |
| Palace | Romina | Argentina | IRONMAN 70.3 Buenos Aires |
| Pallant | Emma | United Kingdom | IRONMAN 70.3 Dun Laoghaire |
| Philip | Laura | Germany | IRONMAN 70.3 Zell um See |
| Ryf | Daniela | Switzerland | IRONMAN 70.3 Poland |
| Salthouse | Ellie | Australia | IRONMAN 70.3 Boulder |
| Sanjana | Frankie | United Kingdom | IRONMAN 70.3 Bahrain |
| Schulz | Jenny | Germany | IRONMAN 70.3 Lanzarote |
| Seymour | Jeanni | South Africa | IRONMAN 70.3 Augusta |
| Simmonds | Imogen | Switzerland | IRONMAN 70.3 Shanghai |
| Sodaro | Chelsea | United States | IRONMAN 70.3 Indian Wells, La Quinta |
| Steffen | Caroline | Switzerland | IRONMAN 70.3 Phillipines |
| Thoes | Svenja | Germany | IRONMAN 70.3 Cozumel |
| Vodickova | Radka | Czech Republic | IRONMAN 70.3 Phillipines |
| Wells | Hannah | New Zealand | IRONMAN 70.3 Western Sydney |
| Withrow | Kelsey | United States | IRONMAN 70.3 Qujing |
| Würtele | Heather | Canada | IRONMAN 70.3 Xiamen (China) |
Photo: Ironman