Ironman News
Eneko Llanos and Heather Jackson win the IRONMAN Vitoria
The vitoriano has obtained the victory in the first edition of the test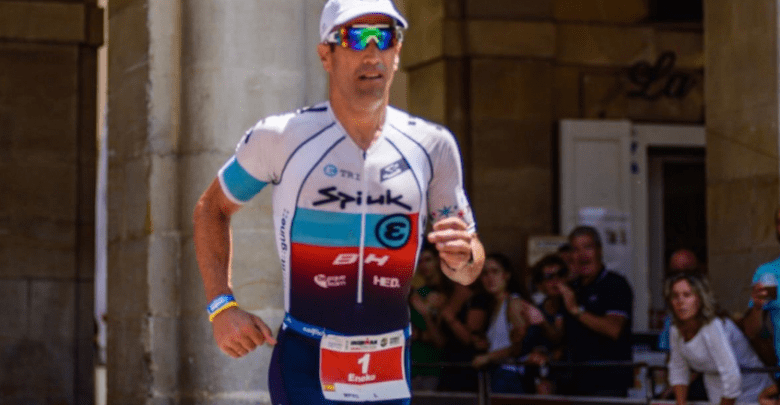 Today, the first edition of the IRONMAN Vitoria with the presence of some of the best Spanish professionals in the long distance such as Eneko Llanos, Alejandro Santamaria, Miquel Blanchart, Carlos Lopez, Judith Corachán or Judith Brito among others.
The test has counted on more than 2.000 triathletes, a record, in one of the tests where most triathlon is lived in our country.
It all started at 8: 20 in the morning with the start at the Ullibarri-Gamboa lake with the 3,8 km of swimming. The first to leave the water was Josh Amberger followed by Carlos López or Peru Alfaro to 1: 17. Eneko Llanos left 5º to 1: 25, Miquel Blanchart 6º to 7: 23 and Alejandro Santamaría 12º to 12: 32.
In the 180 km of cycling, Amberger was in the lead up to km 60 where he was overtaken by Eneko Llanos, Antony Costes and Peru Alfaro. At that point Carlos Lopez was fifth but now at 14 minutes, Miquel Blanchart 6º to 15 and Alejandro Santamaría 11º to 22 more than the head of the race.
From there they were imposing a strong rhythm to let Alfaro off the hook leaving the trio alone going through the middle of the segment with 2: 11 advantage.
The leading trio, was increasing its advantage to get to the T2 with 11 minutes ahead of Peru Alfaro who was fourth quarter of the bike. At this point Carlos López was 5º (to 20: 40), Miquel Blanchart sixth (20: 47), Santiago Martínez Torres 8º (to 27: 51) .Sergio Bolado 10º (to 31: 52) and Alejandro Santamaría 11º (to 32) : 04).
Already in the first moments of the race on foot we saw a motivated Eneko Llanos with a strong rhythm leaving his fellow escape. In the step by the kilometer 4,4 of race already ahead of Antony Costes with 56 seconds and Josh Amberger with 1: 03.
Eneko little by little continued increasing its advantage going through the half marathon with 3: 47 of advantage over Amberger and 11: 32 over Peru Alfaro that was already third. Miquel Blanchart passed in fourth position to 20 'of the head of the race, Carlos López 5º to 25'. Alejandro Santamaría, who with a faster pace than the ones in front, was climbing positions, passing sixth to Carlos' 6.
In the 36 km it was already with an 8 advantage: 35 over Amberger, with times of trying to lose 8 hours in the test. Peru Alfaro was still in third position moving to 12 'and 3: 30 in second place. Miquel spent fourth at 10 'by Alfaro
Finally Eneko Llanos he continued to expand his advantage to get the victory in the first edition of the test with a time of 7: 55: 16 down from 8 hours.
#IMVitoria - What a special moment of a great career: @enekollanos takes the inaugural IRONMAN Vitoria-Gasteiz in 7: 55: 16 in his hometown! Congratulations! pic.twitter.com/DyJoxPtVwm

- IRONMANLive (@IRONMANLive) 14 de julio de 2019
The times of Eneko Llanos
Eneko has employed 48:11 in completing the 3,8 km swim (average of 1: 16 100 / meters), 4:16:15 (average of 42 ,, 14 km / h) in doing the 180 km of cycling and 2:46.51 in doing the 42,2 km of running race (average of 3: 58)
In second position has arrived Josh Amberger (8: 06: 55) followed by Peru Alfaro (8: 08: 02) third. Miquel Blanchart (8: 19: 39) has been fourth. Carlos López (8: 27: 20) fifth and Alejandro Santamaría (8: 30: 15) sixth.
Men's 10 Top
1 Plains, Eneko (ESP) 07: 55: 16
2 Amberger, Josh (AUS) + 11: 39 08: 06: 55
3 Alfaro, Peru (ESP) + 12: 46 08: 08: 02
4 Blanchart Red, Miquel (ESP) + 24: 23 08: 19: 39
5 Lopez Diaz, Carlos (ESP) + 32: 04 08: 27: 20
6 Santamaria, Alejandro (ESP) + 34: 59 08: 30: 15
7 Quintans Dominguez, Kristian (ESP) + 38: 12 08: 33: 28
8 Martinez Torres, Santiago (ESP) + 40: 08 08: 35: 24
9 Bolado Noriega, Sergio (ESP) + 52: 24 08: 47: 40
10 Verbeke, Bert (BEL) + 54: 34 08: 49: 50
Jackson wins the women's event with a great Judith Corachán third
In the Women's test, the first to come out of the water was Judith Corachán with 58 seconds ahead of Nina Derron and 3: 35 over Heather Jackson. Ruth Brito was fourth to 3: 47.
Already on the bike, Judith was increasing its advantage to pass through the 52 race kilometer with 1: 54 over Derron and over 4 over Jackson, although shortly after had to stop 5 minutes for a penalty losing the first position of the test.
#IMVitoria - new women's race leader: @NinaDerron is in first place due to a 5-minute penalty for @KORAXAN at about km 55, @hjacksonracing in 2nd now pic.twitter.com/o1XzHsNnSX

- IRONMANLive (@IRONMANLive) 14 de julio de 2019
In the passage through the middle of the segment, Derron passed first and Jackson to 15 seconds. In third position Judith passed with 2: 12 although it was already cutting differences.
Judith suffered a pinchzazo and passed through the sixth 124 kilometer losing almost 18 minutes on Jackson that was first with 1: 53 on Derron. At this point Ruth Brito climbed to the fourth place at 10: 30 of the head of the race.
Heather Jackson continued to increase her advantage to reach the T2 with 6: 15 advantage over Nina Derron and 9: 06 over Joanna Soltvsiak who climbed to third position. Ruth Brito was fifth to 18: 00 and Judith Corachán sixth to 21 '.
In the race on foot the American Jackson little by little was increasing its advantage to pass by the km 15 of race with 12 minutes on Derron.
In the 29 km of the race, Judith was already climbing to the third position staying at 10 minutes of the second place.
Finally the North American Heather Jackson got the victory with a final time of 8: 52: 10. Nina Derron (9: 05: 33) has got the second position. Judith Corachán(9: 13: 37) has finished in third position. Ruth Brito it has been sixth
Women's Classification
1 Jackson, Heather (USA) 08: 52: 10
2 Derron, Nina (SUI) + 13: 23 09: 05: 33
3 Corachan, Judith (ESP) + 21: 27 09: 13: 37
4 Soltysiak, Joanna (POL) + 26: 50 09: 19: 00
5 From Nicola, Federica (ITA) + 33: 08 09: 25: 18
6 Brito Curbelo, Ruth (ESP) + 38: 12 09: 30: 22
7 Nae, Jenny (SWE) + 49: 09 09: 41: 19
You may also be interested in this