Jan Frodeno wins the IRONMAN in Frankfurt by dropping from 8 hours
The German triathlete took the victory in a test that had the presence of Patrick Lange and Sebastian Kienle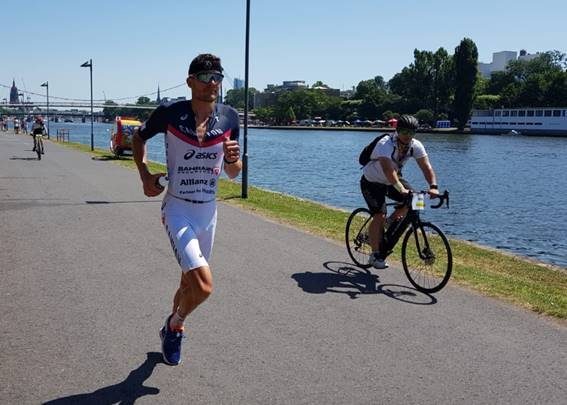 Today has been held in Frankfurt (Germany) a new edition of the IRONMAN Frankfurt, where the European title was also at stake. This time it was the first big match of the year between 3 world champions Patrick Lange (2017 and 2018), Jan Frodeno (2015 and 2016) and Sebastian Kienle (2014), although with an unfortunate puncture of Lange in the cycling sector made him lose all options to fight for the victory.
Jan Frodeno followed by Dylan Mcneice first out of the water, both leading the chasing group by nearly 2 minutes with Patrick Lange and Sebastian Kienle.
In the first kilometers of the cycling sector, Frodeno, with a strong rhythm, already left alone, taking a 1 minute advantage in passing through the control point of km 13.
From behind, little by little Sebastian Kienle was climbing positions to reach second place and maintaining the difference with respect to the leader of the race, although from km 50 he was cutting time to catch up with Frodeno in the last part of the test to arrive together to T2. The cycling segment had a total of 185 km of route.
Patric Lange who was in top positions he suffered a puncture That made him lose a lot of time, leaving him without options in the test, although his goal was to finish an Ironman to be able to be in the World Championship next October.
A nice detail of Frodeno, was that in the T2, Sebastian Kienle had to receive medical attention in his right foot since he stuck a piece of glass. His compatriot, instead of taking advantage of the circumstance, approached him to see how he was doing. A nice gesture
In the race on foot, Frodeno was ahead in the first kilometers of the sector getting a lead of 30 seconds on Kienle who would be seeing if he could run with the wound in the heel.
Little by little Kienle was cutting out differences for him reach you on the race 18 kilometer and be together some meters. After this Frodeno returned to leave him leaving alone to go through the PK24 with 1: 04 advantage over Kienle.
Moment where they are joking Kienle and Frodeno
Finally Jan Frodeno he got his third victory in this test and his second European IRONMAN title with a spectacular time of 7:56:02 falling below 8 hours in a test with a lot of heat and a cycling segment of 185 kilometers long. Sebastian Kienle has been second with a time of 8: 00: 01 and third has been Franz Loeschke (8: 17: 24).
.
Skye Moench wins in females and Saleta Castro fifth
In the female category the victory has been for the North American Skye Moench with a time of 09: 15: 31 followed by the Swiss Imogen Simmonds (9: 26: 01).
The Spanish Saleta Castro has managed to finish in fifth position with a time of 10: 14: 11.
The times of Jan Frodeno
3,8 km swimming: 47:12 (Average of 1:15 the 100 meters)
185 km cycling: 4: 20: 14 (Average of 42,77 km / h)
42,2 km run on foot: 2: 45: 39 (Average 3: 54 min / km)
They will be in Kona
With this classification, both Jan Frodeno and Sebastian Kienle they get his pass for him IRONMAN World Championship, since the test to be regional Championship, awarded two Slots for Kona.
Patrick Lange, World Champion last year, just to finish the test also gets the pass directly to Hawaii next October.