Javier Gómez Noya will captain a record Triarmada, with Spanish 94 at the Ironman 70.3 World Championship in South Africa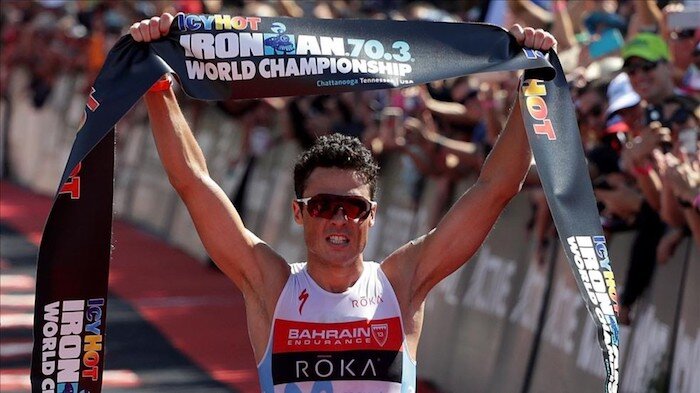 {wbamp-meta name = »image» url = »images / stories / news_08 / gomez-noya-pasa-ironman-1528451318121.jpg» width = »300" height = »150"}
Javier Gómez Noya, Emilio Aguayo and Albert Moreno, will be the three Spanish PROs in the IM 70.3 World Championship, where there will also be 91 triathletes in age groups
The Spanish triathletes will beat the record of participation in an Ironman 70.3 World Championship at the next meeting in South Africa, the 1 and 2 days in September.
In total Habra 94 Spanish, absolute record, a 40% more participation than last year in Chattanooga where there was 57. Each year this figure is increasing, since in 2016 there was 42 in Australia and in 2015 in Austria they were 37, beating each year the participation record.
Javier Gómez Noya will be "better accompanied" than ever in an Ironman 70.3 World Championship, because this year "the captain" will have a record number of Spanish, in a competition where the Galician will seek to be the first man to win 3 worldwide of the queen test of the middle distance.
Among the age groups, there will be 77 men, where we can highlight the presence among many others of Josu Allica y Julen Díez, winners in their age groups in the IM Lanzarote, 45-49 and 18-24 respectively and this year they will do "double": IM World 70.3 and World IM.
In women also absolute record, with Spanish 14. In this category there will be no PRO representation, so Judith Corachán at the moment, it is still the only Spanish PRO to compete in an IM 70.3 World Championship.
The absence of Spanish triathletes PROs leaves as "capitanas" of the women's team Rocío Rodriguez, Isora Sosa y Mireia Masip, the only ones of the 14 participants that repeat in a world cup. Also note that Mireia has already achieved her slot for next year, being the first Spanish to qualify for three World Cups.
Finally we want to emphasize that the Spanish team will be very international in South Africa. We know the cases of Isora Sosa y Aday Alvarez, residents of Qatar, Mireia Masip who lives in Brazil and Rocío Rodríguez who lives in the United States. Surely much of the rest of Spanish triathletes reside outside our country, so the appointment of South Africa will be a nice meeting point for all of them.
Photo: Ironman