Ironman News
Javier Gómez Noya wins and Anna Noguera second in the IRONMAN 70.3 Cascais
The Galician has achieved the second consecutive Spanish victory and his Slot for the 2020 World Championship.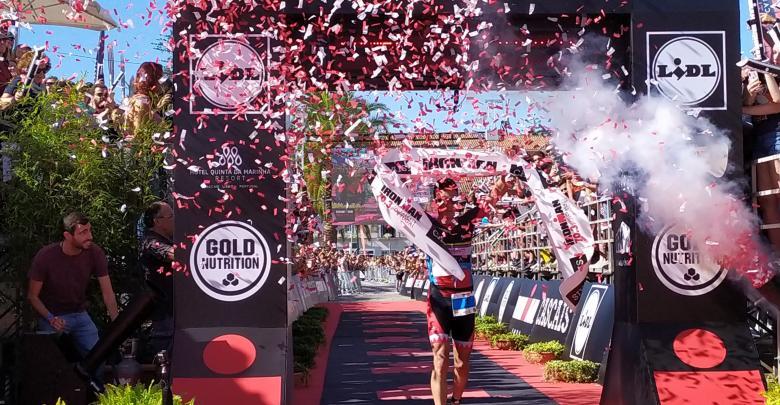 Today has been held in the Portuguese city of Cascais, the third edition of the IRONMAN 70.3 Cascais, with more than 3.000 triathletes at the starting line.
The 1.900-meter lap swim was held at the Playa de los Pescadores, where the first to get out of the water was Javier Gómez Noya con 27 insurance of advantage over the second classified Joao Silva.
In the first kilometers of the cycling segment, Noya continued to increase her lead to pass kilometer 25 with a 2:18 advantage over Filipe Azevedo and Denis Chevrot.
By passing the checkpoint at kilometer 70 Noya was still leading but with Azevedo at 1:21, who was cutting time. Chevrot was third at 2:56, leading a group of 7 athletes where Pedro Andújar and Guillem Rojas were.
Finally Noya arrived first at T2 with 1: 44 of advantage over Azevedo.Milan Bros and Chevrot arrived at 2:30 while Andújar was fifth at 3 minutes.
In the first kilometers of the race on foot, he demonstrated his quality in this segment, increasing his advantage at kilometer 5 to 2:33 over the Portuguese Acevedo.
At the 15th kilometer pass, Noya continued with a strong pace, increasing the lead to 3:50 minutes over Dylian Magnien and 4: 277 over Azevedo.
Finally JAvier Gómez Noya got the victory in the test with a time of 3:51:11.
The second classified has been Dylian Magnien (3: 55: 43) and third Filipe Acevedo (3: 56: 48). Pedro Andújar It has been eighth.
Huge victory for @Jgomeznoya at #IM703Portugal #im703cascais

Congratulations!!https://t.co/TPgdu0J3vs pic.twitter.com/NFwQmh9BLm

- Triathlon News (@triatlonnoticia) September 29, 2019
Male classification
1 Gomez, Javier (ESP) 03: 51: 11
2 Magnien, Dylan (FRA) + 04: 32
3 Azevedo, Filipe (POR) + 05: 37
4 Kalistratov, Aleksey (RUS) + 05: 54
5 Norris, Colin (GBR) + 07: 10
6 Chevrot, Denis (FRA) + 07: 52
7 Soukup, Petr (CZE) + 09: 58
8 Andujar, Pedro Jose (ESP) + 10: 24
9 Mechin, Antoine (FRA) + 12: 29
10 Sowieja, Dominik (GER) + 12: 38
Noya gets the pass for the IRONMAN 70.3 2020 World Championship
With this victory Noya gets the Slot for the IRONMAN 70.3 2020 World Championship in New Zealand, in addition to getting the second consecutive victory for Spain in this test.
Emma Pallant wins and Anna Noguera second, virtually qualified for the 2020 World Championship
In the women's event, the first to emerge from the water was Anna Pohl followed by Emma Pallant 46 seconds later. Anna Noguera was third at 1:14
Pallant with a strong rhythm on the bike recovered his disadvantage to get first and in the km 25 pass with an advantage of 2: 21 over Noguera and 2: 40 over Pohl.
In passing at kilometer 70 of the Pallant circuit, he was still ahead of Noguera at 4:28. Sylvia Gehnboeck was third at 8:28.
Emma arrived at T2 with 10: 27 minutes ahead of 4: 23 over Noguera and 10: 27 over Gehnboeck.
Passing for kilometer 5 Pallant increased the advantage to more than 7 minutes over Noguera.
Finally Emma Pallant He has won the victory in a time of 4: 18: 21.
Anna Noguera with a great career he has achieved second place with a time of 4: 27: 52. Anna Pohl It has been third.
Female classification
1 Pallant, Emma (GBR) 04: 18: 21
2 Noguera, Anna (ESP) + 09: 31
3 Pohl, Anna-Lena (GER) + 18: 20
4 Stadelmann, Sabrina (SUI) + 23: 04
5 Gehnboeck, Sylvia (AUT) + 31: 37
Anna Noguera virtually qualified for the Ironman 70.3 2020 World Championship
With this second place Anna is virtually classified for the Ironman 70.3 2020 World Championship.