Javier Gómez Noya the big favorite at the IRONMAN 70.3 Barcelona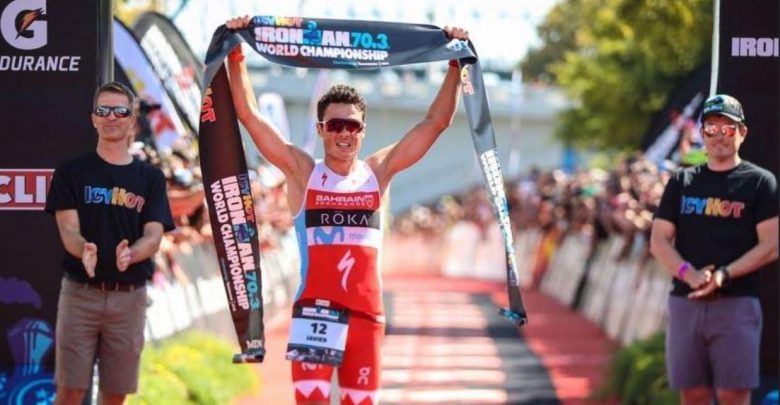 {wbamp-meta name = »image» url = »images / stories / news_07 / roadtokona-javier-gomeznoya.JPG» width = »300" height = »150"}
The countdown has already begun for a highly anticipated IRONMAN 70.3 Barcelona
The long wait that always accompanies a test of this magnitude is coming to an end and in less than a month the town of Calella will witness a new IRONMAN 70.3 Barcelona. The competition is a classic of the calendar, with over 2.800 triathletes on the starting line and unbeatable conditions to enjoy triathlon.
The next 20 in May we have the show insured and we can enjoy live the talent of the triathlon world champion, Javier Gómez Noya. The Spaniard will look for the best sensations in Calella on his way to his ambitious goal of the season: assault for the first time the IRONMAN World Championship in Kona, Hawaii.
Noya will headline a test that, as is tradition, will have other important names on the elite start list, such as David Macnamee who was third in Hawaii, and Patrik Nilsson who was eighth in Kona. Many athletes seek to start the season with a fast and demanding circuit like the one that characterizes IRONMAN 70.3 Barcelona.
The 1.900 meters of swimming by the Mediterranean Sea will give way to 90 kilometers of cycling through the heart of the Montseny Park, a biosphere reserve of UNESCO and of great natural beauty. Its roads include important slopes that will have to be regulated to arrive with energy back to Calella, where the race will take place on foot.
Of all the participants who will try to cross the finish line, the 400 triathletes that compete for their club will stand out. All of them will have an extra motivation, since the test will host the Tri Club Final EMEA. A unique appointment that will bring even more color and atmosphere to the competition.
"This year we celebrate the fifth anniversary of IRONMAN in Spain and we will celebrate it all together in a triathlon party. We are very proud and grateful to be able to make a test that people feel theirs. It is an international event, with triathletes from all over the world, but at the same time it is very local. It is our philosophy "explains the director of IRONMAN 70.3 Barcelona, ​​Jordi Pérez.
Photo @ironmanlive