Javier Gómez Noya sweeps the Polar Cannes International Triathlon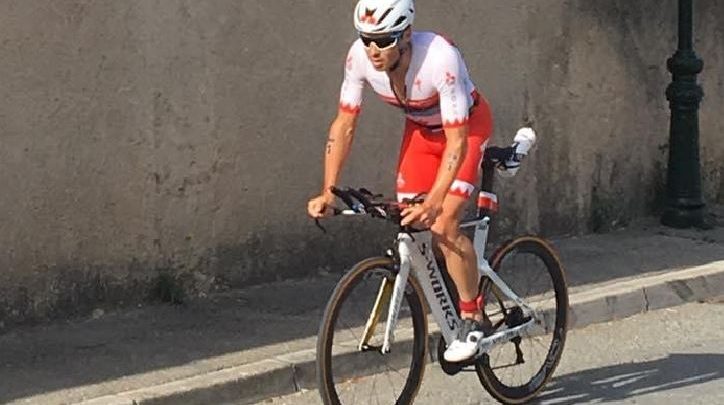 This morning a new edition of the Polar Cannes International Triathlon was held in the French town of Cannes, with the victory of the double world champion of Ironman 70.3 Javier Gómez Noya
Javier Gómez Noya continues steadily his way to the expected Ironman debut the next June 10 in the Australian city of Cairns and a few weeks of the celebration of the test shows a great state of form, proof of this is the victory today at the Polar Cannes International Triathlon.
Video goal Javier Gómez Noya
The test had certain distances, with Swimming 2.000m, 107 hard cycling kms with more than 1.700m of unevenness and 16 km of running race.
The competition started the 8: 00 in the morning with a masculine and feminine mass start, being able to see together at the start of the race Javier Gómez Noya together with Lucy Charles, the big favorite in the female category.
After the first swimming 2.000m Robin Pasteur first arrived at the T1 followed by Noya at 5 ». The first transition was long, with close and 500m long, where the triathletes had to take the bag with the helmet, take off the neoprene, put on the helmet and then run in search of the bike. At that time is where Javi has become leader, after running much faster than Pastuer the meters that were up to the bike, so Noya was the first to face the hard 107 km of cycling.
Video T1 Javier Gómez Noya
Gómez Noya commanded the competition during the first kilometers of cycling, but at km 42 Sam Laidlow passed in the lead, with Javi second seguido closely Pasteurizer y Mathis. Sat Laindlow had a mechanical problem in the second climb to Tanneron and Noya is placed leader, with 40 »of advantage over Malta Plappert.
The 16km of running race were for the Galician triathlete Javier Gómez Noya, the best triathlete in the history of Olympic distance, who won the final victory at the Polar Cannes International Triathlon with a time of 4: 27: 10 and covering the 16 km without slowing down the advantage by more than 12 minutes of advantage over the second classified Kévin Maurel (4: 39: 32). The third to arrive has been Malte Plappert (4: 40: 24)
Classification
| | |
| --- | --- |
| GOMEZ NOYA Javier | 4:27:12 |
| Kévin MAUREL | 4:39:32 |
| PLAPPERT Malte | 4:40:24 |
| Robin PASTEUR | 4:41:55 |
| Thomas NAVARRO | 4:44:14 |
| SCHMITT Alex | 4:44:56 |
| PIERWIGI Semor | 4:45:08 |
| DEVLIEGHER Arne | 4:46:55 |
| Théo DEBARD | 4:47:35 |
| PLUMER Julien | 4:47:47 |
Photo: Trimax Magazine