Javier Gómez Noya second coming down from 8 hours and Gurtuze Frades fourth at Cairns Ironman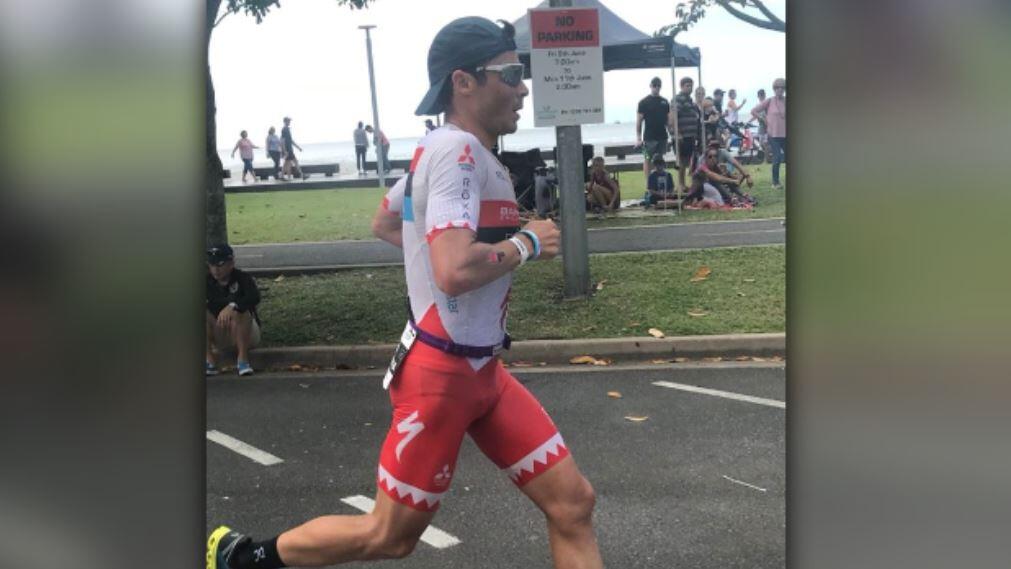 {wbamp-meta name="image" url="images/stories/noticias_08/javier-gomez-noya-ironman-cairns.JPG" width="300″ height="150″}
Ferrolano has been at the head of the race until kilometer 32 (with an average of 3: 42), proving that he has a lot to say in the distance. Gurutze with the fourth place is qualified for Kona.
After 20 years practicing triathlon has made the leap to long distance. Noya has already secured his participation in the Ironman of Hawaii with this second place. Today the expected debut of the Ferrol, Javier Gómez Noya in the distance reigns in Australia, in the Ironman of Cairns where the winner Braden Currie has managed to beat the record of the test.
The test that started at 23: 30 on Friday (Spanish time) with the 3,8 km of swimming where Noya was the first to come out of the water with a group of 4 triathletes, Tim O'Donnel, Clayton Fettel, Braden Currie and Casey Munro .
In the cycling sector, this group of 5 went together (interspersed in the leading positions) until the 100 km of the race, since it was where Terenzo Bozzone and Denis Chevrot reached the lead of the test to reach T2 together with 33 seconds on Kyle Buckingham and 52 on Noya who finished the sector in seventh position.
In the race on foot, Javier Gómez Noya showed his quality in this sector, gradually coming up behind New Zealander Braden Currie at kilometer 14 of the race. From there we saw a spectacular duel running together until we reached the 32nd kilometer of the race where little by little Currie was taking seconds away from Ferrol.
Braden Currie and Javier Gómez Noya running together in the marathon
Update: #IMCairns the front of the race. @BradenCurrie @Jgomeznoya #BahrainEndurance13 pic.twitter.com/u6lyxGGe4y

- Bahrain Endurance 13 (@bahraintri13) June 10th, 2018

Finally the victory was for Braden Currie with a time of 07:54:59, managing to beat the test record, followed by Javier Gómez Noya (7: 56: 39) and for Terenzo Bozzone (08: 00: 55) occupying the third final position.

Video by Javier Gómez Noya entering the finish line

Congratulations @Jgomeznoya - second in debut and sub-8?#BahrainEndurance13 pic.twitter.com/VM8olIDKyp

- Bahrain Endurance 13 (@bahraintri13) June 10th, 2018

Top 10 Men

| | | | |
| --- | --- | --- | --- |
| 1 | Braden CURRIE (# 3) | 7:54:58 | |
| 2 | Javier GOMEZ NOYA (# 1) | 7:56:38 | + 01: 40 |
| 3 | Terenzo BOZZONE (# 4) | 8:00:06 | + 05: 08 |
| 4 | Tim O'DONNELL (# 5) | 8:00:54 | + 05: 56 |
| 5 | Denis CHEVROT (# 17) | 8:07:25 | + 12: 27 |
| 6 | Kyle BUCKINGHAM (# 8) | 8:12:38 | + 17: 39 |
| 7 | Tim VAN BERKEL (# 6) | 8:15:11 | + 20: 12 |
| 8 | Tim REED (# 7) | 8:17:48 | + 22: 50 |
| 9 | David PLESE (# 22) | 8:18:35 | + 23: 36 |
| 10 | Callum MILLWARD (# 14) | 8:19:51 | + 24: 53 |

Gurutze Frades finishes fourth and gets the classification for Kona

As for the women's event, we had the presence of Gurtuze Frades, who is still looking for his third participation in Kona.

The first to come out of the water was Lauren Brandom with 2 minutes ahead of Teresa Adam and more of 7 over Anja Beranek. Guru came out in seventh position.

In the cycling sector Adam traced the time over Brandom to overtake it at kilometer 132 and from there he increased the difference to reach T2 with 5:13 over the North American and with 10:28 ahead of Mirinda Carfrae third to get off off the bike, Gurtuze Frades rose one position, finishing sixth 12 minutes from the podium.

In the running race Teresa Adam he knew how to maintain the advantage to get the victory with a time of 8: 53: 45, followed by Mirinda Carfrae (8:59:18) who made a great comeback in the foot race and Beth McKenzie (09: 03: 11) occupying the third final position.

Gurutze Frades with a large career sector he continued to finish posts, passing the 30 kilometer of the race to only 2 minutes of the third classified, however he could not reach it finishing in a magnificent fourth position (09: 09: 53), which ensures his participation in the Kona Ironman

With the fourth place today Gurutze Frades sum 2.455 points, which adds a total of 4.873 points and is mathematically classified for Kona. Gurutze is the first Spanish to achieve it three consecutive times with the KPR classification system. . In this 2017 Gurutze in addition to the 6ª position of the Ironman of South Africa, he also played the Lanzarote 122 and the Triathlon of Xilxes, winning both competitions.

Top 5 women

| | | | |
| --- | --- | --- | --- |
| 1 | Teresa ADAM (# 40) | 8:53:16 | |
| 2 | Mirinda CARFRAE (# 32) | 8:59:17 | + 06: 01 |
| 3 | Beth MCKENZIE (# 39) | 9:03:10 | + 09: 54 |
| 4 | Gurutze FRADES (# 36) | 9:09:52 | + 16: 36 |
| 5 | Melanie BURKE (# 35) | 9:12:31 | + 19: 15 |

Photo: @bahraintri13 / @gurutzefrades