Judith Corachán third in the IRONMAN Vitoria
The Catalan triathlete with a penalty and a puncture has achieved the third position in the test.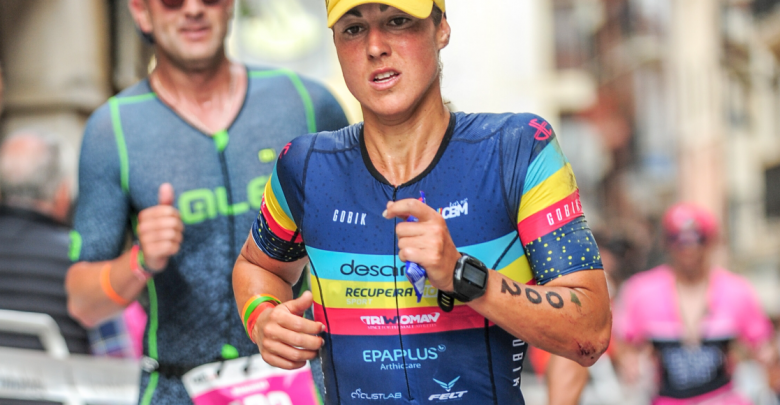 After the great victory of Eneko Llanos in the men's event, the women's event has not disappointed, Judith Corachán who has achieved a great third position today has shown his most warrior side by going up to get on the podium after suffering a 5 penalty minutes (of course Drafting) and a prick that made her lose up to 21 minutes, when she was leading the test
The first out of the water was Judith Corachán with 58 seconds ahead of Nina Derron and 3:35 over Heather Jackson. Ruth Brito was fourth at 3:47.
Already on the bike, Judith was increasing its advantage to pass through the 52 race kilometer with 1: 54 over Derron and over 4 over Jackson, although shortly after had to stop 5 minutes for a penalty losing the first position of the test.
#IMVitoria - new women's race leader: @NinaDerron is in first place due to a 5-minute penalty for @KORAXAN at about km 55, @hjacksonracing in 2nd now pic.twitter.com/o1XzHsNnSX

- IRONMANLive (@IRONMANLive) 14 de julio de 2019

In the passage through the middle of the segment, Derron passed first and Jackson to 15 seconds. In third position Judith passed with 2:12 although she was already cutting differences.

Judith suffered some incidence in the test since in the passage by the kilometer 124 was sixth losing almost 18 minutes on Jackson that was first with 1: 53 on Derron. At this point Ruth Brito climbed to the fourth place at 10: 30 of the head of the race.

Heather Jackson continued to increase her lead to reach T2 with 6:15 ahead of Nina Derron and 9:06 over Joanna Soltvsiak who moved up to third place. Ruth Brito was fifth at 18:00 and Judith Corachán sixth at 21 '.

In the race on foot the American Jackson little by little was increasing its advantage to pass by the km 15 of race with 12 minutes on Derron.

In the step by the PK 25, Jackson already was the clear favorite for the victory happening with 15 minutes of advantage on Derron and 18 on Soltvsiak. Judith with a good race continued to climb positions passing fourth to 4 minutes of podium positions

In the 29 km of the race, Judith was already climbing to the third position staying at 10 minutes of the second place.

Finally the North American Heather Jackson got the victory with a final time of 8: 52: 10. Nina Derron (9: 05: 33) has achieved the second position .maintaining the difference to Judith Corachán (9: 13: 37) that has finished in third position.

#IMVitoria - @KORAXAN rounds out the podium in 9: 13: 37. She had to fight herself back into the race today - and she did great pic.twitter.com/MDZMqmkUvd

- IRONMANLive (@IRONMANLive) 14 de julio de 2019


With this position, you still have options to go to Koka, in case the second ranked Nina Derron does not accept your Slot, since the winner of the Jackson test was already classified from the IRONMAN South Africa,