Kristian Blummenfelt breaks the world record in the Ironman 70.3 Bahrain
Kristian Blummenfelt wins the test for the second time in a row and beats the world with a Norwegian triplet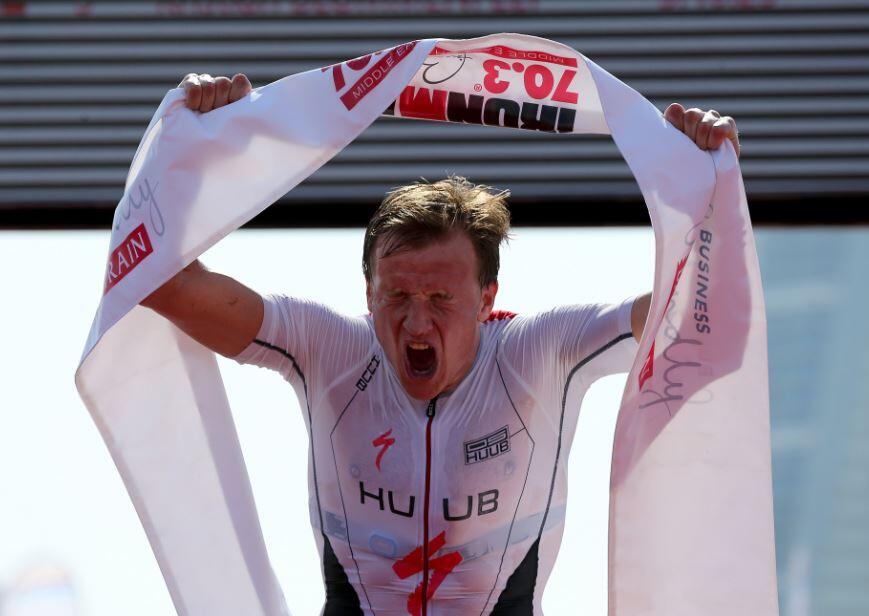 Today a new edition of the Bahrain has been held in Bahrain Ironman 70.3 Bahrain where all eyes were on Terenzo Bozonne, who participated in his third Ironman test in 3 weeks and were looking for his third victory in a row. On the other hand was the Norwegian triplet formed by Kristian Blummenfelt , winner last year in this test, Casper Stornes e Idem Gustav
The test began at 5: AM Spanish time with the 1,9 km swim where Eric Watson was the first to get out of the water followed by Adam Bowden and Alexander Polizzi third. More than a minute went Bozzone, Blummenfelt or Andreas Raelert.
In the 90 km of cycling things quickly turned to the head for the Norwegians, with a puncture from Terenzo Bozzone that forced him to withdraw. Blummenfelt reached the head of the race with his compatriot Casper Stones in the passage through the 28 km of the race. In the following kilometers a group of 4 was formed in the lead with Blummenfelt, Stones, Bowden, Iden until in the final part, Bowden took off leaving the Norwegian trio in the lead arriving together to T2 with 1:18 of advantage over the British .
In the 21 km of the Blummenfelt walking race, Stornes and Iden were riding together until km 5 where Stornes started to go downhill. Blummenfelt and Idem Gustav continued in the lead until km 17 where Kristian Blummenfelt He began to take advantage of his compatriot.
Little by little the difference was increasing and finally he got his second consecutive victory in a 3 time: 29: 04, breaking the record of the test. Gustav Iden (3: 29: 25) was second while Casper Stornes (3: 33: 31) came in third place thus repeating the Norwegian triplet achieved in the WTS Bermuda this year .
Blummenfelt's partials were 21:36 in the 1,90 km of swimming, 1:56: 52 in the 90 km of cycling and 1:06:58 in the 21 km of running with a total time of 3: 29:04 getting the world record and beating your mark from the previous year (3: 40: 24)
Men's Classification
| | | | | | |
| --- | --- | --- | --- | --- | --- |
| | | SWIM | BIKE | RUN | FINISH |
| 1 Kristian Blummenfelt | NOR | 00:21:36 | 1:56:52 | 1:06:58 | 03:29:04 |
| 2 Gustav Iden | NOR | 00:22:03 | 1:56:37 | 1:07:13 | 03:29:25 |
| 3 Casper Stornes | NOR | 00:21:30 | 1:56:32 | 1:11:15 | 03:33:31 |
In the female category the victory has been for Holly Lawrence with a time of 3: 59: 24 followed by Sarah Lewis (4: 00: 13) and for Ellie Salthouse (4: 06: 25) in third final position
Women's Classification
| | | | | | |
| --- | --- | --- | --- | --- | --- |
| | | SWIM | BIKE | RUN | FINISH |
| 1 Holly Lawrence | GBR | 00:22:10 | 2:10:43 | 1:21:55 | 03:59:20 |
| 2 Sarah Lewis | GBR | 00:24:28 | 2:12:15 | 1:18:41 | 04:00:13 |
| 3 Ellie Salthouse | AUS | 00:23:14 | 2:12:16 | 1:26:36 | 04:06:25 |
Photo: Simon Müller / Spodmedis