19 recording cameras for cyclists and triathletes
We compiled 19 best-selling recording cameras on Amazon for cyclists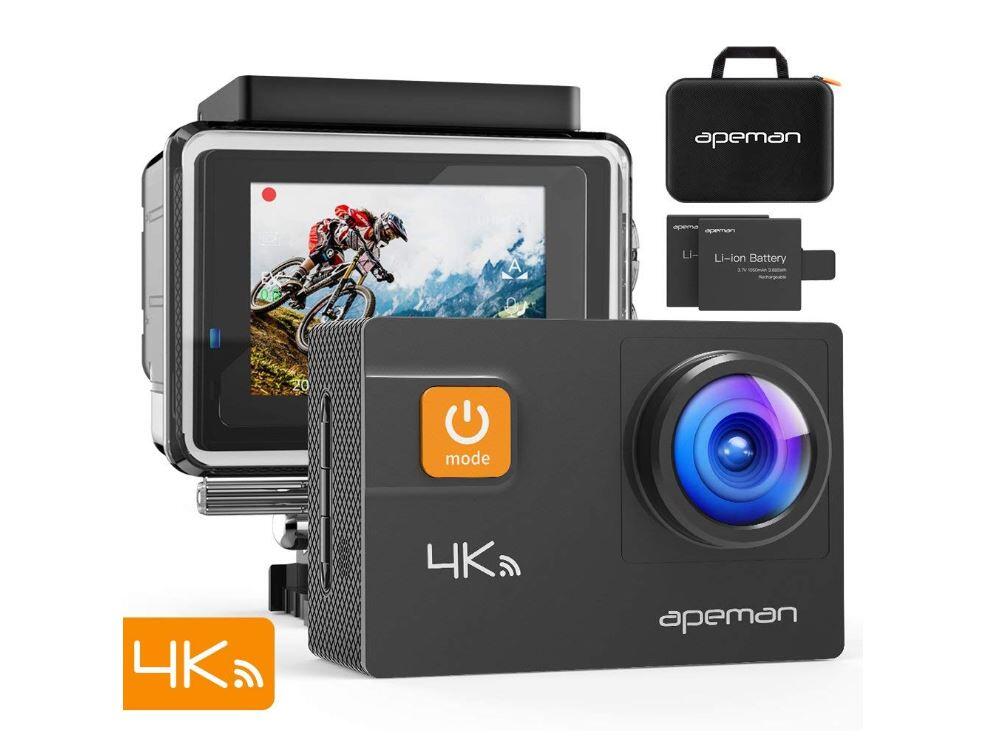 Now at Christmas, we are looking for what to give to our loved ones and many times we do not find the ideal product,
This time we collected 19 recording camerasn more sold in Amazon for cyclists, since they allow in addition to having the best images of the trainings or routes, a measure of security in our roads that every day is more necessary.
We have cataloged with the word trialton those that are submersible in water.
SJCAM SJ4000 (Spanish version) - Sports camcorder (LCD, 2 ", 1080p, 30 fps, submersible), black color
1 New From €64,99
free shipping
Features
You can capture 12 MP images and Full HD videos from 1080p to 30fps
With a Novatek NTK96650 processor with AR330 sensor and an 2 display "
Battery 900 mAh, has a range of minutes 60 recording in Full HD
It has an 1700 HD angle and 2.0 USB connections
NK-AC3061-4KN - 16 MP NK Sports Camera with 2 Inch Screen, 170 Degree Wide Angle Lens Waterproof (Ultra High Definition, 4K) Color Black
1 New From €49,99
free shipping
Features
4k video and professional image - With the new NK camera of 2019 you will be able to record Videos in 4K at 30FPS, 1080P at 60FPS (and many more resolutions) and take photos with up to 16MP, which allows you to capture images and videos of the highest quality , 170º wide angle 4G will allow you to capture the most incredible moments. The best budget alternative to brands like GoPro
30M Waterproof Sports Camera - With the solid and beautiful waterproof shell, you can take photos underwater up to 30m. Perfect for water sports and other outdoor activities, such as swimming, diving, surfing, sailing, skiing, etc. You can explore the unknown underwater world with ease.
WiFi remote control function - After connecting with your phone via WIFI, you can directly operate the camera on the "XDV" app on the phone, such as recording videos, taking photos. Also, you can download, delete and view all files.
900mAh rechargeable battery - It is easy to replace and prolong the life of the camera. Don't worry about running out of battery during happy times with your family and friends. You will never miss any precious moment due to its long battery life.
2" screen and more than 15 accessories - 18 multifunctional accessories allow you to mount your camera on helmet, bicycle, wrist, etc. Perfect companion for lovers of extreme sports.
SJCAM SJ6 Legend, 4 MP 16K sports camera, Novatek 96660 processor, WiFi, 2.0 '' touchscreen, black
Features
Compatible with SJ remote and external microphone
OLED front display and 2 Inch high-resolution LCD touch screen that allows you to preview and play videos and images. Incorporates Superview mode and fish eye effect reduction
Extremely versatile Perfect for every need and occasion. Designed for action and water sports such as snowboarding, skiing, surfing, scuba diving, motorcycling, cycling, skateboarding, car camera
The official application SJCAM ZONE APP (Android and iOS) allows you to remotely control your SJCAM, configure it, take pictures, record videos, download files, share on social networks
GoPro HERO7 White - Digital submersible action camera with touch screen, HD 1440p video and 10 MP photos

1 Used From 299,95 €
Features
Share experiences that you cannot capture with your phone; the HERO7 White is rugged, small, fully submersible and ready for any adventure
Thanks to the touch screen and simple and optimized capture modes, you can start using it instantly to get fantastic shots; you just have to slide and touch
The HERO7 White shoots incredible videos in Full HD; You can also shoot sequential videos to turn long events into shorter moments ready to share
The HERO7 White takes high-quality 10MP pictures; and thanks to the burst mode, you can get 15 photos in just one second so you don't miss a single moment
Insta360 ONE. 360 sports degrees camera with 4K resolution. Integrated image stabilizer (photos from 24Mp, Bluetooth connection 4.0, MicroSD, Lightning), black color
1 New From €339,89
free shipping
Features
FLOWSTATE (TM) STABILIZER - 6 gyroscopic image stabilizer integrated axes, clear and fluid video in any situation.
COMPLETE VIDEO AND PHOTO EDITOR - Easily edit and share from your APP, available for iOS and Android. Totally in Spanish.
LIVE STREAMING - Allows streaming live.
IDEAL FOR IPHONE, COMPATIBLE WITH ANDROID - Connect your smartphone via Bluetooth 4.0 or with the integrated Lightning connector
SPORTS CHAMBER - Use Insta360 ONE independently, attach it to a helmet, drone, tripod or wherever you want.
GoPro HERO7 Black - Action Camera (Waterproof to 10m, Touch Screen, 4K HD Video, 12 MP Photos, Live Stream and Stabilizer), Black

2 Used From 399,95 €
Features
Video resolution: 4K (3840 x 2160)
Display / viewfinder: Electronic
Image stabilization: Electronic