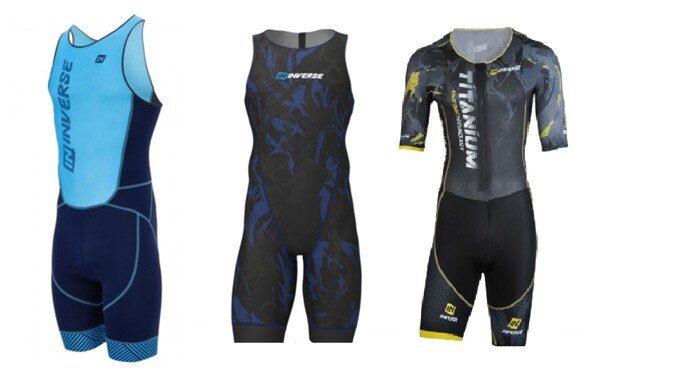 INVEST is one of the most recognized brands in the world of sportswear in Spain and in addition to the cycling range it has high quality garments for triathlon
A while ago we told you about long distance model club specific Aeris.
This jumpsuit is ideal for customizing each club and is the one used by the Spanish Triathlon Champion LD Laura Gomez.
But in addition to the Aeris, INVESE has other models that are now in the OUTLET section and you can take them for a spectacular price
These overalls are of high quality and right now
Aerodynamic triathlon suit.
It is an ultralight triathlon suit that offers unmatched performance in the most demanding tests.
Features
PLATINUM fabric it is elastic and light with an excellent protection factor against ultraviolet rays.
It expels body moisture to the outside, leaving the skin dry.
TEFLON finish on the outer shell totally repels water
Flat seams
Leg is surrounded by a piece of LYCRA with a silicone rubber that contributes to a great support of the jumpsuit.
Back zipper has a puller that offers great comfort.
Its pocket in the lumbar area is mesh to quickly expel water.
PVP: 30 €
This suit is another highly recommended option for its quality price, with a T130 fabric and a very attractive design it is ideal for short and medium distances.
Features
T130 fabric it is very elastic and light.
Its elasticity and the flat seams that compose it ensure total comfort.
TEFLON finish on the outer layer totally repels water.
Flat seams
Mesh pocket in the lumbar area.
LYCRA band with silicone surrounding the leg.
Back zipper has a puller that offers great comfort.
PVP: 45 €
Designed to compete in medium and long distance. It is an ultralight triathlon suit and ideal for the most demanding triathletes.
Features
LYCRA Sleeves they adapt perfectly to the anatomy of the arm.
They have hypoallergenic silicone points to fix the garment on arms and legs
Excellent level of breathability in extreme heat conditions
Flat seams
Elastic trim on the neck to better adapt to the body and avoid any chafing.
PVP: € 99,99
More information and models on the official page https://es.inverseshop.com/
Price drop on Amazon
399,00€
4 New From 399,00 €

Amazon.com
80,21€
3 New From 247,89 €
45 Used From 80,21 €

Amazon.com
More discounts