SIGMA expands its ROX series of GPS cycling computers.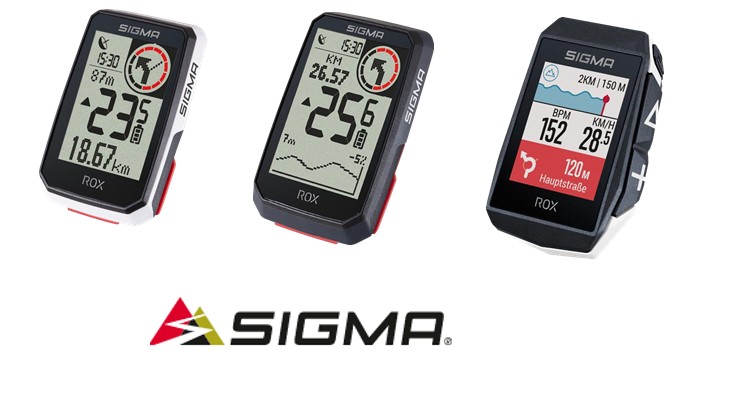 Full blast: SIGMA launches the largest commercial offensive in its history and now introduces three new GPS cycling computers.
45 new products in 12 months
SIGMA launches a powerful commercial offensive in 2021, thus positioning the brand strongly for the future.
To kick off these launches, we find the new ROX 2.0, ROX 4.0 and ROX 11.1 bike computers. EVO, new ROX series GPS cycling computers.
With these launches, the German brand kicks off the largest commercial offensive in its history.
The ROX 2.0, ROX 4.0 and ROX 11.1 EVO thus become the best assistants for professionals and amateur cyclists in competitions and training, thanks to its multiple functions.
With highly accurate and easy-to-read data, Combined with an optimal navigation capacity, the workouts are now easier to control, obtaining more efficiency and with optimal guidance on the best routes.
The data analysis is carried out thanks to the new RIDE application, available from July for free download.
«The cycling accessories market has clearly transformed in recent years. Multiple technical possibilities have opened up for us, which have also posed new challenges for us, »Explains Thomas Seifert, Managing Director of SIGMA. "Y We have taken the opportunity to give the company a completely new orientation with this giant leap into the future.
For SIGMA it represents a rejuvenation and a greater international orientation. We want to become, in the near future, the best cycling accessories brand in the world. In this sense, we are going to bet on our strengths, "complements Robin Schendel, also the company's managing director.
The foundation of our brand is almost 40 years of experience in the development and use of cycle computers and bicycle lighting systems.
To this must be added excellence in development, maximum flexibility and, above all, our passion and team spirit. On this basis we have developed very interesting and competitive products, and we feel stronger than ever.
And it is that during the last months, our team of accessories specialists have dedicated a lot of work, energy and passion to our innovations.
The backbone of our strategy is centered around GPS cycling computers, lighting, our software ecosystem and the world of E-bikes. Thus, the spearhead is formed by new members of the GPS ROX family of cycling computers. '
ROX 2.0:
The beauty of simplicity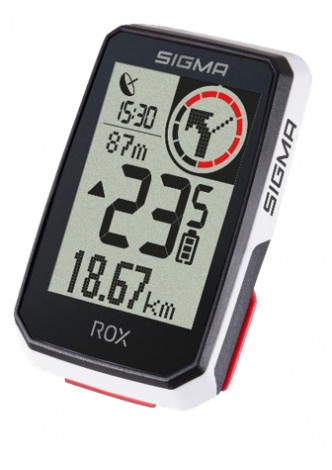 The ROX 2.0 GPS is perfect for all those amateur cyclists who want to take advantage of the essential benefits of a GPS bike computer without investing a fortune.
With its 14 functions, as an indication of speed, distance traveled, training time and navigation instructions, nothing can resist the ROX 2.0. And all this information is easily readable on the road thanks to its large screen.
The upper field for data is surrounded by a red circle (Red Circle), whose function is adapted to the needs of each moment to offer us maximum clarity when showing us our training data.
In addition, it will allow you to easily connect it to your mobile through the komoot application. In this way, turn-by-turn navigation warnings are displayed directly on the screen, while the mobile can remain in the pocket so that we can concentrate 100% on enjoying pedaling.
In addition, with the free SIGMA RIDE app, the cycle computer allows you to follow and analyze the data of your rides at all times.
With this app you can configure custom views of the screen with a few clicks: you can configure up to six screens with three values ​​each. The memory of the cycle computer supports up to 100 hours of recording. The ROX
2.0 is ready to work with E-Bikes: connecting it to the systems of these bikes, for example, to the Shimano systems, is child's play. Your GPS cycle computer connects to your compatible E-Bike system to show you the current assist mode, battery status, light, and other relevant information.
ROX 4.0:
Let's discover the world!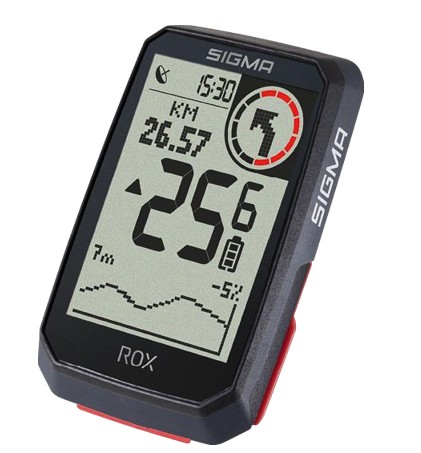 With its more than 30 functions, the ROX 4.0 offers us all the necessary functions to discover the world on two wheels: Its large screen is easily readable while driving.
The Red Circle indicator at the top right of the screen has a colored background and offers you an innovative and exciting way to view your training data or navigation instructions.
Navigation instructions and pairing with the E-Bike and external sensors such as heart rate or cadence are basic functions for the ROX 4.0.
In addition, and thanks to the app, it is very easy to connect it to the mobile, thus being able to receive warnings about the turns in the ROX 4.0. In this way, you can leave your mobile in your pocket while you concentrate on training. The integrated atmospheric pressure sensor is a real highlight of this device.
The barometer gives you the most reliable information about altitude, slopes and descents during your route, allowing you an accurate record of your activity.
In combination with the RIDE app, the bike computer allows you to follow and analyze your ride data at all times.
Also, the views on the screen can be adjusted and adapted en route without any effort. And its memory supports up to 100 hours of data recording.
If we add to all this a battery life of up to 25 hours, the ROX 4.0 becomes the ideal companion, even for the most extreme adventures.
ROX 11.1 EVO:
Compact. Polyvalent. Powerful.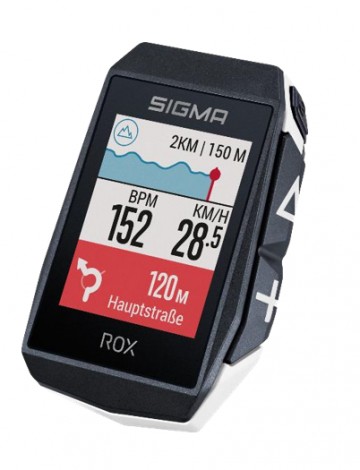 Whether you are looking to improve your performance or you want to stay in shape, the ROX 11.1 EVO is your ideal training partner.
Thanks to his more than 150 functions, The ROX 11.1 EVO helps you navigate and reliably assists you in your indoor and outdoor workouts so you can fully focus on improving your performance.
GPS speed and distance measurement, barometric altimeter and navigation using preloaded tracks or with the komoot app are part of its range of functions, as well as compatibility with E-Bikes and all kinds of external sensors.
On its high-contrast 1,77 ″ color transmissive screen, you can also easily view navigation warnings and route data. The ROX 11.1 can be used on various bikes:
To do this, users take advantage of preconfigured sport profiles or create their own training views with up to six data fields each.
Its configuration allows you to highlight data fields with up to eight different colors for a better overview and even faster readability on the road. With the help of the Workouts function it is very easy to plan and carry out structured workouts.
Its five large buttons are easy to see and operate, even with gloves, in all weather conditions. And to round off, it is possible to store up to 100 hours of rides on the cycle computer.
You can check your route data at any time, on the go, from the ROX 11.1 EVO itself, in the RIDE app or, once the training is finished, on the PC or MAC thanks to the SIGMA DATA CENTER software.
This allows you to get a complete view on your values ​​and progress in your workouts. Its sporty and compact design, its innovative color display, its numerous functions and its easy handling make the
ROX 11.1 EVO, with its 55 g, an essential element on the bicycle handlebar
SIGMA RIDE App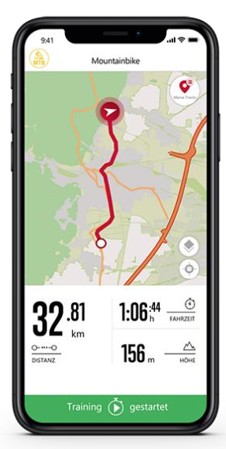 At any time during the route, you can follow your training data in real time and the route traveled on the map with maximum precision and clarity.
Training views can be quickly and intuitively set and modified via the RIDE app, even while riding.
After each training session, the data appears immediately in the app for analysis.
We can also share experiences and successes just as quickly on social networks such as Strava, komoot and TrainingPeaks, or synchronize training data and routes on other platforms.
In addition, you can import tracks in GPX format from other portals, thanks to the SIGMA RIDE app.
SIGMA's own tracks, created in the SIGMA DATA CENTER, are automatically synchronized with RIDE through SIGMA CLOUD.
Availability
From July 2021 in specialized stores / ROX 11.1. EVO in autumn
Price range
You can find these new ROX models in specialized stores:
ROX 2.0: from € 69,95
ROX 4.0: from € 89,95
ROX 11.1. EVO: from € 169,95
| | | |
| --- | --- | --- |
| Products | Code | PVPR |
| ROX 2.0 Black | 01050 | 69,95 € |
| ROX 2.0 White | 01051 | 69,95 € |
| ROX 2.0 Top Mount Set Black | 01052 | 74,95 € |
| ROX 2.0 Top Mount Set White | 01053 | 74,95 € |
| ROX 4.0 Black | 01060 | 89,95 € |
| ROX 4.0 White | 01061 | 89,95 € |
| ROX 4.0 HR Set Black | 01062 | 129,95 € |
| ROX 4.0 HR Set White | 01063 | 129,95 € |
| ROX 4.0 SENSOR Set Black | 01064 | 189,95 € |
| ROX 4.0 SENSOR Set Black | 01065 | 189,95 € |
| ROX 11.1 EVO Black | 01030 | 169,95 € |
| ROX 11.1 EVO White | 01031 | 169,95 € |
| ROX 11.1 EVO HR Set Black | 01032 | 199,95 € |
| ROX 11.1 EVO HR Set White | 01033 | 199,95 € |
| ROX 11.1 EVO SENSOR Set Black | 01034 | 249,95 € |
| ROX 11.1 EVO SENSOR Set Black | 01035 | 249,95 € |