Max'sSystem presents its AERO Short Mini Coupling «SHORTY» Riser Flat Compact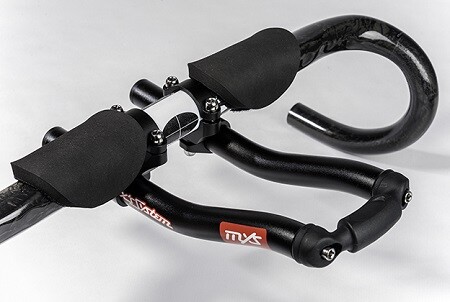 It is ideal for Sprint and Olympic distances
Max'sSystem benchmark and innovation in components of Cycling for triathlon presents its coupling for Christmas AERO Short Mini "SHORTY" Riser Flat Compact.
This coupling is presented as a great lightness model since it only weighs 250 grams and that are used by Miquel Blanchart, Raúl Amatriain y Jose Almagro.



This coupling is ideal for sprint and olympic triathlon where you get one more position aerodynamics by inverting the clamp that holds the handlebar and facilitating that the extensions can go under the handlebar.

But if you are looking for more comfort, you can get it by placing the extensions above the handlebar.

Comfort and aerodynamics are the adjectives that define the coupling AERO Short Mini "SHORTY" Riser Flat Compact.
Some great athletes who trust in Max'sSystem are too RICARDO ABAD, JULIAN SANZ, HEKTOR LLANOS, AIMAR AGIRRESORAB Y MIKEL ELGEZABAL.

Weight: 250 grams

PVP: 99 €
MAX'SSYTEM also has direct customer service, if you have any questions about which to choose you can contact by e-mail and / or phone and they will advise you which is the model that best suits you (http://www.maxssystem.com/contactar.php)

Further information: http://www.maxssystem.com/producto_detalle.php?id=506