We analyzed the Super Stroke Dryland Cords by Buddyswim
They are resistance rubbers for dry swimming
Buddyswim launches the resistance rubbers for dry swimming most versatile on the market, Super Stroke Dryland Cords.
Its great innovation is possibility of interchange between blades and handles on the grips, as well as a wide range of five resistance levels to choose from.
Super Stroke Dryland Resistance Levels (Low to High): X-LIGHT (Green), LIGHT (Yellow), MEDIUM (Orange), HEAVY (Red), X-HEAVY (Black)
Dry training is an essential complement for improving strength, endurance and technique in swimming. Thanks to Super Stroke Dryland we will be able to carry out countless exercises as you can see in this video:
Recorded in Western Olympic Pool Lanzarote Mar
Benefits
Super Stroke Dryland dry training has great benefits for swimmers:
It allows a strength training safer for beginners versus the execution of exercises with external loads that require a specific technique to avoid injuries.
Allows technical correction in situ through verbal and sensitive feedback being able to be close to the swimmer and see the complete movement of the stroke.
There is real transfer to swimming by executing the same movement more firmly for strength and endurance work.
It allows to work the stroke rate competition objective.
Can used as part of warm-up in training and competitions. For this we recommend a low or medium resistance depending on the level
The inclusion of shovels and handles allows a greater variety of exercises, leaving the first for the more technical swimming and the second for other types of exercises such as strengthening the rolling cuff.
Limitations
However, we must also take into account some limitations that may occur when working with Super Stroke Dryland
The resistance is not uniform, so that the beginning of the stroke will be with less resistance, increasing throughout the traction, mainly in the pull and push we will notice the greatest resistance.
The roll movement is canceled. This turn on the longitudinal axis of the shoulders and hips during the swim provides us with extra strength in each stroke. In dry work the work will be carried out mainly by arms and back.
It can lead to overload in the lower back when the performance is repetitive in a standing position. A lying position is preferable.
Despite being an essential complement in training, it is not a substitute for water training. The substitution of dry workouts for water will not allow us to achieve the same objectives since, as we have seen, muscle involvement, among other things, is not the same.
To consider
We also recommend having some precautions when using Super Stroke Dryland:
The elastic should not be stretched more than three times the original length, so as not to exceed the resistance limit of the rubbers.
Keep elastic away from face and never let go of it while it's under tension.
Use a strong, fixed attachment point.
Do not use if the elastic is cracked, torn or damaged in any way.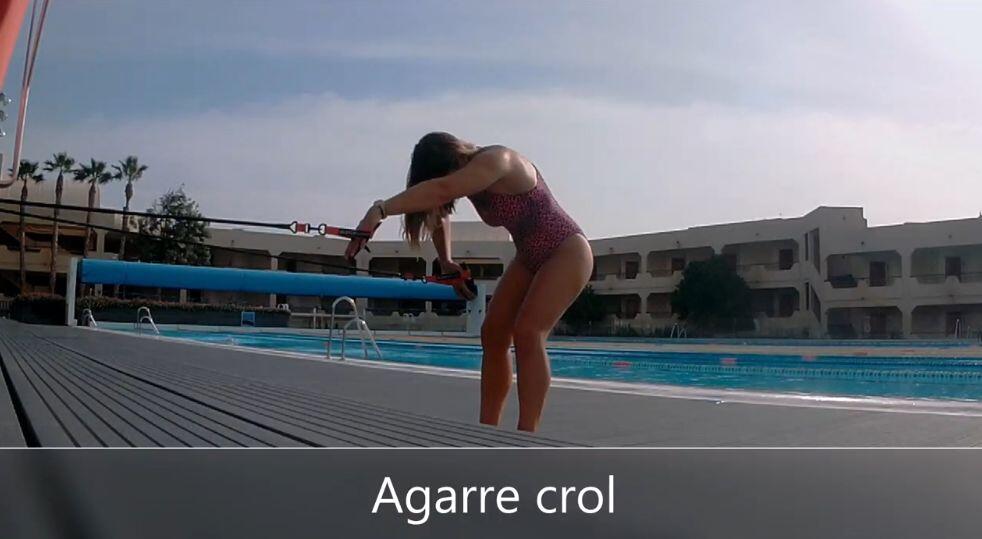 Pros
Transport facility
Infinite variety of exercises
Ease of use
Enables technical correction
Improves basic physical abilities
Transfer to swimming
Cons
Need for a fixed and stable anchoring point
Non-uniform resistance in the stroke
Reduced hip movement
Possible lumbar overloads according to posture
High strength rubber for isolated shoulder exercises
Overall evaluation
Lightness 8 / 10
Material quality 9/10
Ease of use 9/10
Transfer 9/10
Value for money 7 / 10