We analyze Marlin, the GPS for swimmers
Combining GPS with sensors and voice technology, Marlin offers real-time voice feedback on your swimming activity.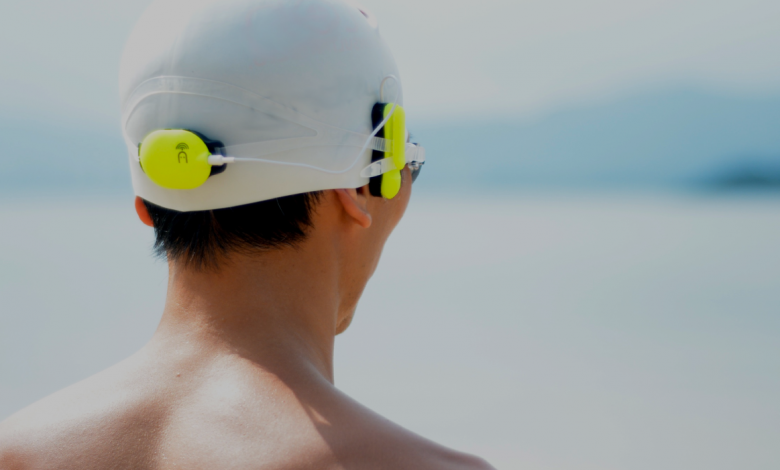 What do you think about being able to instantly know the distance traveled, your swimming pace, even the correct orientation for swimming in open water? Well, it is already possible thanks to Marlin.
Its perfect combination of GPS with sensors and voice technology makes Marlin offer you feedback about your swim by voice in real time.
Very important parameters for the swimmer such as the partial times, the number of strokes, the orientation to swim in open waters, etc., are possible thanks to the bone conduction audio device that Marlin presents.
Read on for the amazing possibilities of this innovative device.
In this article we talk about:
How to place it
Its placement is as simple as you see in the following images.
A part of the device remains in the back of the head, will be the control (start, shutdown, volume, pause ... etc.) and another part, the hearing aid, will be placed in the lateral, close to the ear.
Es it is recommended to place it on the rubber of the glasses for greater support but it will also be subject to the pressure of the silicone cap.
Use in open water
The open water mode allows you to use various functions according to your training objective:
Routes: you can use routes taken by other athletes that have been shared in the application or create your own tour within the application. Tour mode allows you to configure the device with warning signs that warn of deviation from the path established, so that you do not lose your orientation at any time.
Free swim: allows the tour recording swam without having to establish it previously
In addition, both modes offer the possibility of determine the stroke rate (bpm), Information on total swim time and distance, partial swim pace every 100m and time of day.
Once the training is done, you can check the data in the application and analyze your swimming rhythms, total distance, partials and stroke rate.
Use in the pool
Marlin will not only accompany you in open water, but also presents a multitude of options for pool mode:
Training program: enter your training session and Marlin will remind you. Each exercise will be determined by its style, distance, repetitions, rest time, etc.
Free swim: record your training and get instant feedback on the parameters you set (total time, number of strokes, distance, partial pace, hour, etc.)
Also, if your training consists of a continuous swimming block, we recommend using the option to set target by stroke rate or part time.
The data will be registered in the application when you synchronize the device so that you can consult them and analyze your results.
Finally, for those who like to share your workouts with friends, Marlin offers you the possibility of synchronization with the main training platforms such as Training Peaks or Strava.
If you want to know more information, visit their website www.marliniberica.com or you can also make your inquiries in the mail: info@marliniberica.com
Pros
Submersible up to 1,5m / 30minutes
Long-lasting rechargeable battery
Bone conduction audio
High precision GPS system
Easy size transport, use and maintenance
Cons
Requires a certain adaptation period
Overall evaluation
Lightness 8 / 10
Material quality 9/10
Ease of use 9/10
Pool-open water versatility 10/10
Accuracy 9/10
Value for money 9 / 10