We analyze the Inverse WindFlap sports mask
Inverse has launched the WindFlap protection mask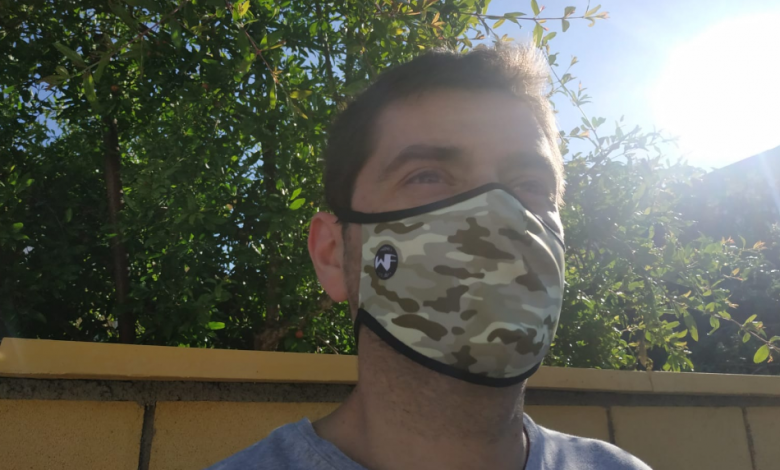 The Spanish brand specialized in sportswear reverse, with more than 50 years of experience, has launched its WindFlap protection mask ideal for practicing sports.
This mask reusable with a filter system, which offers a dual function of protecting yourself and protecting others. It is classified as "hygienic".
The hygienic masks they are a complement to the physical distancing and hygiene measures recommended by the Ministry of Health in the context of the COVID-19 pandemic.
Keep in mind that it is not a medical device or PPE (Personal Protective Equipment).
The FLAPTECH filter offers up to 94% bacterial filtration
The new FLAPTECH sport filter (acts as a barrier for bacteria and viruses) is certified with the UNE 0065: 2020 which makes it reusable and washable.
It has up to a 94,16% +/- 2,45 bacterial filtration according to the test to obtain the certification UNE 0065: 2020.
Its life of use is 5 wash cycles every 24 hours of continuous use. The washing has to be at 60º. We leave you a video of how to change this filter
In addition, it offers a higher level of breathability that improves the use of the mask for sports activity.
His design
They have several models to choose from with designs for both adults and children,
To the touch it is very soft and pleasant and it adjusts very well to the face.
Features
Some of its characteristics are the following
It is composed of 3 fabrics,
Inner fabric: Antibacterial fabric with a pleasant touch. Composed of 82% polyamide and 18% elastane. does not have a filtering function
Medium fabric: FLAPTECH filter
Outer fabric: water repellent, liquid repellent. Composed of 80% polyester and 20% elastane.
The mask maintains all its properties after 50 washes, but the manufacturer's rules must be followed.
Regarding its use for sport
The mask it can take a long time, as no chafing has occurred. It can rexhale well with it whenever you go at comfortable rhythms and it's not too hot.
We remind you that the use of the mask is mandatory, provided that the safety distance cannot be maintained.
Keep in mind that this mask it is not intended for high intensity sports, but it is a good option for outdoor activities such as cycling, moderate running, walks, etc.
What we have noticed when trying it
Easy to put on and take off
Filters are somewhat complicated to put
Smooth on the outside
Nice on the inside fabric
Fits well, not much pressure is felt and does not leave open spaces on the face
You can breathe well at comfortable rates
We have not noticed any chafing during training
Ideal for low intensity running, cycling, walks, etc.
Goggles do not fog up when used if they have Anti-fog system
One of the most interesting things is that this mask is a 2 in 1, since, even if the medium filter is not used, can serve as a mouth cover, which is recommended for the healthy population.
If you want a little more protection you will only have to add the filter of the intermediate layer, adding a plus of security.
Must follow the manufacturer's recommendations to manipulate and clean the mask, this way we will guarantee its maximum durability, safety and its correct use.
FLAPTECH sport mask + filter: 12,50 €
Pack of 2 FLAPTECH Filters: € 7,25
The garment can now be purchased on its official website: