We analyze the GO RUN RAZOR from Skechers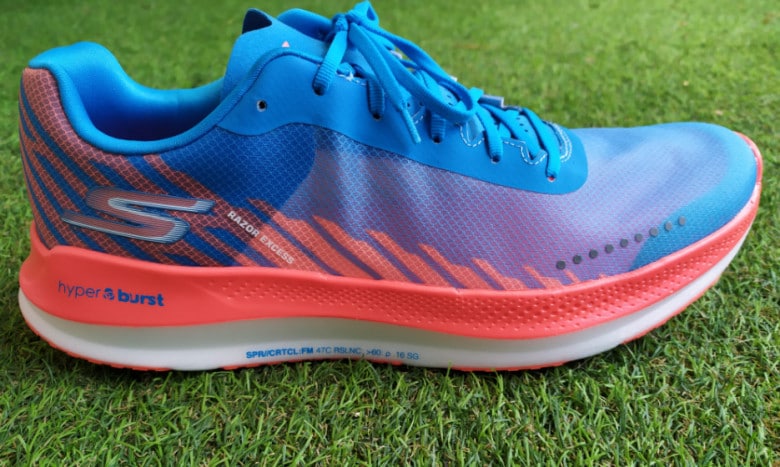 Skechers, one of the brands that has come to the running world with more force in recent years, has launched the model Skechers GOrun Razor Excess
The GOrun Razor Excess are a Razor3 variant that has a lower profile and with very little weight (240 gr) for the great cushioning it has.
This shoe can be used for both long shoots, daily workouts or intense, which makes it a versatile shoe for all distances.
Regarding the competitions it is ideal for the 21 km of a half marathon or a medium distance triathlon.
They are ideal for middleweight runners and that they have career technique
For damping is still betting on Hyperburst, that stands out for its lightness and for the reactivity it offers in the shoes that wear it
What stands out most about this shoe
These are some of the characteristics of the shoe that we highlight
26mm metatarsal height and 30mm heel height
Drop: 4 mm
Weight: 204 g in men's size 42
HYPER BURST® cushioning
Goodyear® outsole.
HYPER ARC ™ Rocker Bottom
Their designs, very striking and attractive
In Depth: Skechers GOrun Razor Excess
Regarding the shoe, we highlight what is the brand of the house, the feeling of comfort qeu remains exceptional.
Only weighs 204 grams (in men's size 42) which makes it very light and suitable for riding with them.
It has a thin, adaptable tongue with a lacing system. The mesh is very light and practically without reinforcements, which makes it a good candidate for long runs or endurance competitions.
The midsole has the HYPER BURST®, a very light component that protects the joints from the impacts of the race.
Also offers great reactivity offering the runner a good return on energy in each stride.
As for the sole, it has the guarantee of the brand Goodyear and it is specially designed for the asphalt (it has rectangular touches) even on rainy days and slippery areas.
Our conclusion
In our opinion the Skechers GOrun Razor Excess is ideal for middleweight runners with a decent running technique that they train 4 to 5 days a week.
Regarding the distances in which it can be used, it is designed to be a "versatile" shoe, ideal for both quality training, long runs and competitions.
For use in competition it is valid until half marathon or medium distance triathlon.
Tasting Scores
Design 9/10
Comfort 9/10
Materials 9/10
Performance 8/10
Where to buy:
The Skechers GOrun Razor Excess (RRP € 145) can be purchased at the following link
https://www.skechers.com/es-es/style/246004/skechers-gorun-razor-excess/blcl