We analyze the Hoka Carbon X-SPE shoes
Offers more security, fit, reactivity and speed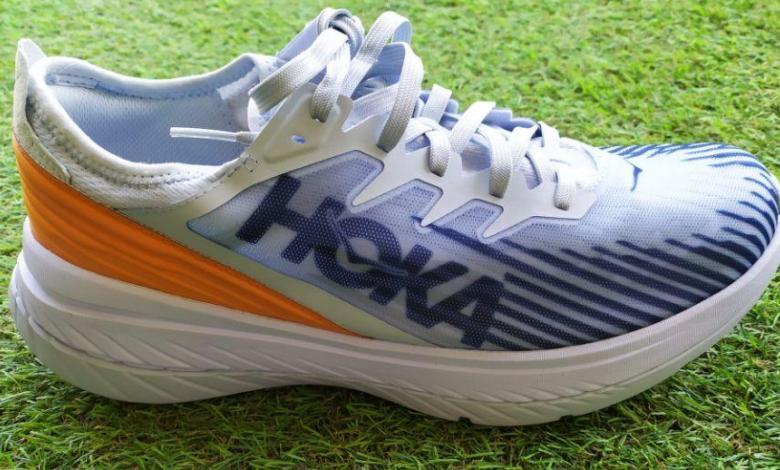 Positioned like a shoe for endurance runners, the model Hoka Carbon X-SPE is better than its predecessor, offering more fullfilment of security requirements, adjustment, reactivity and hence: speed.
The first thing that stands out is its careful design in addition to its lightness, about 250 grams in size 9 US and a drop of 5 mm.
These shoes they do not have a tab at the top, so the sensation it gives is a perfect fit of the foot in the shoe since it does not have seams.
In addition, they have reinforced heel area to offer greater support and a sense of security.
This is ideal for triathlon transitions since there is no waste of time.
Even in short-distance running tests, you could race without socks, saving valuable time in these types of races.
This model still has a carbon plate with PROFLY X technology in the midsole what to do gain propulsion, ideal for medium and long runs.
This plate rolls under the toes in order to avoid supination and provide a smooth transition with each stride.
As for the rubber foam outsole, it offers light, sensitive and durable contact with the ground.
Hoka from the point of view of a PRO: Emilio Aguayo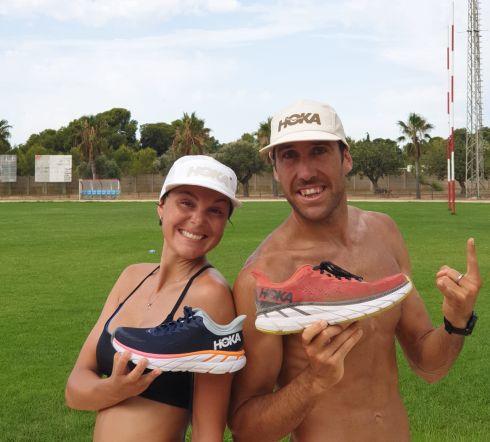 Emilio Aguayo, 2019 Wisconsin IRONMAN winner long distance triathlete who gave his passport to Kona does not comment:
«This is the third year that I wear Hoka. Before this stage for me, injuries predominated a lot, since I have worn Hoka I have only had occasional discomfort but I have never reached an injury as it happened to me before »
The model used by Emilio is CLIFFON 7 «It is my favorite and practically versatile shoe for me.
It is a model that adapts perfectly to the foot as well as being perfect for all types of runners, including the heaviest ones like me, who are around 76-80 kg.
If you ask me about a top sneaker, it's certainly Hoka Clifton. With them I finish muscularly new and also, as I said, for me it is a versatile model, which serves to perform at its best both in long runs and for shorter series training, as it is very light.«
Our sensations
As we have already mentioned, the first feeling when putting it on is that it perfectly fit and thanks to the new tongueless system, it has a perfect fit, support and security to face our trainings.
These sneakers are designed for endurance sports, as a half marathon or marathon and can be used both in training and in competition.
We do not recommend them for use off the asphalt due to the type of sole
Who is the Hoka Carbon X-SPE suitable for?
Runner type: background
Distance: half marathon, marathon, IRONMAN, etc.
Weight: medium or light, less than 65 kg
Rhythms 4: 30-3: 45 or faster
Tread type: Neutral
Recommended: long training sessions and competition
Pros
Flexibility
Foot fit and adaptation
Running sensations
Very striking design
Cons
Slight instability in irregular terrain
Overall evaluation
Lightness 10/10
Answer 9 / 10
8/10 cushioning
Stability 8/10
Flexibility 9/10
Reactivity: 10/10
Grip 8/10
Value for money 9/10