ASICS launches the SUPERBLAST model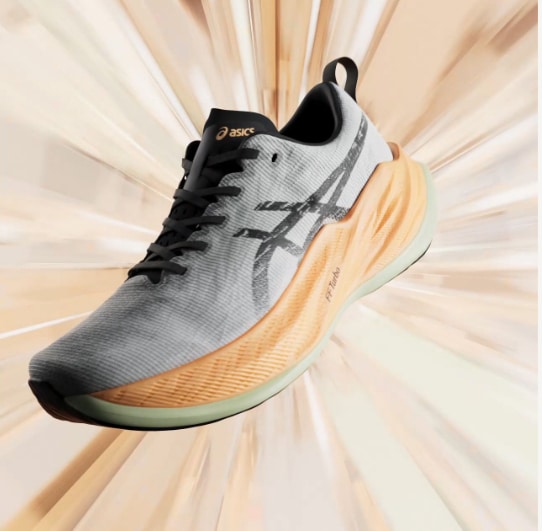 El SUPERBLAST™ model, endowed with the FF BLAST™ TURBO foam in the midsole makes it the ASICS' lightest, most bouncy shoe.
ASICS launches a new high performance running shoe: the SUPERBLAST™.
Featuring the latest cutting-edge foam technologies, the latest addition to the popular BLAST franchise bears its signature "rebound effect" to the next level to create a new "highly reactive" shoe with to power your daily run.
The uniqueness of the shoe comes from the use of foam FF BLASTTM TURBO of ASICS in the midsole, the lightest and with the greatest rebound.
To date, this technology has only been used in the METASPEED™, ASICS' fastest running shoe today and the competition model of choice for many of the brand's elite athletes.
La SUPERBLAST™ is for the most ambitious runners who want to feel the excitement and energy return effect enjoyed by elite athletes, turning their daily run into an extraordinary experience.
For those looking for the comfort and protection that ASICS is known for, the development team has found a way to increase rebound without compromising BLAST technology, ideal for daily training.
Combination of FF BLAST™ PLUS foam as the bottom layer of the midsole for generous, lightweight cushioning, minimizing the impact on the body, is one of the achievements of the development team, continuing ASICS' long-standing commitment to human-centered design.
Other features of the shoe is the asymmetrical mesh upper. Comprised of specially engineered mesh in a two-tone color palette, it creates aesthetically interesting patterns for visual play, giving us added joy every time a runner slips into a pair of SUPERBLAST™ shoes.
Chris Ekman, director of the Performance Running Division's Product Management Department, said, "The SUPERBLAST shoe™ is the newest addition to our popular BLAST series that will satisfy the growing desire of runners looking for the benefits of a lightweight, responsive super shoe, but with a better supportive platform.
Get ready to experience high reactivity, which you don't expect, from such a light shoe.
With this model, you'll feel like you're 'bouncing' by being your running partner to supercharge your daily run.
We hope runners have a great time and enjoy its benefits for mind and body."
THE SUPERBLASTTM It weighs approximately 224 grams (in a size US9) and is already available at a price of 220 euros.