CERVÉLO S5 the new bet of the Canadian brand on road bikes #UNIBIKE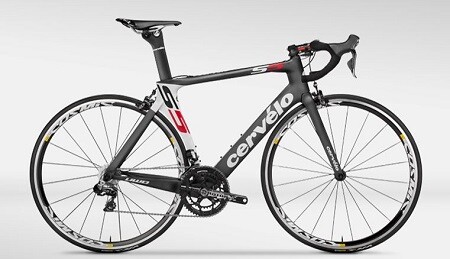 Cervélo's triathlon and chrono bikes have won more races than any other brand and it is known to all that they are the most popular in the LD and Time Trial triathlon events.
Cervélo S5
As a novelty for 2015, we were able to see the S5, model presented in the past Eurobike the launch of the S5. This popular model has undergone a new transformation improving the design, the aerodynamics and lowering the weight of the bike
According to the Canadian company, wind resistance has been reduced to 21.3 watts compared to the previous version S5.
In addition to offering a more aerodynamic position for triathletes, the fork has been redesigned, as has the head tube, which now presents a shorter profile. Another highlight is the new "aero" handlebar from Cervélo that features internal cable routing.
PVP: 3.800 €
Cervélo P5
Furthermore, at the UNIBIKE stand, we were lucky to find the frame of the well-known P5, a specific triathlon bike used by the 2013 IRONMAN World Champion, Frederick Van Lierde.
This bicycle that has been designed using the computational fluid dynamics software (CFD) of the 1 Formula and tested in the wind tunnel is the fastest on the market.
It has brakes and handlebars integrated into the frame, in addition to eliminating unnecessary material, reducing vibrations on the bike and improving aerodynamics.
PVP: 9.400 €
Further information: http://www.cervelo.com