Compex presents its Pack for triathletes
It is designed to optimize the performance and recovery of triathletes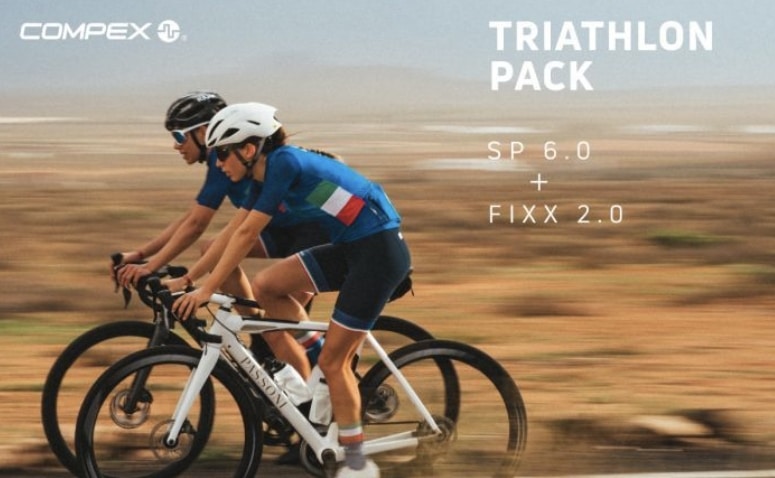 Compex, the renowned brand of electrostimulators and massagers, has launched its Triathlon Packno, one ideal combination for triathletes of all levels looking to improve their performance and recovery.
This pack includes two high-quality products: the electrostimulator Compex SP 6.0 and the massage gun Compex Fixx™ 2.0.
Compex SP 6.0 Electrostimulator
The Compex SP 6.0 is an electrostimulator designed to offer specific programs of physical preparation, as endurance, strength, cross training, core stabilization, hypertrophy y fitness, among others.
Also has recovery, massage and anti-pain programs, as well as rehabilitation and fitness programs.
Compex Fixx™ 2.0 Massage Gun
The Compex Fixx™ 2.0 massage gun is designed to help warm up muscles before a workout y reduce muscle tension after a hard session.
With five levels of intensity, interchangeable heads and a rotating head, this massager allows you to tailor the massage to specific needs of different muscle groups.
Compex Triathlon Pack: Special price
The Compex Triathlon Pack is currently on sale with a 26% off, going from a regular price of €1.349,98 to a special price of €999,66, which represents a saving of €350,32.
Do not miss the opportunity to improve your triathlon performance and speed up your recovery with this innovative pack from Compex.
Take advantage of the offer and take your training to the next level!
More information https://www.compex.com/es/compex-triathlon-pack