Already available in Europe the new Dharma of Spiuk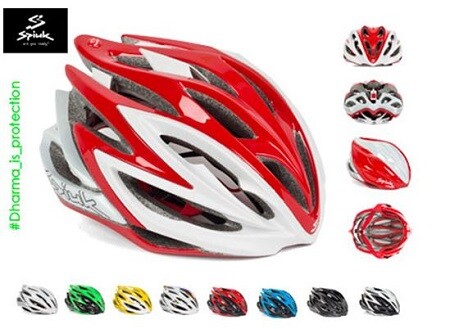 Spiuk has incorporated the SUPERCAGE technology. A reinforced front shell made of Polypropylene + ABS, an extraordinarily solid piece
The new helmet model of SPIUK, DHARMA, arrives at the market with the clear idea of ​​becoming the benchmark model of the brand and one of the most prominent in the cycling market. After his presentation at the fair EUROBIKE'13 and the success of its debut by the Caja Rural in La Vuelta a España, lands in the best cycling and triathlon facilities in Europe.

It is undoubtedly one of the great bets of the brand of cycling accessories, the result of almost two years of work in search of improvement in the four pillars of an excellent helmet aimed at high competition: lightness, comfort, ventilation and above all security. The Dharma combines the best know-how of Spiuk and the latest technological advances within the scope of cycling development.


One of the aspects that Spiuk's Design Department has worked the most is weight and helmet ventilation. To maintain the quality and the high degree of security, Spiuk has incorporated the technology SUPERCAGE. A reinforced front casing Polypropylene + ABS, an extraordinarily solid piece, which also allows the size of the openings to be enlarged, which represents a notable increase in the air intake that cools the forehead and temporary areas of the head. In the safety section, the use of CONEHEAD technology, an EPS injection system that allows the integration of two different densities of the protective foam, stands out.


In the case of a helmet for professional use, the DHARMA has not left aside its competitive essence. Thus, the new SPIUK model includes a closed aerodynamic housing, very easy to put on and take off. Perfect tool for moments where speed prevails. A novelty with a excellent reception in the field of triathlon but also among the sprinters of the professional teams that have already been able to test it in La Vuelta a España.


In fact, in 2014 there will be several professional teams and triathletes who will use the Dharma in international competitions: the Caja Rural, Bretagne-Seche, BH Suntour with the World champion Julie Bresset in front, the Orange Monkey, the UCI team of Pista Eustrak as well as the triathletes Eneko Llanos, Ivan Raña, Mario Mola...


Learn More http://www.spiuk.com/cas/site/producto-ficha.asp?id=769