Canyon Unveils Special Edition Speedmax CF SLX 8 Disc Frodissimo
A unique color achieved with 7 grams of ground arabica coffee beans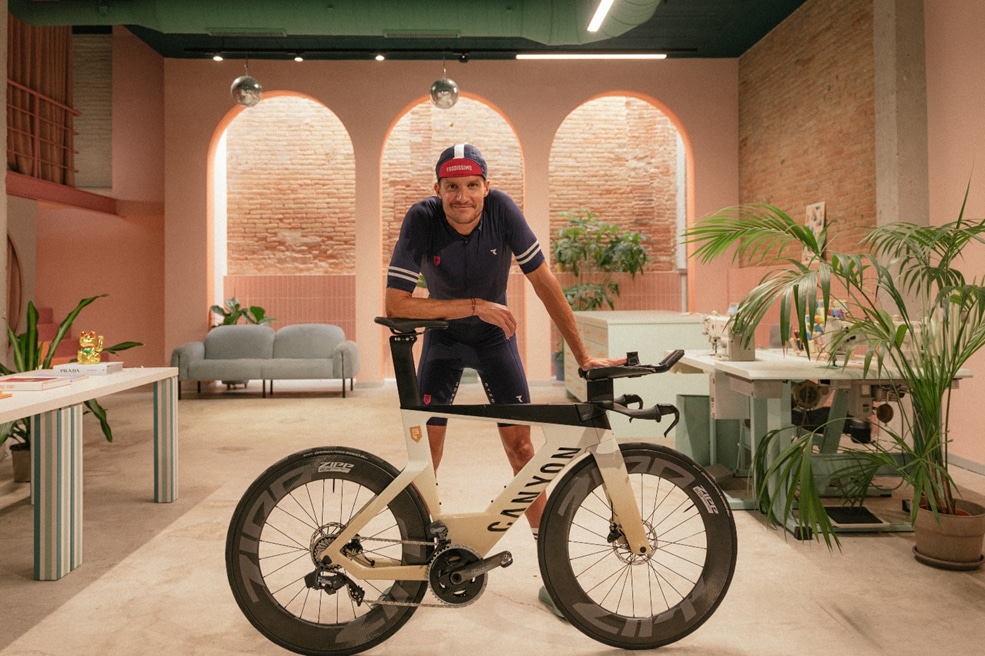 Simply put, the Canyon Speedmax is a legendary triathlon bike.
This is the bike of world champions, with a winning record well above any of its competitors.
perfected, continuously refined and improved by Canyon engineers, the Speedmax has propelled some of the best athletes on the planet to victory in the biggest triathlon races on the calendar.
And now, it's available in an exquisite new limited edition artwork with an extra touch of caffeine.
Only 100 units
Limited to 100 units, the Speedmax CF SLX 8 Disc Frodissimo It's a thoroughbred triathlon racer that's equal parts good taste and extreme performance.
inspired by coffee
A coffee-inspired bike made for any athlete who demands maximum speed, the latest technology and the best triathlon style.
"frodissimo" It's not just the nickname Jan Frodeno, is his trademark and a word that sums up his unique mentality as an athlete.
In Italian the suffix '-issimo' means the absolute superlative. No comparisons, no room for improvement, just the zenith of human performance and achievement.
Frodissimo is the embodiment of Jan Frodeno's obsession with going to extremes and being the best at everything he does.
On the one hand Jan is a sports icon, a triathlete with an Olympic gold medal and three World Championship titles, but on the other he is a great connoisseur of life outside of triathlon who enjoys simple things like a good cup of coffee.
An attractive work of art
Creative, bold and daring. For the first time in the world, The Speedmax CF SLX 8 Disc Frodissimo is painted with premium Frodissimo Explorer ground coffee.
"The final finish of each bike is done here in Germany with 7 grams of premium Frodissimo Explorer coffee.
We carefully mix a selection of finely ground arabica coffee beans with the paint and then paint the picture". – Lukas Beck, Senior Graphic Designer at Canyon, explains this unique process.
The result is a unique aesthetic with hints of macchiato brown, a bike suitable only for the most demanding and which gives the expression "Coffee Ride" a whole new meaning.
exquisite assembly
In addition to its unique finish, the Speedmax CF SLX Frodissimo includes a special selection of podium finisher components:
SRAM Force eTap Groupset that provides precise shifting and improves aerodynamics by eliminating cables and covers.
Integrated Quarq potentiometer on the cranks to see in real time the watts you move and measure your performance in training and races.
Zipp 808 Firecrest carbon wheels with Continental Grand Prix 5000 S tires (25mm front, 28mm rear).
Athletes will be able to adjust their aerodynamic position to the millimeter thanks to the adjustability of the Canyon CP0019 Basebar.
And to increase comfort armrest Canyon Pro Armpads They provide a greater support surface that reduces the pressure on the cyclist's arms.
An top of the range combination that provides maneuverability, maximum rigidity and bombproof durability.
The bike is delivered with a collection of special accessories selected to perfectly match its unique aesthetic:
A cup of Frodissimo espresso coffee
Premium Frodissimo espresso beans
A surprise gift.
Price
The Speedmax CF SLX Frodissimo will be available from Thursday, February 2, 2023 for €9.999 exclusively at canyon. com.