Articles Sports equipment
The new SIGMA watch for Triathlon the iD.TRI
The iD.TRI has been specially developed for triathlon.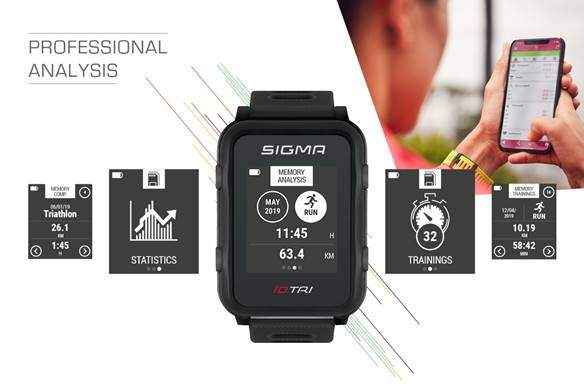 SIGMA SPORT expands its line of sports watches iD SERIES with two new models one of them created specifically for the triateta.
The watch stands out for its defined design and is extremely fine, its intuitive handling and its full connectivity through Bluetooth Smart and ANT +. The iD.TRI is synchronized both with the smartphone and with external sensors (heart rate, speed, pedaling cadence, potentiometers).
In addition, it has a USB interface for quick communication with a PC or Mac. The SIGMA software ecosystem, both the SIGMA DATACENTER and the SIGMA LINK app, allow you to configure the training views of both watches, as well as the evaluation and analysis of the data of each activity, in great detail.
Design
With the iD.TRI, SIGMA SPORT offers an easy to use and uncomplicated sports watch, ready for training and competition, for both beginners in the world of triathlon and advanced triathletes.
Thanks to its extra-thin design, the iD.TRI fits under any wetsuit, since of course it is designed to be waterproof and it is also oriented to swimming. In addition, this sports watch stands out for its low weight of only 42 grams, a high resolution screen and its great comfort of use.
The user can select one of the four available colors: "neon mint", "neon green", "neon red" or "black".
Training
Thanks to special algorithms, the sophisticated training system of the iD.TRI measures all relevant and specific parameters of each discipline for triathletes.
They are already on the triathlon watch preset profiles sports for swimming, Cycling y running, whose settings and training views can be fully customized.
In addition, there is a fourth sports profile that can be defined for any other type of training or sports practice.
Triathletes can customize up to six training views with up to three values ​​each in your iD.TRI, from the DATA CENTER or from the SIGMA LINK app.
Along with "data only" fields, the sports watch can also provide us with graphs, such as the altitude profile or the current weather trend. In the same way, you can establish target work zones y custom workoutss, according to different parameters.
The iD.TRI also incorporates a large training program which can be extended with unlimited workouts created by oneself or downloaded from third parties.
For the storage of the data, the watch uses the FIT format, usual in the market. In this way, the exchange of training and activity data works perfectly with any compatible platform (Strava, training peaks, Etc.).
Competition
iD.TRI incorporates a competition moden, to prepare the competitions and face them without stress.
In the competition planner You can freely select the order and distances of the disciplines that make up each event, so that you can create, in addition to the most common distances in triathlon, other competitions such as duathlon, swimming races or triathlon cross.
The watch adjusts the views corresponding to the sports profiles defined for each discipline, so that even values ​​and graphs are displayed during the competition habitual of the corresponding type of sport. Also, record the times of transitions.
In this way, triathletes can analyze their times even before official results of a competition. Additionally and for each sports profile, you can set an eating or drinking alarm depending on distance or time to ensure optimal nutrition and hydration during competition or training.
The iD.TRI is available as of September 1 from 2019 in specialized stores and online shops and for a RRP of € 179,95 (basic version) or € 249,95 in set version.
Last update: July 7, 2020 10:48
The SnapOn Bike Mount and charging cable are included in all versions. The set version also contains the R1 DUO (heart rate) and R2 DUO COMBO (pedaling speed and cadence) transmitters.