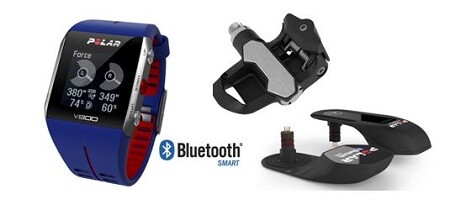 The new pedals Polar Look Kéo Power Bluetooth® Smart they are the best tool to analyze power training combined with heart rate measurement.
These are some of the features that make the difference:
Maximum lightness, precision and ease of installation (change between bicycles)
Force vector - measurement of the force exerted on the pedal
Bluetooth Smart® technology - compatible with Polar V800 and any product that uses this technology
Medium power
Planning and detailed analysis in the App and the online service Polar Flow.
Setting training views
Autostart - automatic start
Compatible with any type of connecting rod
Available in two packs:
Kéo Power Bluetooth® Smart: system premium which includes two Look Kéo Power pedals and two Bluetooth Smart ™ POLAR transmitters. Measure the power (in watts), left / right balance, cadence and cyclist efficiency.
Kéo Power Essential Bluetooth® Smart: more economical pack It includes a pedal that measures the power, a standard pedal and a transmitter. It is ideal for cyclists who want to know the total power without having to obtain an analysis of the balance between the left and right leg.
PRICE:
PVP Look Kéo Power Bluetooth® Smart: 1.700 €
PVP Look Kéo Power Essential Bluetooth® Smart: 999 €
More information:
Price drop on Amazon
374,00 €
13 New From 365,00 €

Amazon.com
459,98 €
2 New From 459,98 €
6 Used From 409,65 €

Amazon.com
More discounts