Get ready to swim this summer with Arena accessories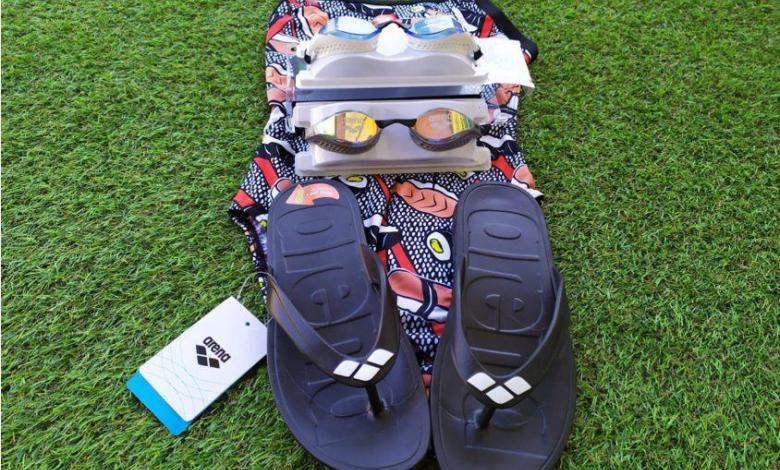 Summer is already here and since we have already been allowed to swim again, we must take into account the head turn and progressively. It is also important choose well the materials that we are going to use.
From triathlonnews.com we invite you to take a look at this article about Arena accessories to improve the swimming technique.
In this article that we present to you today we have tested the main kit we need to go swimming: swimsuit, flip flops and glasses, if possible with quality lenses.
Arena Air Speed ​​swimming goggles
Choosing good goggles for swimming can make a difference. So we have tried two different models : Air Speed ​​and Air Speed ​​Mirror
Air speed mirror
€20,70
30,00€
In stock
4 New From 20,70 €
1 Used From 20,44 €

Amazon.com
Last update: June 23, 2022 19:46
Ideal for competition, since they have mirror treatment, which allows you to see better when you have to swim with the sun on one side.
Furthermore, thanks to their small size and materials, they are very light and perfectly fit the eye socket, with seals that reduce pressure, something that is appreciated when you have to be swimming long enough.
Its design allows extended lateral vision ideal for competition
Air Speed
€21,00
25,00€
In stock
2 New From 21,00 €

Amazon.com
free shipping
Last update: June 23, 2022 19:46
It is identical to the previous one, although the only thing changes is that it does not have the mirror treatment that reduces the brightness, reason why its use is recommended in swimming pools.
Both goggles are approved by FINA (International Swimming Federation)
Our sensations
They fit perfectly and do not fog, we have tested them by swimming for more than 20 continuous minutes and no water has entered as they are well adjusted
From our point of view they are highly the model Air Speed ​​is recommended for pool training and or indoor competitions and in the case of Air Speed ​​MIRROR for long swimming / triathlon crossings outdoors. They are both really comfortable.
To compete in triathlon and seeing the possibility of having blows at the start, we would recommend another model with a shape that more broadly covers the eye socket.
The swimsuit
Arena training swimsuits are made in MaxLife or MaxFit, two swimwear exclusive to the brand with maximum resistance to chlorine water.
They dry very quickly and have a 50+ UV protection.
We have tested the one piece swimsuit for womento Crazy Sushi
For this Crazy collection of swimsuits Arena has been inspired by the cheerful pop art culture.
This Sushi model is printed with cartoons of the Japanese rising sun in red, coral, black and white which makes it designed to stand out in the most intensive swimming sessions
Beautiful and practical, our X-crossover design features sturdy yet slim straps and an open back.
https://www.arenawaterinstinct.com/es_es/002825-women-s-crazy-sushi-one-piece.html
Our sensations
Very comfortable, well designed that sits perfectly and with a high quality material perfect for both indoor and outdoor workouts.
Watergrip flip flops
Pool flip flops are being the essential accessory for every swimmer.
Arena has the WATERGRIP THONG model designed for the pool.
These flip flops provide balance and stability when passing through the wet areas of the facilities thanks to their sole that is made of rubber, with the Grip + technology, which increases grip in these areas
Produced with hypoallergenic EVA, these sandals are a guarantee that your feet feel comfortable and protected.
Our feelings:
Very comfortable, they hold perfectly to the foot. Effectively its sole grips in any circumstance (indoor or outdoor pool). Quality material with elegant design with matte finish and very discreet.