Garmin launches Rally cycling potentiometer range
It is a range of potentiometers to exceed your limits in any type of cycling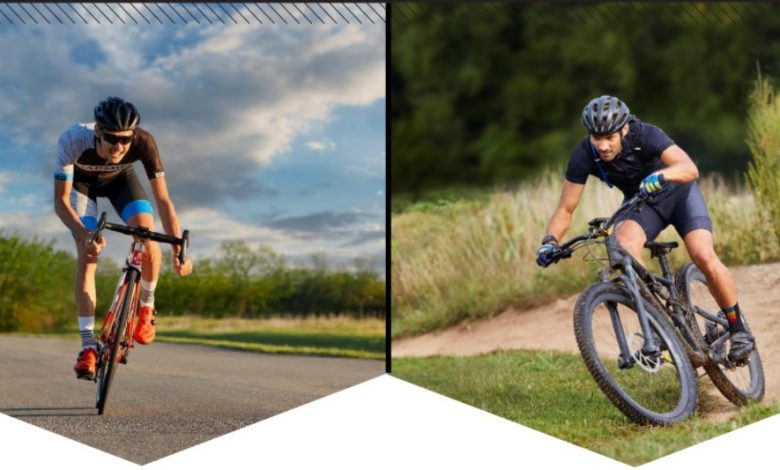 Garmin just announced the launch of its new range of potentiometers, developed to cover all the needs and demands of any type of cyclist.
Because currently this type of device has become a essential tool for those lovers of this sport who want to overcome all their limits in each training session.
Among its many benefits, it stands out the possibility of having valuable information to analyze later and know both the physical state of the cyclist and the points to improve.
At the same time, they allow you to design your workouts with greater precision and even help to improve your position on the bike to optimize performance. Do you want to know them more thoroughly?
For all types of cycling variants
Under the denomination Rally ™, Garmin's new range of potentiometers brings all these advantages and many more, because it has several models for the ddifferent types of cycling, either road, MTB, gravel, Cross country o cyclocross.
Its new hardware design allows a simple installation, in addition to improving the internal space of the potentiometer and the height of the stack for better ergonomics.
The range consists of three families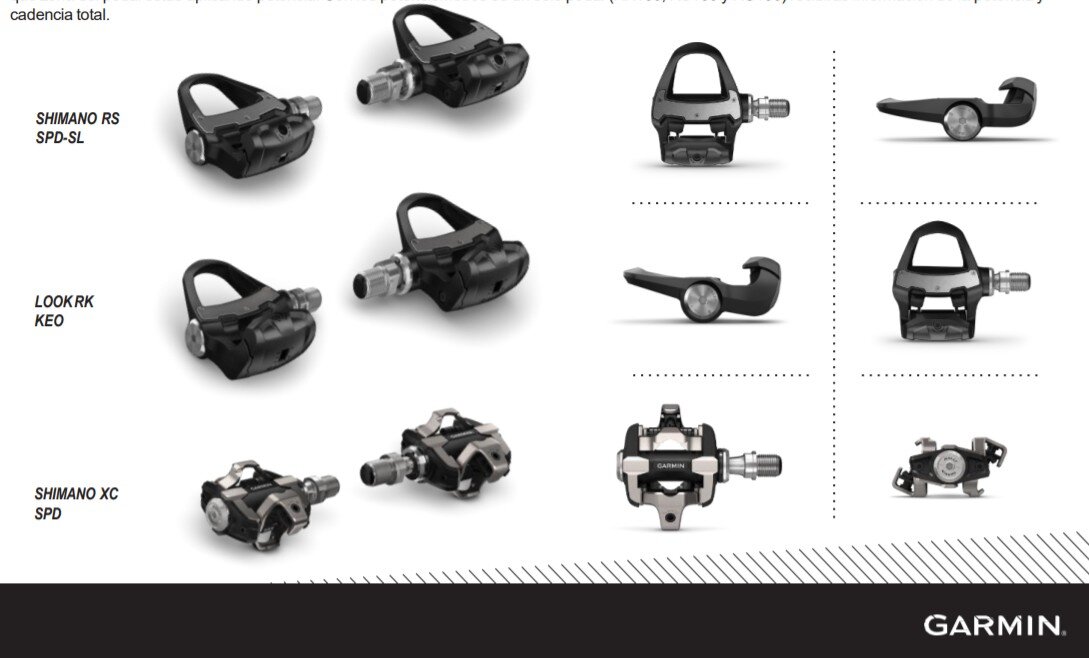 Specifically, the range consists of three families (RK, RS and XC) with double detection (both pedals) or single detection (single pedal) devices that measure power and cadence with an accuracy with a margin of error of +/- 1%.
The range has the following options:
Rally ™ RS100 and Rally ™ RS200, developed for road cyclists and can work with SHIMANO SPD-SL cleats
Rally ™ XC100 and Rally ™ XC200, designed for MTB, cross-country, gravel and cyclocross riders, and compatible with SHIMANO SPD cleats
Rally ™ RK100 and Rally ™ RK200, designed for road cyclists with compatibility with LOOK KEO cleats.
Double detection potentiometers
These potentiometers are designed as a pedal, with sensors housed in it and, therefore, can be installed quickly by the user.
With Rally ™ RK200, RS200 and XC200, double detectionn, the most demanding or advanced cyclists can view the data metrics of the right and left leg independently and will get reliable and accurate data in every training session.
By measuring cadence, total power, left-right balance and advanced cycling dynamics, dual-sensor pedals show riders how and where they are producing energy, helping them understand their strengths and weaknesses, and thus improve. the way you pedal.
In addition, the dual sensor pedals also record the time spent sitting versus standing, which translates into the ability to measure the effectiveness of the position and where the power is applied to the pedal to ensure position. right of the cove.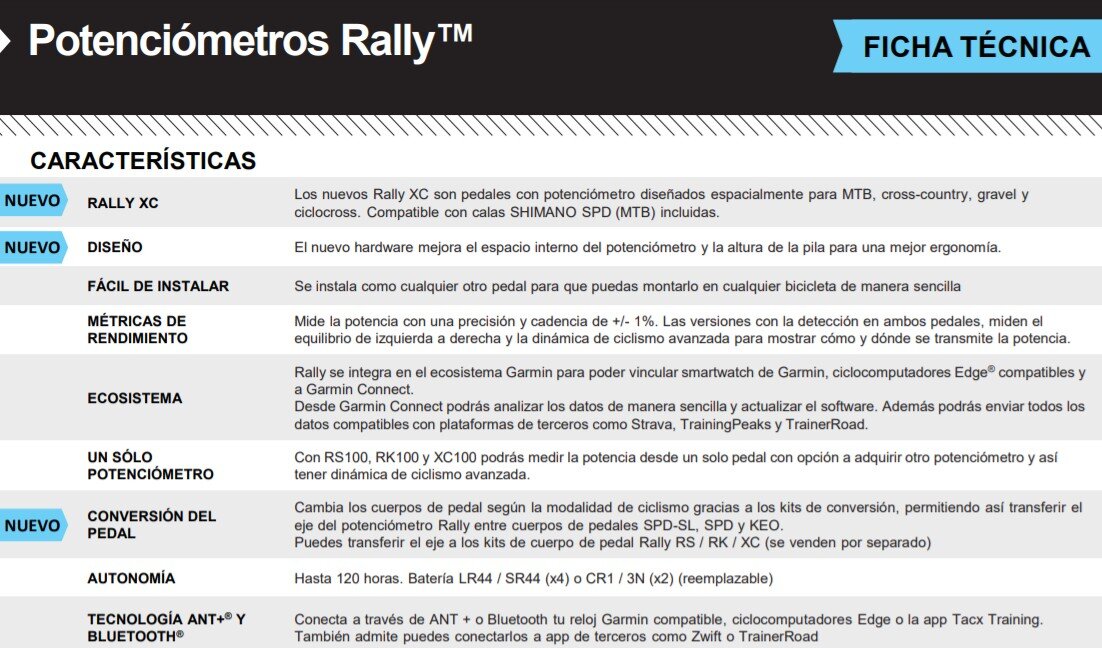 Single pedal potentiometers
In turn, those athletes who go out rolling occasionally or prefer to make a lower investment, can choose to Rally ™ RK100, RS100 and XC100single-pedal, which use the forces detected in the left pedal to measure both cadence and power.
Likewise, they can be easily upgraded later, if desired by the user, with a double detection system for more complete and advanced cycling dynamics.
Great versatility and connectivity
Communication and compatibility with other tools or applications are key elements to increase performance and analyze each session in detail.
In this sense, these products are equipped with ANT + or Bluetooth® technology, This makes it possible to pair the potentiometers with a Garmin watch or a compatible Edge® cycle computer and, therefore, allows information to be displayed in real time on the screen of these devices.
On the other hand, the application Garmin Connect ™ allows you to load the data and update the software in a fast and intuitive way to continue analyzing the information after each training or route performed.
Rally ™ potentiometers are also compatible with indoor training platforms most popular, like the app Tacx Training, Zwift y TrainerRoad, among others, which is a plus to continue improving physical condition when it is not possible to go out and shoot outdoors.
Similarly, Rally ™ allows you to change pedal bodies according to the type of cycling to be practiced, thanks to the optional conversion kits2.
Thus allowing the Rally potentiometer shaft to be transferred between SPD-SL, SPD and KEO pedal bodies, as well as Vector ™ 3 or Rally ™ RS, RK and XC pedal body kits.
Finally, the Rally ™ potentiometers are installed like any other pedal and can be changed from one bike to another, offering an extensive autonomy of up to 120 hours, allowing cyclists to train for weeks or even months.
Prices:
PVP Rally ™ RS100: 649,99 euros (VAT included)
PVP Rally ™ RS200: 1.099,99 euros (VAT included)
PVP Rally ™ XC100: 699,99 euros (VAT included)
PVP Rally ™ XC200: 1.199,99 euros (VAT included)
PVP Rally ™ RK100: 649,99 euros (VAT included)
PVP Rally ™ RK200: 1.099,99 euros (VAT included)
Further information: https://www.garmin.com/es-ES/