Garmin launches its range of watches with solar technology
Garmin reaffirms its commitment to solar technology with the launch of the fēnix 6 PRO Solar, Instinct® Solar and tactix® Delta Solar series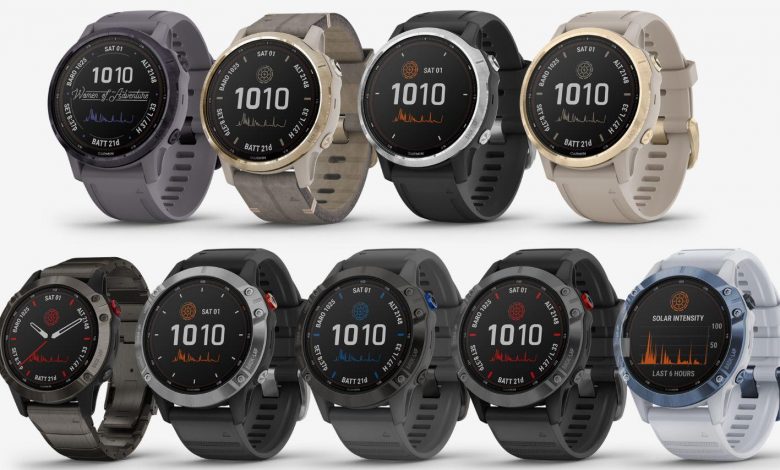 After the model launch fēnix 6X PRO SolarGarmin goes one step further in its commitment to solar technology by incorporating it into its full range of Smart watches adventure and multisport fēnix® 6 and 6S, Instinct® and tactix® Delta.
Now all fēnix 6, including the lots, will incorporate activity profiles of surf, Mountain biking, indoor climbing, bouldering, mountain ski, tools to manage the autonomy of the clock, wellness and monitoring applications and much more.
Garmin Seal Solar Technology
Garmin solar charging is made possible by Power Glass ™, a new patented technology developed by the company's team of engineers.
It is a semi-transparent, practically invisible layer, from photovoltaic solar cells located in the lens of the watch that collect energy from the sun throughout the day, when the watch face is exposed to light.
The solar panel is protected by the glass Corning® Gorilla Glass 3, designed with an already resistant DX treatment scratch proof, anti-glare and fingerprints.
In fēnix 6 solar, The charging system captures solar energy in two areas: on the one hand, around the perimeter of the panel, where a region that harvests solar energy with maximum efficiency is located.
On the other hand, the entire surface of lThe clock display also allows solar capture. In Instinct, a large part of around the screen are photovoltaic cells in charge of capturing all solar energy with maximum efficiency.
Solar Charge: from theory to practice
To keep control of the load, by means of a measured widgetA, users will be able to quickly verify the performance and solar capture capacity of their watch, directly on the wrist and in real time.
Furthermore, reinforcing lto autonomy management, customizable function Power ManagerAlso called Power Manager and available on all sundials, it allows users to adjust and control battery life by disabling certain functions to extend battery life as needed.
The real benefits of solar charging on the battery are significant. Below are the graphics of the battery according to the model, mode of use and operation of the solar charge:
Thanks to the use of this cutting-edge technology, all users will have more autonomy of use, fewer limitations and will be able to enjoy the adventure for a longer time without giving up all the features, activity profiles and intelligent functions included in the devices.
With this action, Garmin continues to invest in and develop its own innovative technology that enables users to meet and meet their daily needs.
Instinct® Solar: new models, maximum resistance
The new Instinct Solar series retains the robustness, strength and reliability of previous models.
The solar range, with chemically treated solar charged display is designed according to the US Military 810 standard, and features three special models: Instinct Solar - Surf Edition, Instinct Solar - Tactical Edition and Instinct Solar - Camo Edition.
Instinct Solar - Surf Edition
It is a watch designed so that surf specialists can keep track of its performance.
Its metrics include wave count statistics, maximum speed reached, distance traveled, practice time and tidal data.
Also, through the Garmin Connect application they can have the summarized information even see the best waves superimposed on the map. In addition, they have tide information directly on the watch to have the spot information updated at all times.
The Instinct Solar Edition - Tactical Edition
includes specialized features for tactical missions such as Night vision that allows to switch between day and night view; he Hidden mode which disables any wireless connectivity and GPS position
The Dual Position function that synchronizes the user's location with that of other people by displaying the Universal Transverse of Mercator (UTM) and the military grid reference system (MGRS) on the same screen; and the Jumpmaster feature that is responsible for measuring the distance of the jumps.
The Instinct Solar - Camo Edition versions stand out for their camouflage print designs and for adding hunting and fishing activities to have control and count of the activities.
In addition to specialized features, the Instinct range of solar contains multiple activity profiles and training, smart notifications, wrist heart rate also underwater, wellness monitors, improved pulse oximeter to assess acclimatization status at altitude, and the Body Battery feature that uses heart rate, stress and sleep data to warn the user when to rest and when to activate.
fēnix 6s and 6 PRO Solar: surfing, mountain biking and indoor climbing
The range of watches Garmin's Most Popular Multisport GPS Incorporates four new members: fēnix 6s Solar, fēnix 6s PRO Solar fēnix 6 Solar and phoenix 6 PRO Solar with a 1,2 "and 1,3" screen respectively.
In addition to solar charging, these editions add new activity profiles for surfers, mountain bikers, skiers and climbers.
For their part, users who practice mountain biking will have three new tools: the Grit function which calculates the degree of difficulty of the route and the terrain using data from elevation, accelerometer y GPS;.
The Flow metric that creates a ranking based on how well and smooth the route is running; Jump statistics that calculate the number of jumps, distance and time.
With all these data lcyclists will be able to see and evaluate their progress and in turn, set new challenges and improvement objectives on each route.
In addition, fēnix 6 is compatible with Garmin's new QuickFit® quarter turn mount for cycling.
For lovers of the indoor climbing and block climbing the watch houses metrics such as the number of attempts and falls, climbing distance and time, elevation change and difficulty of each route.
In addition, a new one is added tomountain ski activity that allows us to see the ascents and descents that we make in the mountains. In this way, they will be able to monitor their progress to try to improve meter by meter.
These new activity profiles add to the multitude of features of the fēnix 6 collection: GPS, TopoActive maps of Europe, maps of 2.000 ski resorts and 41.000 golf courses, sleep and stress monitor, improved pulse oximeter, maximum VO2 measurement, breathing and hydration warnings, music storage, Garmin Pay ™, smart notifications and much more.
In addition to all the multiple features of the fēnix 6, now a new widget is also added to all its models directly on the watch, which allows you to visualize the quality of your sleep and its score, as well as comments on rest and thus improve both day as night.
tactix® Delta Solar: designed for tactics
The fourth generation of the tactix family also joins solar technology with tactix Delta Solar, a robust and sophisticated device with a 1,4 '' screen and designed to meet US military standards (MIL-STD-810).
The tactix Delta range stands out for its valued Kill Switch function that allows you to delete all the confidential information stored in the watch, thus safeguarding the security of the mission without leaving a trace.
Like the tactical version of Instinct, tactix Delta Solar has Hidden Mode, Night Vision, Dual Position, Hidden Mode and Jumpmaster. It also incorporates mapping, training functions, Body Battery, smart notifications, Garmin Pay, music and much more.
With the incorporation of these devices to the solar range, Garmin marks its roadmap by betting on solar technology as a competitive advantage that adds value to its devices, and helps its users to save time and experiences outdoors in total freedom, leaving Charging cables aside.
Prices:
Fēnix® 6S PRO Solar PVR: from 749,99 euros (VAT included)
fēnix® 6 PRO Solar PVR: from 849,99 euros (VAT included)
Instinct® PVR Solar: from 399,99 euros (VAT included)
PVR Instinct® Solar Surf-Edition; Instinct Solar Tactical-Edition; Instinct Solar Camo-Edition: 449,99 euros (VAT included)
Tactix® delta solar PVR: from 1099,99 € (VAT included