Inverse Windflap masks wear Kukuxumusu
The mask base is the same as the rest of the Windflap reusable protection masks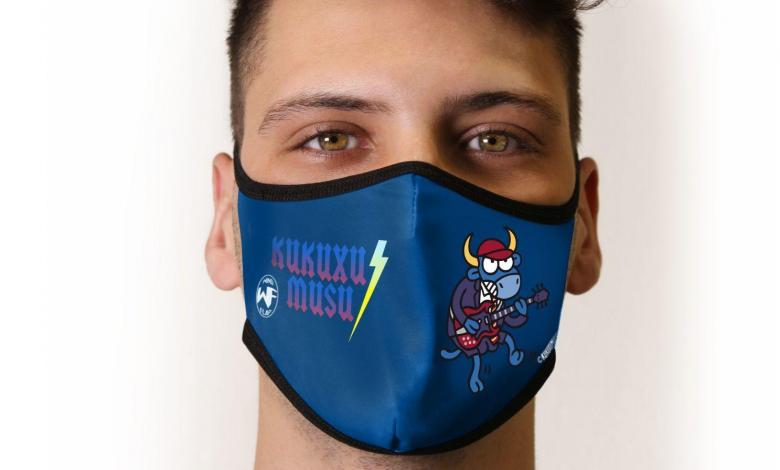 Fans of Kukuxumusu® already have their masks: reverse puts on sale a new line of its hygienic masks reusable Windflap®, personalized with their original and fun designs.
At Inverse® we share the Kukuxumusu® philosophy: "Wrapping up the humor is the best way to scare away ghosts, bad vibes, and ditties."
What are we talking about in this article?
The base of the masks is the same as the rest of the Windflap® reusable protective masks. A mask with a high level of breathability thanks to its FLAPTECH Sport filter.
The new line of Windflap® masks with the cool designs of Kukuxumusu® incorporates a wide variety of models with more hooligan, fun or elegant designs for adults and children.
These masks are for sale in the store www.inverseshop.com/kukuxumusu.
DOUBLE EFFECTIVE PROTECTIVE MASK
Inverse's WINDFLAP® protective mask with Kukuxumusu® designs has been raised under the premise of responding to the high demand from many fans of Kukuxumusu® designs by masks with double effectiveness to protect yourself and others with a high level of breathability and, at the same time, with wanting to scare away the bad rolls and put a little bit of sense of humor Given the serious situation we have had to live through.
The high level of breathability of this mask is achieved thanks to its exclusive FLAPTECH Sport filter.
A filter certified with UNE 0065: 2020 that guarantees a Bacterial Filtration Efficiency (BFE) of 94,16% +/- 2,45, creating an efficient barrier against viruses and bacteria.
A SUSTAINABLE MASK
It has also been sought that it be a protective mask reusable thanks to the possibility of being washable, guaranteeing a sustainable and economic product.
In this way, the generation of waste is avoided and considerable savings are made with disposable masks.
Like all Inverse sportswear, the customization of this reusable hygienic mask Kukuxumusu® has been made using the sublimation technique, using ecological inks at all times.
MAXIMUM COMFORT AND SELF-ADJUSTABLE
The comfort of the Kukuxumusu® fans has been another of the great elements that has been taken into account in the design of all the WindFlap® protective masks.
A Ergonomic design that thanks to its innovative pattern design allows an acceptable level of aerodynamics.
The fabric of the inner layer is nice touch. And it is self-adjusting, thanks to its double-sided stretch trim that facilitates maximum comfort and avoids the undesirable involuntary fall of the mask when we walk or practice our sport.
3 REAL LAYERS, 3 DIFFERENT FABRICS FOR DOUBLE PROTECTION
Inverse®, with more than 50 years of history andn the manufacture of cycling sportswear, triathlon, running, trail, swimming, skiing, etc ... has a long experience and technical knowledge of the right fabrics.
The WindFlap® protective mask with Kukuxumusu® designs hase 3 real layers of protection, made with three different fabrics for three different functions:
Outer Layer.
Water-repellent fabric of 220 gr. that repels liquids. Manufactured with 80% Polyester and 20% Elastane and with ISO 1883 (composition), ISO 9237 (permeability) and ISO 4920 (spray) certifications.
This outer layer has the possibility of being customizable by means of the sublimation technique with ecological inks.
Removable Middle Layer.
FLAPTECH 126 gr filter that works as a water-resistant filter and acts as a barrier for viruses and bacteria. Made with 80% polyester and 20% polyamide.
Washable and reusable. Certificate: UNE 0065: 2020.

Bacterial Filtration Efficiency (BFE%) 94,16 +/- 2,45.

Breathability: Differential pressure (Pa / cm2) 19 +/- 1.

Spare parts for this filter are also marketed.
Inner layer.
Antibacterial fabric of 80 gr. with a pleasant touch in contact with the skin. Manufactured with 82% Polyamide and 18% Elastane and with ISO 1883 (composition), ISO 9237 (permeability) and ISO 4920 (spray) certifications
It must be emphasized that it is a protective product, in no case is it an EPI (personal protective equipment) or a PS (medical device).
All the fabrics used are manufactured in the EEC (European Economic Community)
A WASHABLE AND REUSABLE MASK
Unlike many masks that exist on the market, the WindFlap® protective mask with Kukuxumusu® designs is washable allowing constant reuse.
We just have to follow these washing tips so that it is ready and can be reused with all the hygienic guarantees:
The maximum washing temperature is 60º
Do not use bleach in the wash
Do not iron or use any steam treatment
Dry cleaning possible with standard products
And you can use the dryer
Contact between a dirty mask (to be washed) and the rest of dirty clothes should be avoided. The person in charge of the washing must protect himself to handle the dirty masks.
The FLAPTECH filter must be washed out of the mask.
The life of this filter is 5 washing cycles carried out at 60º. It is recommended to change the filter and wash it every 24 hours of continued use.
The filter wash has differences in relation to the mask wash:
Maximum washing temperature 60ºC
Do not use bleach
Can be ironed at low temperature
Do not tumble dry
Do not dry clean
All WindFlap® reusable hygienic masks with Kukuxumusu® designs can be purchased online through the online store www.inverseshop.com/