The best sports books in 2022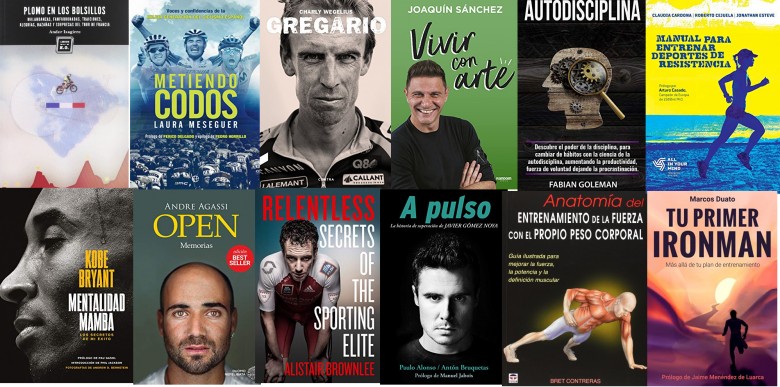 If you're looking for book about sport to read or give away this guide may be useful to you.
In this article we have compiled the best readings on sports topics on Amazon, where you can buy them either in traditional format or in Ebook format.
We selected books based on user ratings, so these books are 100% recommended.
If you are one of those who like to read in electronic format, you can try free for 30 days service Kindle unlimited where you can download more than 1 million Ebooks.
Sports books to pass the time
---
Lead In Pockets
Ridiculousness, bragging and madness of the Tour de France
Pélissier, winner of the 1923 Tour, protested against the harshness of the regulation: "They will soon put lead in our pockets."
Little Robic, winner of 47, was loaded with lead to go down faster. The suffering imposed by the Tour is lead, but so is the determination of the cyclists.
Sticking elbows
Foreword by Perico Delgado and epilogue by Pedro Horrillo Spain's relationship with elite cycling is long and successful.
Not by chance it has some of the most exceptional cyclists of all time such as Bahamontes, Ocaña, Escartín, Perico, Induráin or Olano.
Laura Meseguer, one of the most respected and well-known journalists in the international squad, reviews in a dynamic and in-depth way through dozens of personal interviews carried out with the protagonists, and without avoiding controversial topics, the last twenty years of Spanish cycling, the This sport's most golden age, where the Contador, Freire, Valverde and Purito, among many others, have achieved epic victories in the toughest ports and in the most demanding races.
An essential human story of effort, sacrifice and glory of the so-called "great generation of Spanish cycling."
Gregarious
Charly Wegelius, born in Finland but raised in York, Great Britain, was one of the most prestigious British cyclists in the international peloton, where he rode as a professional during the first decade of this century.
As a professional, he never won anything. Like so many other riders who never wore yellow or never made it to a podium, his job was to be gregarious: to help his leader to win, even if it meant giving up any option for victory or personal glory.
He was a "common soldier" and fought his way through one of the toughest and most demanding sports out there.
"Gregario" is a fascinating, honest and tough testimony of the true world of professional cycling: the real world, that of seedy hotels, that of low wages and job uncertainty, that of falls at full speed that endanger everything. a career, that of the dilemmas of which he knows will never stand out and whose name will not go down in history.
Athlete Biography Books
---
Living with art
JOAQUÍN knows that the way to truly live is to LIVE WITH ART
We all have something in common: we live the good, the bad, the worst and the best.
We all have to fight to achieve the best, without ceasing to enjoy the good; striving to get through the bad and overcome the worst. Because from the lowest you can go up to the highest ... or the other way around. And the secret of a good life is always in the same place: in your head, and in your hands!
It doesn't matter if you are a footballer or work in an office, because we all have our history. And this is mine. You will see that it is not a fairy tale, but a day to day effort, because I made a decision a long time ago: to enjoy the present and work for the future, valuing the good things and the people I love. Because to live life it is not enough to breathe. You have to live with art.
«If you have ever seen a football match in your life, even by chance, you will have noticed one thing: all players fail in some play or action. Everyone.
From the number one in the world, to the kid who plays at school recess. Failures and mistakes are normal, both in high competition and in everyday life.
Trying to be perfect is the excuse for not moving from your site: "If it doesn't work out, why try?" Well, to get the things you want, for that. Because if you don't dare to fail, you can never win. "
Mamba Mindset: The Secrets of My Success
When I hear people say that they have been inspired by the mamba mentality, I think that all my work, all my effort and all the sweat, has paid off.
That is why I have written this book. All the pages contain teachings, not only about basketball, but also about the mamba mentality. That is, about life.
Open: Memories
As a baby, they put a toy racket in his hand. Since then, Agassi has done nothing but hit tennis balls.
His father, obsessed with making him a sports star, built a machine (the dragon) that fired 2.500 balls a day at little Andre.
In this captivating autobiography, Agassi reveals, with a sense of humor and tenderness, a life defined by the contradiction between an imposed destiny and the desire to please those who have sacrificed everything for him. "I hate tennis, I hate it with a dark and secret passion, and yet I keep playing because I have no choice. And that abyss, that contradiction between what I want to do and what I actually do, is the essence of my life. " Andre Agassi
Relentless: Secrets of the Sporting Elite Alistair Brownlee
In his quest to define "sporting greatness," the two-time Olympic champion Alistair Brownlee He has spent nearly 4 years interviewing and coaching some of the brightest minds in sport to discover what it takes to become and remain a champion.
Freehand: The history of overcoming Javier Gómez Noya
The talent had it, but Javier Gómez Noya He needed a tremendous mental capacity to overcome the setbacks that life presented to him from a very young age. He never lowered his arms. The pain made him stronger and, now free to compete and monitor his health, he became the first athlete to win the Triathlon World Championship five times.
An athlete capable of reinventing himself and whose essence captures his mythical triumph on the Hyde Park straight in 2013. A story woven into the involvement of the five-time world champion and his entire circle.
An astonishing epic, so surrounded by intrigue and disappointment, that it seems like a thriller about an athlete admired all over the planet.
A legend won by hand, blow by blow, triumph by triumph.
Sports training books
---
Self-discipline
Discover the Power of discipline, to change habits with The science of self-discipline, increasing productivity, strength ... procrastination: 4 (Positive psychology)
Discipline is defined as the ability of a person to strictly adhere to certain rules and principles of life.
Discipline is largely due to external motivating factors rather than internal beliefs (for example, a person comes to work on time because they are afraid of being fired; they follow the appearance and order of clothing, because they want to be accepted by the society).
Self-discipline is the most effective method of self-development, fighting against addictions and especially against negative habits (arriving late, "leaving everything for tomorrow", grasping problematic situations or controlling emotions).
Anatomy of strength training
Increase strength, build muscle mass, burn fat, and define muscle.
With color anatomical illustrations, step-by-step instructions, and training tips, Body Weight Strength Training Anatomy is the most reputable practice work for sculpting the physique without the need for free weights, machines, or expensive equipment.
Manual for training endurance sports
Very interesting book aimed at training endurance sports. With a super practical and very easy to read format, this book is not intended to be a comprehensive compendium of the enormous and controversial current knowledge, but has been deliberately intended to be simple.
The book is for coaches and athletes. It aims to start from practice and the processes to follow when developing a program, with clear global ideas. And if it raises your concern, the reader is encouraged to delve into the specifics.
Your first IRONMAN: Beyond your training plan
Completing an Ironman is much more than strictly following a training plan, especially if it is the first.
The illusion can crumble and turn this dream into a nightmare if fundamental details are overlooked.
Since the decision to participate, infinite doubts, unforeseen events and difficulties arise despite following a rigorous physical preparation.
In which test to enroll? When to train if the work and personal schedule is full? How to manage difficult moments during training and the race? What to include in the luggage? How many days before the event should you arrive in the city?
Cycling and performance
Cycling and Performance is an educational training guide for any cyclist who wants to improve their level of physical condition, whether for competition or cycling.
The purpose of this guide is for the cyclist to be able to design their own training plan by following the guidelines shown in it.
Triathlete training
Matt Dixon coaches triathlon champions. Over the past five years, purplepatch athletes have participated or stood on the podium in more than 150 Ironman® and Ironman 70.3® championships, so they are the clear proof that they know what they are doing.
This progressive training program is based on the belief that performance rests on four equally important pillars: training, recovery, nutrition and strength.