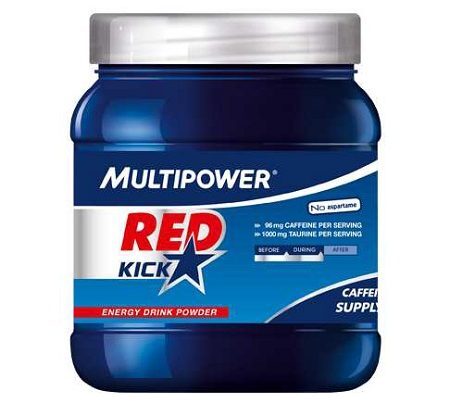 On more than one occasion do you feel that you need a push in the previous and the during? Are you one of those who use caffeine gels or similar to prepare, not decay or maintain the pace of the race?
We present the instant solution in drink: Red Kick, the new drink of Multipower that unlike a classic energy drink, introduces the appropriate proportion of carbohydrates (85g) and minerals, along with a high contribution of caffeine and taurine.
Your translation "Red ball", says it all. The new beverage is positioned as the ideal ally for those looking for a extra push and rise of adrenaline while they are doing sports activity. When presented in liquid format (powder mixed with water) ensures instant absorption by sips and concentration in the performance is activated from the start.
Desfallecer with an energetic of these properties becomes practically a utopia and in days of fatigue or accumulation of volume, it can be the "boost" you need.
The composition of the drink is nourished by a high complex of vitamins (B, C and E) together with fundamental minerals in sweating, such as sodium. In addition, in order to improve performance and delay the onset of fatigue, the drink incorporates an 1,6% guarana extract (0,24g guarana per service) which also make it the most recommended drink before a race or important training, since it gives you that spark that you need and that you want to maintain with agility. The rest of the energy percentage is an 4,8% pure caffeine (0,72g per service).
It is not a drink that gives tachycardia or alter the peaks of tension, it is simply a stimulating drink for lovers of the strongest emotions that, at the same time, replenish electrolytes and lost carbohydrates. In fact, its activating effect is sustained release by taking small quantities continuously. It is not like a vial of guarana that has caffeine concentrated and is taken at a stretch.
The flavor of Red Kick is also a novelty in Multipower, when innovating with a taste of "multi-tasking""With high antioxidant value, as red fruits predominate in the recipe. The recommended dose is only 15 grams per service in 500ml drum, always mixing with water, which ensures a concentrated effect to give the "desired pitch". In total, a single can gives for 33 uses, a much larger amount than any other Multipower beverage.
Until now, Red Kick had only been commercialized in single-dose bottles. This summer, take the step forward in the Endurance world. So ... give your best in both training and race and benefit from the new natural thrust of Multipower!
* Red Kick can be taken with other supplements such as gels, bars and vitamins. The combined use with the guarana vial is accepted provided that the recommended daily dose is not exceeded.
Dosage: 500g for 33 services in 500ml canister.
PVP: 16,99 € at the point of sale.
Promotional price in www.multipower.es as launch: 14,99 €.
Más info: http://www.multipower.com/es/product/red-kick
Red Kick in bottle unidoses (500ml)
You can also get the concentrate in single-dose bottles of 500ml with the same proportion of ingredients but in two flavors: multifruit and green tea.