The New Trek Madone SLR, 450 gums lighter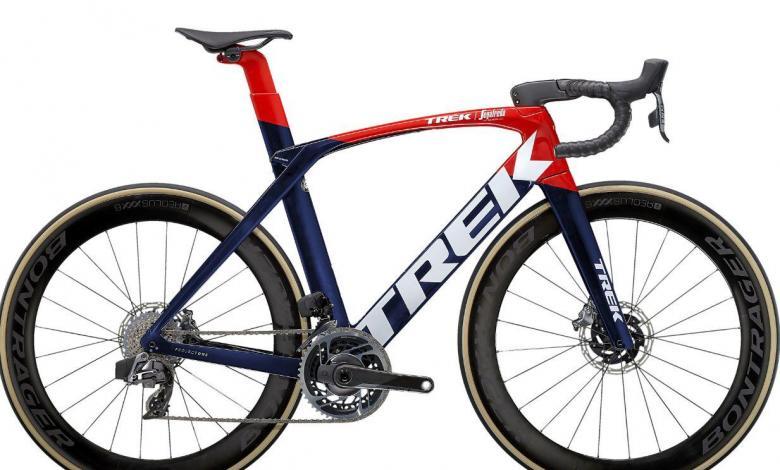 The new evolution of the competition bike of Trek It maintains the same aerodynamics as its predecessor, yet is almost 450 grams lighter. Yes, you read that right; we have reduced its weight by almost half a kilo.
A combined OCLV 800 Series carbon frame with ultralight components.
OCLV 800 Series Carbon
It is the lightest laminate from Trek, and contributes to Madone SLR more speed on all terrains and in all conditions.
Advanced aerodynamics
Both on the road and in the wind tunnel, the shape of yourbos Kammtail Virtual Foil Madone's exclusive makes it one of the world's most aerodynamic bikes.
Excellent behavior
El Adjustable IsoSpeed The horizontal tube absorbs annoying bumps in the road, increasing efficiency and minimizing the feeling of fatigue.
Unprecedented integration
All the elements of this bicycle make an even better whole. It features invisible cable routing, aerodynamic handlebars and stem, integrated hidden seatpost, integrated brakes and much more.
Price range
Tope Gama: Madone SLR9 eTap PVPR: 13.599 €
Gama baja: Madone SLR 6 PVPR 7.099 €
Specifications
* specifications are for all sizes, unless otherwise noted
| | |
| --- | --- |
| Box | OCLV 800 Series Carbon, KVF (Kammtail Virtual Foil) tube shape, IsoSpeed ​​adjustable in the horizontal tube, invisible cable routing, 3S aerodynamic chain guide, T47 bottom bracket, DuoTrap S compatible, flat mount disc, 142x thru-axle 12 mm |
| Forks | Madone KVF full carbon, profiled carbon fork tube, invisible cable routing, flat mount disc, carbon dropouts, 12 × 100mm thru-axle |
| | |
| --- | --- |
| Front wheel | Bontrager Aeolus XXX 6, OCLV carbon, Tubeless Ready, rim width 21mm, rim profile 60mm, 100x12mm thru-axle |
| Rear wheel | Bontrager Aeolus XXX 6, OCLV Carbon, Tubeless Ready, 21mm Rim Width, 60mm Rim Profile, SRAM XD-R Core, 142x12mm Thru Axle |
| Cover | Bontrager R4 320 Handmade Deck, Hard-Case Lite, 320 tpi, 700 x 25c |
Shift lever
SRAM RED eTap AXS, 12-speed
Diverter
SRAM RED eTap AXS, solder type
Gears
SRAM RED eTap AXS, Orbit chain management, sprocket max 33T
* Bottom bracket
Size: 47
SRAM RED AXS Power Meter, 48/35, DUB axle, 165mm length
Size: 50, 52
SRAM RED AXS Power Meter, 48/35, DUB axle, 170mm length
Size: 54, 56
SRAM RED AXS Power Meter, 48/35, DUB axle, 172,5mm length
Size: 58, 60, 62
SRAM RED AXS Power Meter, 46/33, DUB axle, 175mm length
Bottom bracket
SRAM DUB, T47 threaded, inner bearing
Cassette
SRAM RED XG-1290, 10-33, 12 speed
Chain
SRAM RED D1, 12 speed
Saddle
Bontrager Aeolus Pro, carbon rails, 145mm width
* Seatpost
Size: 47, 50, 52, 54, 56
Madone Aerodynamic Integrated Carbon Seatpost, Integrated Light Bracket, 25mm Throwback, Short Length
Size: 58, 60, 62
Madone Aerodynamic Carbon Integrated Seatpost, Integrated Light Bracket, 25mm Throwback, Long Length
*Handlebar
Size: 47
Trek Madone aerodynamic adjustable VR-CF, OCLV carbon, invisible cable routing, 93mm feedrate, 123mm drop, 38cm width
Size: 50, 52
Trek Madone aerodynamic adjustable VR-CF, OCLV carbon, invisible cable routing, 93mm feedrate, 123mm drop, 40cm width
Size: 54, 56
Trek Madone aerodynamic adjustable VR-CF, OCLV carbon, invisible cable routing, 93mm feedrate, 123mm drop, 42cm width
Size: 58, 60, 62
Trek Madone aerodynamic adjustable VR-CF, OCLV carbon, invisible cable routing, 93mm feedrate, 123mm drop, 44cm width
Handlebar tape
Bontrager Supertack Perf Handlebar Tape
*Power
Size: 47, 50, 52, 54
Trek Madone streamlined, invisible cable routing, 7 degrees, 90mm length
Size: 56, 58
Trek Madone streamlined, invisible cable routing, 7 degrees, 100mm length
Size: 60, 62
Trek Madone streamlined, invisible cable routing, 7 degrees, 110mm length
Brake
SRAM Red eTap AXS hydraulic disc, flat mount
| | |
| --- | --- |
| Weight | 56 - 7.86 kg / 17.32 lbs |
| Weight Limit | This bike has a maximum weight limit (combined weight of the bike, rider and load) of 125 kg. |