The renewal of an icon: CARBON x arrives
New foam for the HOKA model that changed the history of the brand by incorporating a carbon fiber plate inside.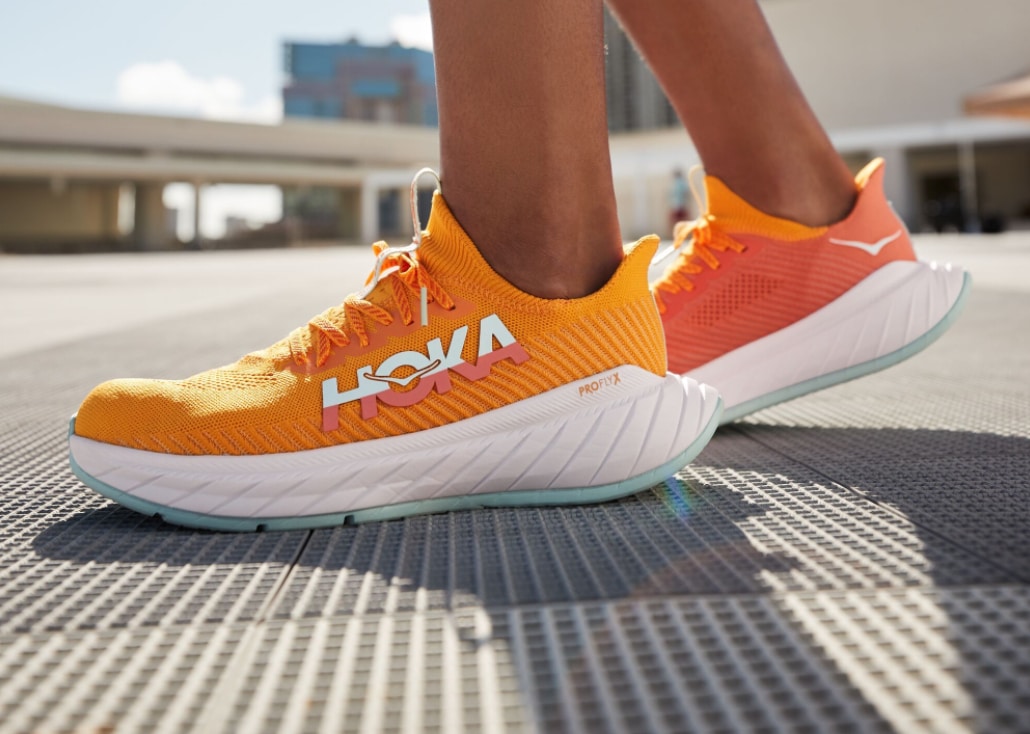 With the aim of offering runners an even more energetic experience, HOKA launches the renewal of one of its great icons in terms of asphalt models.
Our new Carbon X 3 They are already on sale and they come with a series of novelties that will take their users to another dimension with each stride.
The nnew midsole, even more responsive than those used in its predecessors, combined with the now iconic carbon fiber plate cause these new Carbon X 3 to be one of the models most complete on the market for running on asphalt.
In addition to this improvement in the midsole, the brand's new model also brings new features in the upper, which is built with a new fabric designed to improve the fit to the foot and resistance over time.
It is a very complete model, in which a meta rocker (the curvature of the sole of the shoe) much more aggressive and that will allow runners to accumulate more kilometers efficiently and at high rates.
Undoubtedly, a combination of improvements that make this third version of the HOKA model, without a doubt, the best of this young saga.
DIFFERENCES WITH OTHER MODELS?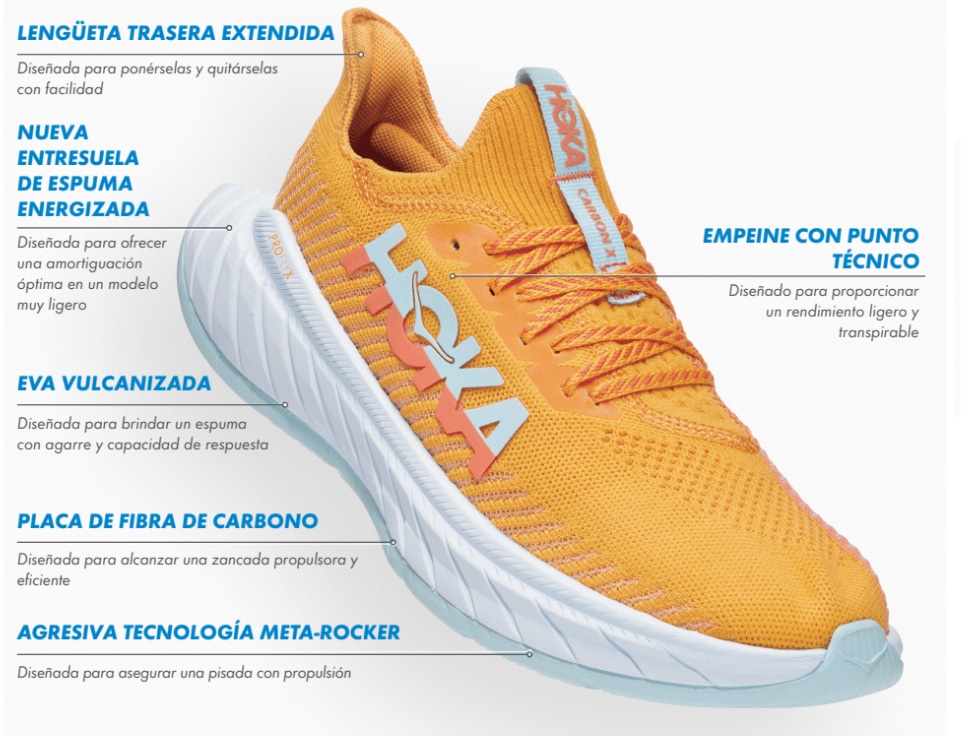 CARBON X 3 VS. CHARCOAL X 2
It retains everything runners love about the Carbon X 2: the same heel height, heel-to-toe drop, and PROFLY™ experience, but it's all refreshed and improved.
The Carbon X 3 provides a smoother, more responsive running experience than version 2, thanks to an innovative, lightweight foam that, placed on the top layer of the midsole, along with an EVA outsole further enhances responsiveness. .
They're also lighter than their predecessors (17g lighter on the men's version and 10g lighter on the women's version), thanks to an updated mesh upper with engineered knit covering the tongue and integrated eyelets to create an extraordinary fit. Now, knitted areas on the instep provide increased breathability, support and comfort.
CARBON X 3 VS. MACH4
Both the Carbon X 3 and Mach 4 feature PROFLY intelligent dampingTM, designed to offer a softer landing and a more energetic launch.
Unfortunately for Mach 4, the Carbon X 3 has a carbon fiber plate inserted into its midsole that maximizes propulsion with each stride.
The Carbon X 3 is firmer than the Mach 4 but also has a little more cushioning.
CARBON X 3 VS. ROCKET-X
Both models have a carbon fiber plate in their midsole and are designed to offer maximum efficiency and propulsion with each stride.
The Carbon X 3 have a midsole made with PROFLY technologyTM, designed to offer a softer landing and a more energetic launch. For its part, Rocket X has a midsole with a single-density foam.
The Rocket X is designed to be lightweight and to be used as a competition shoe, while the Carbon X 3 has more durability and support, so it can also be used as a training shoe.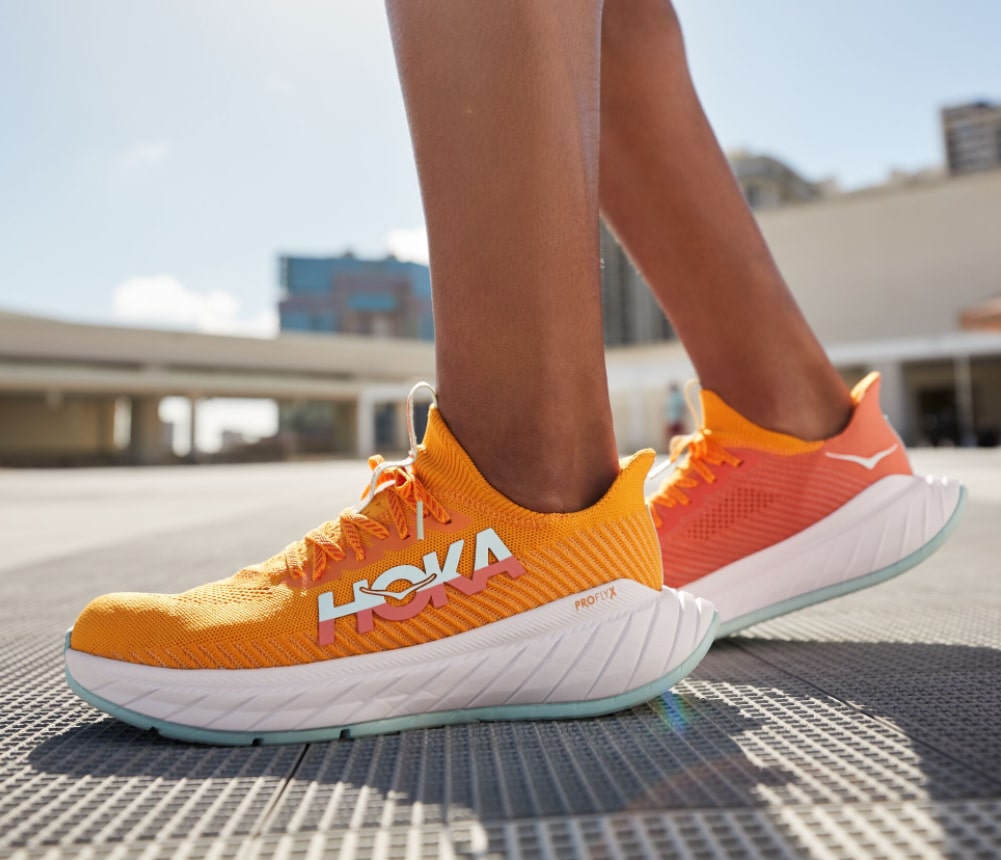 THE DATA
WOMAN
• Geometry: 30mm in the heel, 25mm in the midfoot. 5mm drop.

• Weight :188 grams (size 7US).

• Price: 180 euros.
MAN
• Geometry: 32mm in the heel, 27 in the midfoot. 5mm drop.

• Weight: 222 grams (size 9US).

• Price: 180 euros.