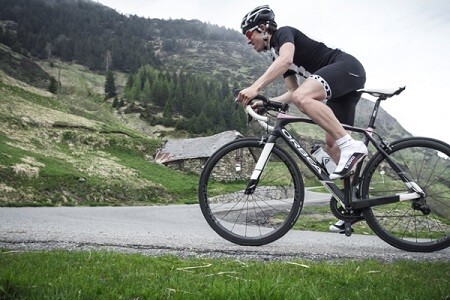 Orca has presented its new Orca 2015 model that will be available from the month of July
The new Orca
A machine born to conquer the mountains and climb to the top of the podium. Competition road bicycles have become incredible minimalist machines, but the greater the number of elements that are eliminated from them, the greater the importance of those who remain. The form is studied and calculated to the smallest detail from the functional point of view. The lower part of the frame supports the upper components as a suspension bridge, joining the elements in a perfect balance of rigidity and lightness.
What makes the new Orca unique?
1 Lightness
The reduction of the weight of the painting is a very difficult objective to achieve. It is quite simple to lighten a heavy picture; however, in a structure that is already very light it is very difficult to cut even if only 100 grams. This was our mantra when we created the new Orca: if an element of its design was not essential to guarantee its rigidity and its quality of operation, it had to be eliminated or modified to reduce the weight of the frame.
2 Rigidity
The lower half of any frame supports the vast majority of torsional and lateral loads. The front tube, the diagonal tube and the pods must resist the torsion and transmit the power that your legs generate to the rear wheel. There is no doubt: this resistance to bending directly translates into greater power.
3 performance
The stiffer bicycle is not the best there is. The performance (softness) is a combination of elements that is very difficult to achieve, the result of careful planning that results in an Orca that will delight cyclists. This is a concept that we borrowed from our mountain bike Alma (winner of the World Championship in XC category), adapting it for use in the Orca 2015.
The study of the behavior of the frame under the weight of a cyclist allows to adjust the way in which blows or vibrations are transmitted throughout the frame. The efficiency of the pedal shaft area helps to give the feeling that the bicycle responds, that the transmission of power is instantaneous. The natural flexibility patterns created by the laminate and carbon structure of the upper tube and the rear forks offer great smoothness. The cyclist will have the sensation of floating on the road. The sensation is subtle, but perceptible and verifiable. And, at the end of a strenuous climb, you can make the difference between the podium and the consolation prize.
4. Competition geometry
The geometry of competition is what allows you to get the maximum in each stroke, turning each watt into speed. The wheelbase of the new Orca puts in your hands an efficient bicycle, which takes the corners with extreme safety and which is equipped with a great traction when you start to pedal hard. In addition, a lower Stack and a longer Reach allows you to adopt a more aerodynamic position as well as efficient in the use of energy.