Hyperice massage guns. Which one to choose?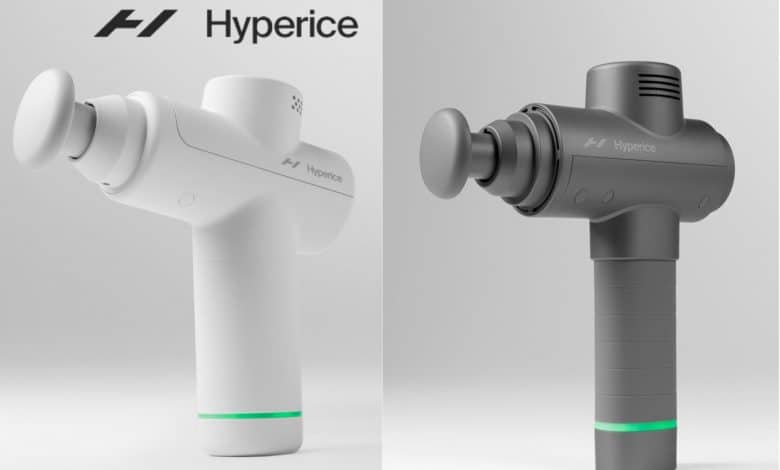 In this article we compare the two of the TOP models of hyperice As for percussion pistols: hypervolt 2 e Hypervolt GO 2.
As we all know, percussion pistols Today they have become an essential tool for athletes since their benefits are multiple, and they are also supported by scientific studies.
Among the most outstanding:
It helps to promote local circulation to help activate the body, can complement stretching for a more complete preparation for physical activity.
They offer range of motion and flexibility for massage compared to other massage systems such as traditional Foam Rolling.
It is also ideal for relieve muscle pain (Delayed Onset Muscle Soreness – DOMS), so it can be used when we do a good workout to improve recovery later.
Also helps against muscle knots, la Fatigue and rigidity caused by day-to-day training or work.
Comparative Hyperice pistols
Both products have in common that they use percussion massage technology to relieve muscle tension, accelerate warm-up or recovery, however there are differences between them based mainly on speeds, power, number of massage heads, design and portability.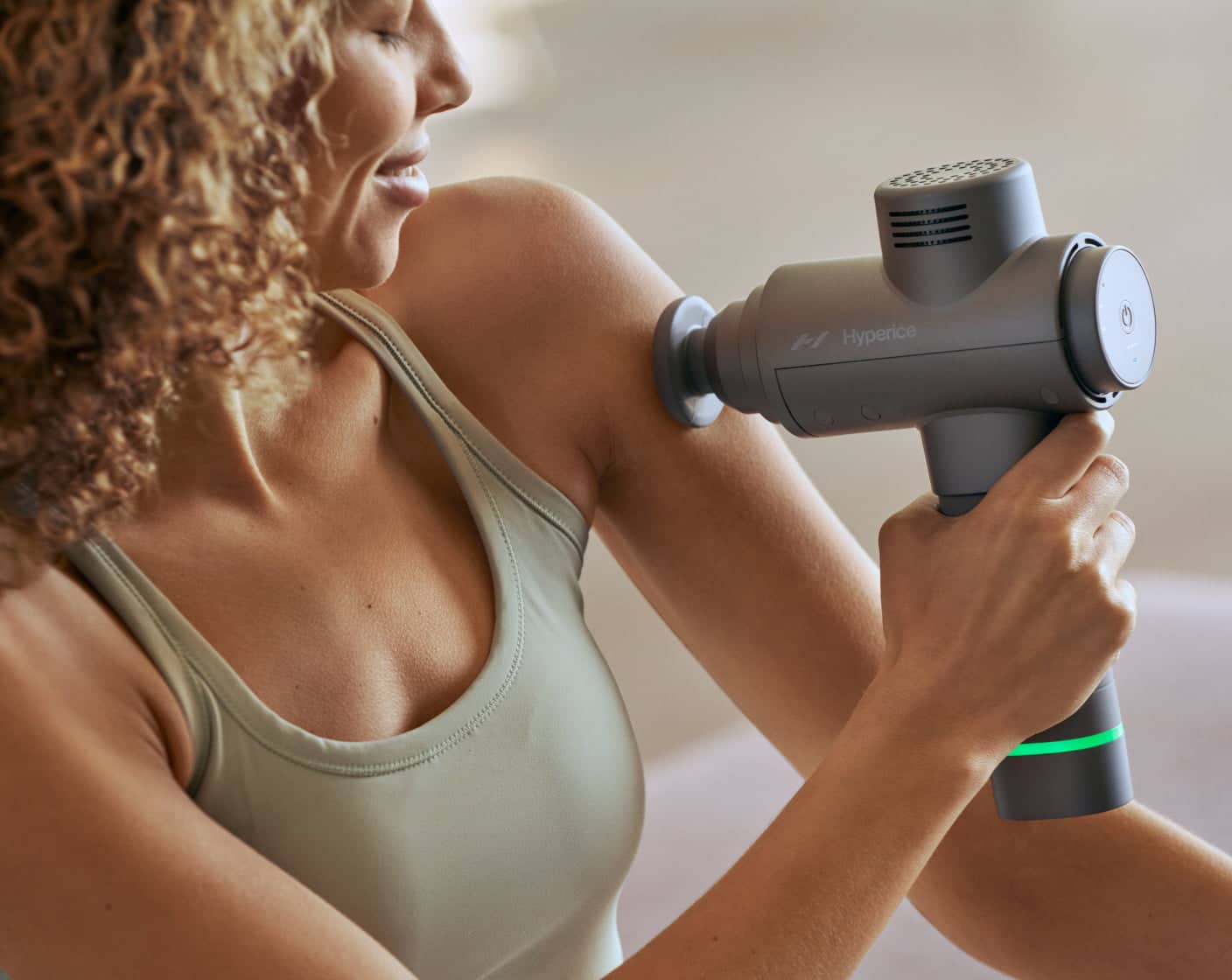 It is based on the original Hypervolt model although it has some improvements that make it very attractive.
It has an improved design that is more ergonomic and lighter.
It also has a QuietGlide® "anti-noise" system that makes it very pleasant to use without mechanical noise.
It features HiperSmart technology, integrated with the Hyperice App . This algorithm can recommend specific personalized routines based on defined goals such as pain relief, flexibility improvement, performance optimization, etc.
It can also be connected via Bluetooth with your mobile to have everything at hand and make its use much easier.
Some points that we liked about this model are:
It has a very comfortable grip to apply it against the muscles.
It has 3 speeds that can be easily toggled on the back
It has 5 heads, fork, ball and pad, flat and pointed
It is a great option for those athletes who want to get the most out of this technology.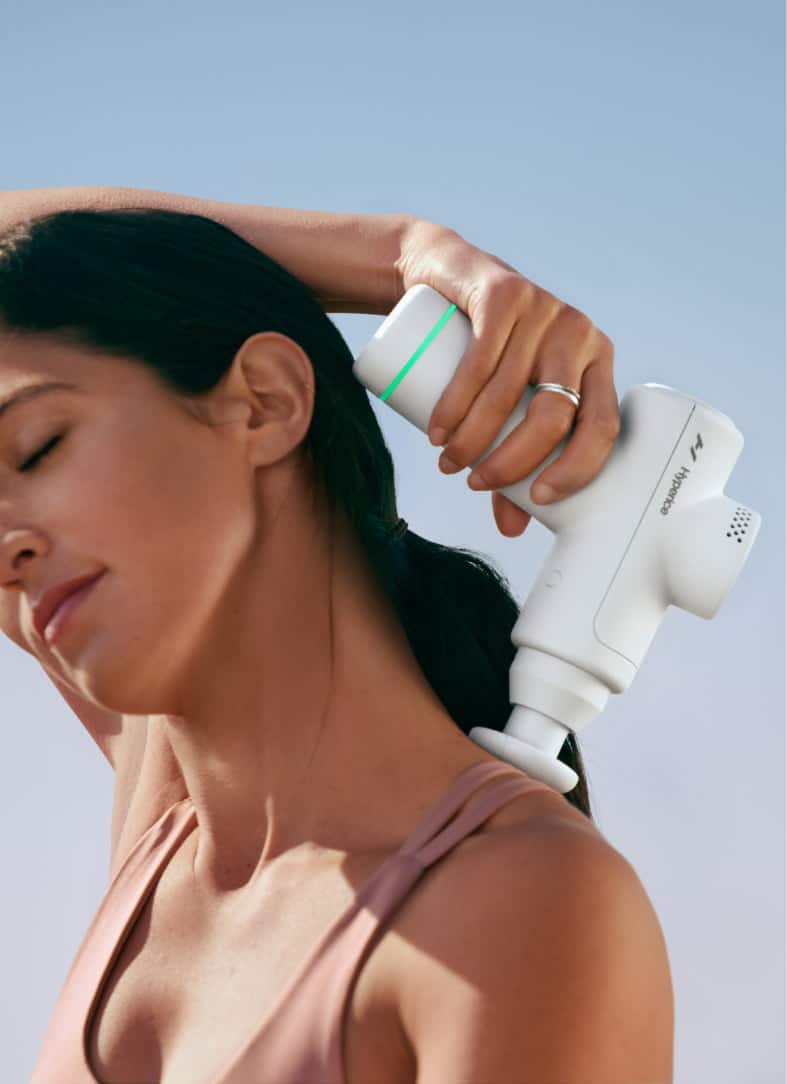 This model is perfect for travel, due to its small size and low weight (680 grams).
It is ideal for quickly warming up muscles before training or competition, releasing tension, unlocking loaded muscles after a good training session or a demanding competition.
This model counts
With 3 percussion speeds that are controlled through a button.
Up to 3 hours of battery life per full device charge
It has a somewhat lower power than the Hypervolt but enough for trips or sporadic use.
This model has 2 heads, one flat and one pointed.
Its arctic gray design makes it attractive, it also has a ring of light, which shows the battery charge
Comparison chart
To make it easier to choose one model or another, we have made a comparative table to make it easier to see the differences.
| | | |
| --- | --- | --- |
| | hypervolt 2 | Hypervolt GO 2. |
| Power | 60 W | 40 W |
| Battery | 3 hours | 3 hours |
| Sizes | 19 x 6,35 x 24,13 cm | 17 x 18.5 x 5 cm |
| Weight | 820 gr | 680 gr |
| speed levels | 3 | 3 |
| handle length | 12 mm | 14 mm |
| Color | Matt black | arctic gray |
| TSA approved for travel | SI | SI |
| Bluetooth | SI | DO NOT |
| Pressure sensor | Pressure Sensor Technology | DO NOT |
| Heads | 5 | 2 |
| Price range | 349 € | 229 € |
| Usual use | SI | SI |
| Advanced users | SI | DO NOT |
Conclusion
Both are excellent tools for recovery, but if you are one of those who will be using a percussion pistol often and are looking to improve your performance and recovery, we recommend that you use the Hypervolt 2 model.
On the other hand, if you are going to make sporadic use of this type of technology or want it only for travel, due to its small size, your option is undoubtedly the Hypervolt GO 2
Both pistols can be found on the official page https://hyperice.com/