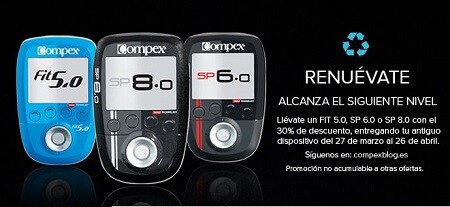 The new fit5.0, sp6.0 and sp8.0 at your fingertips
In response to market demand and under the slogan "Renew yourself" COMPEX launches this campaign focused on all users in the world of electrostimulation who today have an old product and want to renew it with one of the new range.
Thus, the Renove Plan from COMPEX offers the possibility of being able to obtain one of the FIT5.0, SP6.0 and SP8.0 models, along with the benefits that Wireless technology offers them today.
ARE YOU ALREADY A USER OF ELECTROSTIMULATION?
If the answer is SI And you want to improve your possibilities, this is your opportunity: Go to a point of sale and hand over your old electrostimulation device, regardless of the brand, and you will be able to benefit from a 30% discount on the PVPr of the new FIT 5.0 wireless models , SP6.0 and SP8.0 (promotion not combinable with other offers)
REACH THE NEXT LEVEL!
Hurry, this campaign will remain open only from March 27 to April 26, if you need more information do not hesitate to consult COMPEX directly through the contact that appears on their blog and / or through social networks.
COMPEX ALWAYS AT YOUR SIDE!
Price drop on Amazon
73,93 €
3 New From 247,89 €
98 Used From 73,93 €

Amazon.com
459,98 €
2 New From 459,98 €
6 Used From 409,65 €

Amazon.com
More discounts