Polar launches the new Vantage V2 Premium Multisport Watch
This watch brings together all the Polar experience in a robust and ultralight product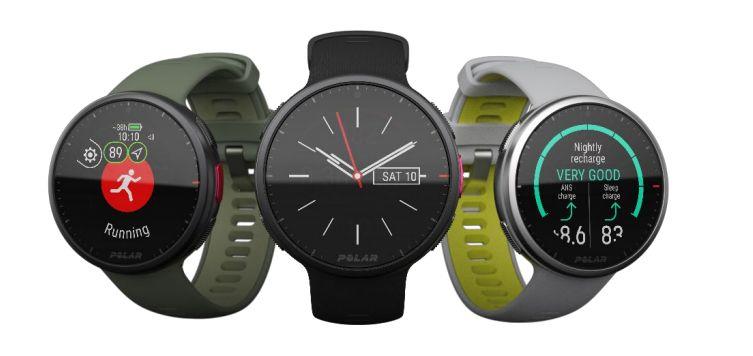 This watch brings together all of Polar's expertise in a robust and ultralight product designed to maximize performance and ensure proper recovery.
Polar, pioneers and leaders in sports technology applied to sport for more than 40 years, presents Polar Vantage V2, the new Premium Multisport Watch, the brand's flagship product.
With the colaboration by Valtteri Bottas, known worldwide professional racing driver, Polar has created a robust and ultralight device Made with premium materials, which brings together all its experience and the most advanced technology to offer the best athletes an effective and intelligent training.
Listening to our body is important, but understanding what it tells us is essential to progress on our path towards achieving our goals.
It is the new flagship of the brand
In this sense, the new flagship of the brand registers the information it captures from our body and provides data that will help us plan better, train more efficiently and recover correctly.
Convinced that knowledge is progress and that achievement is achieved with a balance between training and recovery, Polar asked Bottas to test the product shortly before the busiest days of the racing season, which is when I we have time for personal training outside the circuit.
Bottas stated that: «Finding time to train, as well as accepting that recovery and sleep are very important aspects of enhancing performance, can be difficult when you lead a busy lifestyle.
That is why it is essential to equip yourself with the tools that provide you with the data you need to train in a more intelligent and effective way, and that is where Polar Vantage V2 has come in handy for me.».
Finding the perfect balance between fitness, recovery and daily life is achieved by recording everything that happens 24 hours a day, even while we sleep.
And Polar Vantage V2 takes this information into account to offer the necessary tools to the athlete helping him to progress day by day.
Only 52 grams of weight
The new Premium Multisport Watch features a ultralight design - weight only 52 grams, 21% less than Polar Vantage V - and made from the highest quality materials.
Its housing is made of aerospace aluminum and the innovative construction of the product enhances the reception of the GPS signal.
Autonomy of 40 hours
Polar Vantage V2 has a autonomy of 40h in maximum precision and can reach up to 100h in saving mode thanks to its different precision options.
Your optical pulse reader, Polar Precision Prime eIt is composed of 10 LEDs - 5 red, 4 orange and one green with different skin penetration lengths - 4 contact electrodes and an accelerometer that make it the most accurate and recognized on the market.
«Polar Vantage V2 is the meeting point between design and science. We are extremely proud to announce its launch today.
It is the indisputable result of the great efforts dedicated to the product. With this flagship watch, we will help anyone who is considering reaching their personal goals and who wants to see the fruits of their hard work, "declared Tomi Saario, CEO of Polar Electro.
New performance tests
As a novelty, Polar Vantage V2 incorporates the nnew performance tests for the athlete to test his body, its limits, its capabilities, but with maximum safety and efficiency.
•Running Test:
Polar was a pioneer in incorporating running power on the wrist and we are seeing, that just as it is already being a standard of cycling training, that this trend is also being transferred to running.
The objective is clear, to improve and maximize performance.
The Running Test allows know data such as Vo2 Max, la maximum heart rate y speed y aerobic power. It is easy to replicate to compare the evolution and guarantees to always give the maximum in a training or in a test without risk of fainting.
It is very interesting for working in high places for short periods of time, which are difficult to control with the heart rate. It is also key in routes or training where there is unevenness.
With power training and the Running Test this uncertainty disappears.
•Cycling Test:
Today it is a standard for advanced cyclists who train for power, in this case with an external power meter.
From this test the FTP is obtained (functional power threshold) which is the basic measure for planning workouts. It can be done with different duration options (20, 30, 40, 60 minutes).
It is very easy to compare the evolution of the VO2 Max, the maximum heart rate, and the key ratio for the rises that are the w / kg.
Both tests update the power and speed zones that adapt the workouts to the athlete's progress. And finally we also have:
• Leg Recovery Test:
This test is already within the recovery ground since it indicates how recovered the muscles of the legs are and guides the athlete in deciding whether or not they are ready for a new intense training session.
Leg Recovery Test is complemented by the well-known Training Load Pro and Recovery Pro functions that we find in devices like Grit X and Polar Vantage Series.
From the web service Polar Flow tools for planning and tracking training, activity and sleep are very easy to access.
All tests in one place
Now it also includes ethe new «Test Hub», that stores all the data from these tests in one place for analysis and to see the progress made.
Nighttime recovery, essential for performance
Nighttime recovery also plays a fundamental role in the performance of an athlete and Polar Vantage V2 records everything that happens to our body during the night thanks to its exclusive functions:
• Nightly Recharge ™: it combines sleep data with the autonomic nervous system response (ANS recovery score) to define on a scale from very good to very bad how recovery has been.
• Sleep Plus Stages ™: it records both the quality and quantity of sleep and provides a simple score that allows you to easily compare one night to another.
Other highlights:
• FitSpark: the personalized daily training guide
• Fuelwise ™: manual or automatic reminders to know what and when to eat that are adapted to the intensity of effort
• Hill Splitter™ - Provides training data on ups and downs
• Route tracking with turn-by-turn directions thanks to Komoot • The weather and hourly weather forecast within 2 days
Features essential smartwatch features
Finally, also mention that Polar Vantage V2 incorporates essential smartwatch functions, with new music control mechanisms, and mobile notifications to always be connected.
In addition, the user may customize device screens choosing what information you want in the main menu views, including as a novelty the weekly training summary in one of them.
You can also choose between four different clock modes (analog / digital) as well as the colors of the seconds.
Your price from € 449,90
Polar Vantage V2 is available from today at polar.com/en/vantage/v2 for € 499,90 PVPR in black, green and lime-gray.
It is also sold with the version that includes the Polar h20 heart rate sensor for € 549,90 RRP.
Compatible straps: € 35 RRP.