Polar launches pacer series, its new range of running watches
Laza the Polar Pacer Series with its Pacer and Pacer Pro models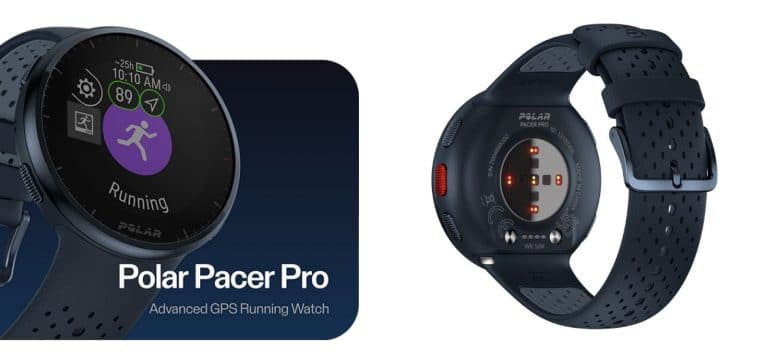 Name fleece pacer It is not the result of chance, although it has all its logic in the case of a product that offers, among other data, the race pace. And it is that fleece pacer it has a lot of history.
Decades ago, Polar revolutionized the world of heart rate monitors with a model that bore the same name. Since then, Polar has gathered all its knowledge about running and after years of research and development, today presents the new range: Polar Pacer Series.
Polar sports watches continue to be the world's number one choice for personal health and wellness guidance. Polar Pacer Series It is the result of the Finnish brand's commitment to offering tools that help any user lead a more active and healthy life.
Now runners of all levels can benefit from these personalized guides to optimize their training sessions and help them achieve their goals, whether they are marathon runners or just starting out.
Polar Pacer Pro: For runners who want to improve their performance.
Polar Pacer Pro It is one of the most competitive running watches on the market. With a sleek, ultra-lightweight design (only 41g) and a high-speed processor, PacerPro offers the runner the most advanced training features to help improve running efficiency and performance.
The new construction and location of the antenna provides maximum GPS signal accuracy without compromising battery life, offering up to 100 hours of training (35 hours with GPS and heart rate modes activated at maximum accuracy).
With PacerPro it is possible to follow routes and not get lost thanks to turn-by-turn directions with Komoot. In addition, it has the Back to Start function, which indicates the way back to the beginning of the route.
Every detail of PacerPro It has been designed with the runner in mind. The completely flat back of the watch provides great comfort on the wrist 24 hours a day. Its ergonomic buttons with a rough surface ensure good contact, especially in adverse weather conditions or with sweat. And every second counts!
The aluminum bezel adds a touch of elegance to a light and functional device. The optimized and adjustable contrast of the color screen of PacerPro Provides seamless visibility into training data. The ultra-thin Gorilla Glass 3.0 lens guarantees great strength and durability.
The integrated barometer provides the runner with accurate altimetry measurement and aids in the calculation of running power in watts directly from the wrist. What is it for? It allows you to instantly control the effort that is made regardless of the slope, and, therefore, you will be sure to run at the right intensity to reach the end with the maximum guarantees.
Polar Pacer Pro includes the innovative SHIFT ™ adapter, which allows the user to easily exchange standard 20mm straps, adapting their watch to the style that each moment requires.
Polar Pacer: For runners starting to fall in love with running
Graze It is an ideal running watch for runners who are beginning to take their first steps in the world of running. This model combines the simplicity of running with essential functions as well as some more specific ones for training, sleep and recovery. Definitely, Graze brings together everything you need to fall in love with running.
With Graze, the runner will understand how training affects his body, and find the right pace and intensity to improve day by day. Starting with the new Walking Test, beginning runners will be able to estimate their current fitness based on their VO2max (data that illustrates how much oxygen the body can absorb and use during exercise) simply by walking for 15 minutes on flat ground. .
The new Graze offers a variety of functions designed to guide the runner in their training by providing them with the necessary information based on personalized guides that adapt according to their fitness and goals.
Making each session count and avoiding overexertion that can lead to injuries is essential. Graze It is a great companion that helps maintain motivation, provide security and grow as a runner.
Graze share some of the main features of PacerPro In terms of design: color screen, Gorilla Glass 3.0 lens, light, thin, with very intuitive menus, elegant design 24/7 and ergonomic buttons.
Regarding functions, there are some differences between both models, which make them unique.
An incomparable running experience
fleece pacer y PacerPro They include the features that any runner may need to plan, record and analyze their training and races. Polar's new running watches use algorithms patented by the Finnish brand to offer state-of-the-art training, recovery and sleep functions. This excellent combination guarantees a unique running experience.
Essential running features: The functions that every runner looks for: pace, time, laps, distance and stopwatch.
Phased workouts: The user can plan a wide variety of workouts based on heart rate and speed zones. You can also set simple goals like "run 30 minutes".
Wrist-based heart rate recording: The renewed Polar Precision Prime™ flat sensor provides the most accurate recording (10LEDs) of excellent heart rate on the wrist.
Unmatched GPS and Barometer Accuracy (Pacer Pro): New integrated antenna design to improve GPS tracking, thanks to the integrated barometer you will obtain all the altimetry data.
Running power on the wrist (Pacer Pro): It provides real-time, on the wrist, the watts generated with each step and controls the power zones to find the right intensity and improve running performance.
Route Tracking (Pacer Pro): Built-in GPS provides accurate speed and distance data. It is also possible to return to the starting point and receive turn-by-turn directions with Komoot.
Multisport profiles: No matter the terrain; run in the city or cross country or indoor treadmill. It is possible to configure different sport profiles, beyond running. Up to 130.
Performance and recovery tests: With the performance and recovery tests you will be able to better understand the limits of your body, configure your speed, heart rate and power zones.
Performance tests: Running Test (progress tracking and customization of power, heart rate and speed zones), new walking test (measures the evolution of aerobic capacity, VO2 max, walking), cycling test (Pacer Pro only, allows you to customize power zones and reports functional threshold power -FTP-. Requires a compatible power meter).
Recovery tests: offers personalized data and short-term and long-term feedback on training load, cardiovascular load, aerobic capacity and muscle load.
FuelWise™: Feed and energy reminders to ensure sufficient food and fluid intake during long workouts. The Energy Sources function controls energy expenditure and divides energy intake into carbohydrates, proteins and fats.
Hill Splitter™ (Pacer Pro): Record every ascent and descent. Automatically detects climbs and descents using speed, distance and altitude data to provide the user with a detailed analysis of each slope of the route.
Automatic sleep and recovery recording: Automatic and intelligent Nightly Recharge™ and Sleep Plus Stages™ features record sleep patterns and help understand how the user has recovered from training and other factors during the night.
Smartwatch functions: Always connected with music controls, mobile notifications and weather forecast.
Swimming metrics and triathlon profile: It tracks distance, strokes, pace and heart rate in both the pool and open water. In addition, it includes the triathlon profile with which all metrics can be recorded, including transitions.
Ultra long battery life: offering up to 100 hours of training (35 hours in GPS mode and heart rate activated at maximum accuracy).
New Pacer Series Charger
Pacer Pro size and weight: Size: 45x45x11,5mm | Weight: 41g with strap, 23g without strap | WR 50m
Pacer size and weight: Size: 45x45x11,5mm | Weight: 40g with strap, 23g without strap | WR 50m
Availability and prices
PacerPro It is available from today at polar.com, in physical stores and online stores. MSRP: €299. Colors: black, white-red, burgundy, blue and green. The latter will be available in May.
Graze It is available for pre-sale at polar.com and the first orders will be shipped in May 2022. MSRP: €199. Colors: black, white, green, lilac.
Both models include a Polar silicone strap that guarantees a perfect fit to the wrist and, therefore, an accurate recording of the heart rate. fleece pacer It is compatible with standard 20mm straps. PacerPro it also includes the SHIFT™ adapter, allowing its users to combine 20mm straps and interchange them to adapt their watch to any occasion
In mid-May 2022 a new collection of accessories and straps will arrive for fleece pacer y Polar Pacer Pro.
Pacer Series are compatible with Polar H10, H9 and Verity Sense heart rate sensors.