Polar Unite lightness on a Fitness Watch with only 32 grams
At just 32g it is one of the lightest on the market
Polar, a pioneering brand and leader in sports technology applied to sport for more than 40 years, presents the new Polar Unite, his new Fitness Watch.
In the past few months, many people have found the inspiration to focus or refocus on their fitness and well-being either by participating in virtual classes or by acquiring fitness products for exercising at home.
Polar Unite answers this call by combining the brand's most advanced technology with simplicity and style in a product optimized to carry 24 hours a day.
FitSpark ™ Training Guide
The FitSpark ™ Personalized Training Guide offers daily recommendations for different types of exercise (strength, cardio and complementary), ready to put into practice by following animations on the device screen.
These guides are complemented by timers, notices by vibration e real-time instructions to help the user to follow the session and not only that, but also so that they can visualize the effort they are making and if it is being effective.
Unlike other guides on the market, FitSpark adapt the session to user parameters such as sleep, recovery, current fitness, and your training history.
After each session, Polar Unite offers immediate feedback on the time worked in each heart rate zone, calories consumed and how the effort of the session has affected the cardiovascular system.
Taking all this information into account enables progress to be monitored and evolution to be observed over time.
For those who enjoy outdoor activities, connected GPS (mobile), Polar Unite provides speed / pace and distance on their bike routes, walks or any other outdoor sport. Later you can also see the route in Polar Flow.
Balance
Progress involves finding the balance between training and recovery.
Every moment of the day is important to our well-being. Knowing how the body recovers is essential for mental and physical health, and Polar Unite provides precisely information about sleep and recovery, showing how well (or poorly) our autonomic nervous system has recovered at night.
In this way, the user will be able to make the necessary adjustments to improve their sleep habits and prepare to face the next day.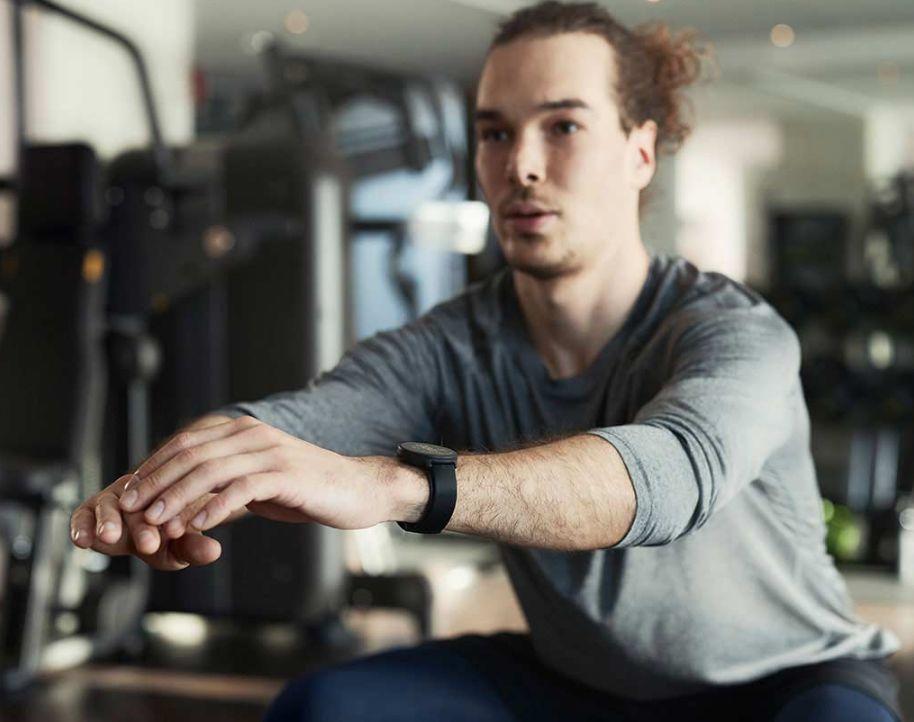 Featured Features
Polar Unite combines simplicity, functionality, style and price.
All in one deviceOnly 32 grams of weight, ideal to wear at any time of the day, even at night. It gathers the most advanced Polar technology in its exclusive functions Smart Coaching at a very affordable price.
Getting in shape or recovering old routines must be within the reach of anyone.
Featured Features
PULSATION RECORD IN POLAR WRIST PRECISION PRIME
24/7 ACTIVITY
MOBILE NOTIFICATIONS
COLOR TOUCH SCREEN made of Assahí Glass, 240 × 204 resolution and ambient light sensor. Customizable dial with different colors.
ADVANCED SLEEP PLUS STAGES ™ SLEEP RECORD: detailed information about the phases (deep, light and REM) and the quality and quantity of sleep.
RELAXATION EXERCISES SERENE ™: guided breathing to relieve stress and relax the body.
FITSPARK ™ TRAINING GUIDE: Daily training plans adapted to your recovery: strength, cardiovascular, core and mobility.
NIGHTLY RECHARGE ™ NIGHT RECOVERY: Analyzes how the body recovers during the night from the effort made during the day.
GPS via mobile.
INTERCHANGEABLE STRAPS to match your style.
INACTIVITY ALERTS by vibration: receive notifications when you are idle for too long.
LONG-LASTING BATTERY: up to 50 hours with GPS connected and pulse activated, up to 4 days in watch mode with continuous recording of heart rate and up to 29 days in watch mode.
More than 100 sport profiles available
Water resistant 30 m)
Compatible with the POLAR FLOW web service and App (iOS & Android): synchronize your data and modify the settings of your device via bluetooth on your mobile phone or with the usb adapter on your computer.
Availability and prices
Polar Unite is available on the official website www.polar.com/es/unite with a RRP of € 150.
Colors: black, white, coral and blue
The product box includes two different size straps (sizes sym / l) to ensure the perfect fit on any wrist and a USB charger.
148,08€
in stock
9 New From 147,80 €
30 Used From 64,53 €

Amazon.com
free shipping
Last Updated: February 23, 2021 07:14