We tested Roadsurfer - VW Surfer Suite and we will tell you about it in detail!
ROADSURFER presents its SURFER SUITE model, a classic from Volkswagen, CALIFORNIA,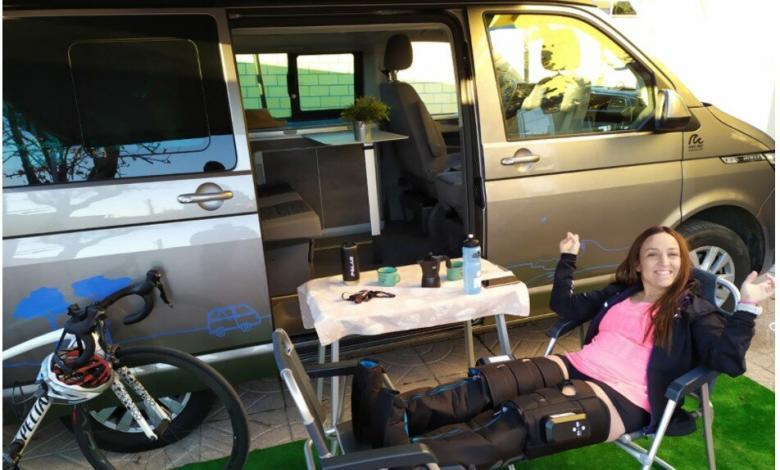 If you are an athlete and you are looking for a van to enjoy your passions, travel, play sports and be outdoors, of course Road surfers it will be your best travel companion!
From TRIATLON NOTICIAS we put the model to the test ROADSURFER T6 OCEAN - SURFER SUITE, mounted on the structure of the recognized Volkswagen California T6.1
ROADSURFER SUFER SUITE IN DETAIL!
This is the exterior of VW SURFER SUITE
ROADSURFER presents its SURFER SUITE model, a Volkswagen classic, the CALIFORNIA, that never fails and is always on the mind of any adventurer. Of course enjoying it for a few days is a dream come true!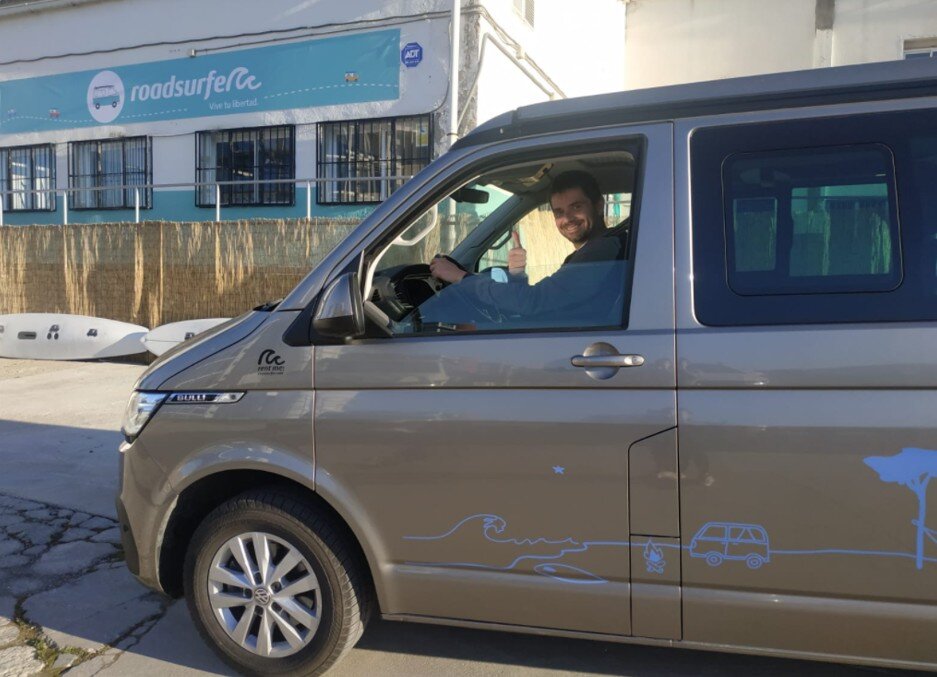 VW, as a plus to its previous "versions" and maintaining the Volkswagen exterior aesthetic line that is undoubtedly the hallmark of the brand, in this CALIFORNIA T6.1 has "a new air"
Elegant, balanced and robust, this is the model
Details such as the new front LED headlamps, updated bumper design and new wheels give it a much more sophisticated look.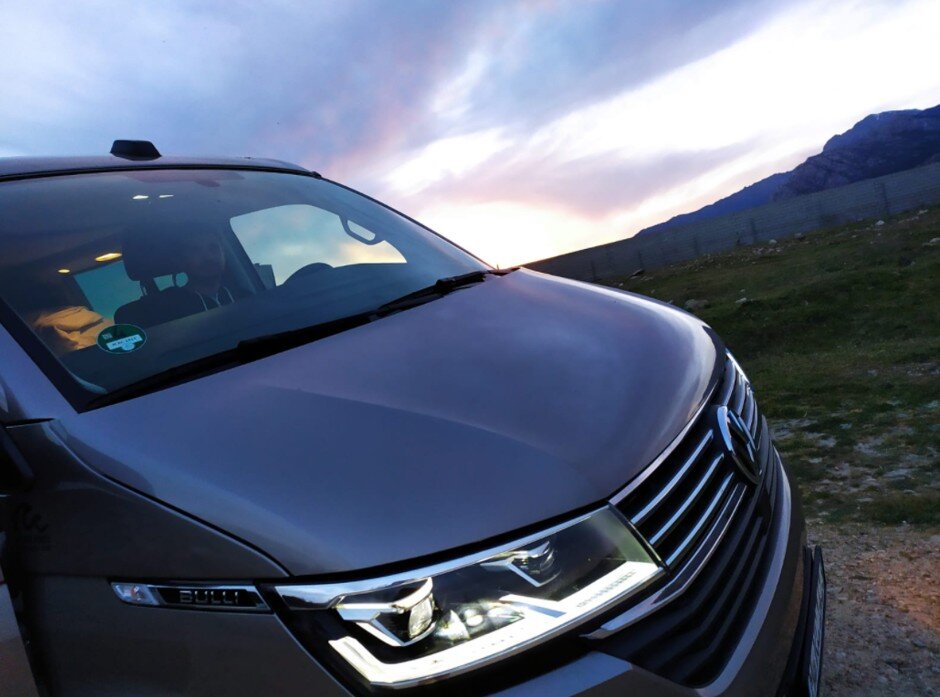 The model we tested in our case had a Thule brand bike rack, really practical and very safe
This T6.1 model has a system of automatic that makes it very comfortable to drive, also having electromechanical power steering, a luxury that is added to the parking aid system with rear camera, and its side assistant that stabilizes the vehicle automatically in case of strong winds.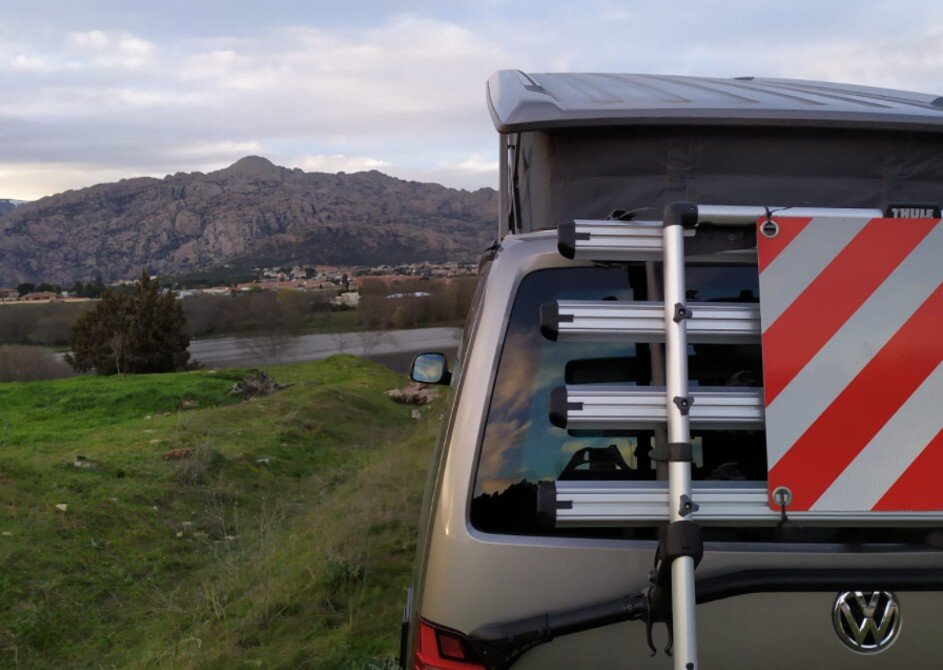 This is the interior of VW SURFER SUITE
Inside, what surprises us the most is undoubtedly its top-of-the-range "digitization" with "Computer" on board It has everything you need (music control, autonomy data, GPS ...) being very simple and intuitive to use.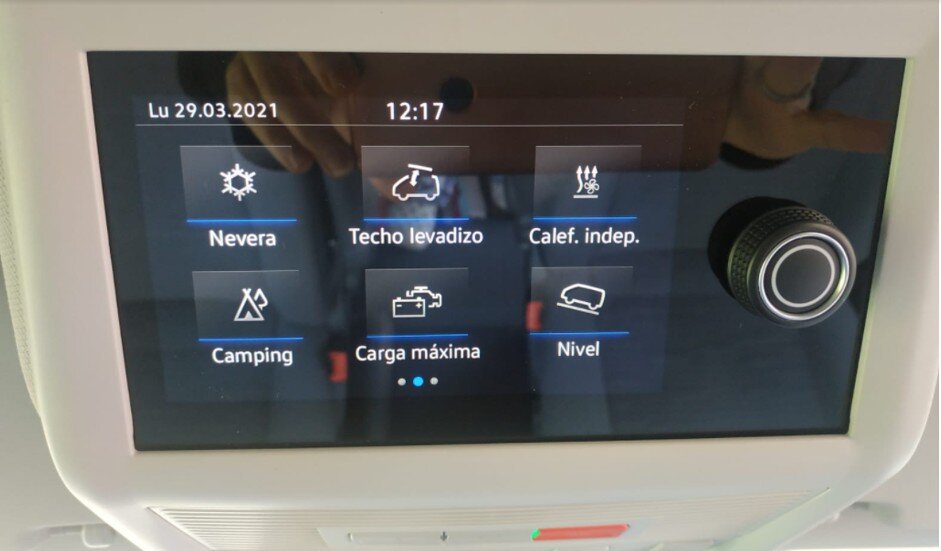 At the top we can find another touch screen from where we can control the needs of camping, such as: reviewing data on the energy charge of the batteries, turning the refrigerator on and off, floor level, stationary heating, lift control for the upper bed ... among others
Other details inside that also attract our attention are plugs or charging points for USB make it a totally practical and well-equipped camping model, they have thought of everything you need!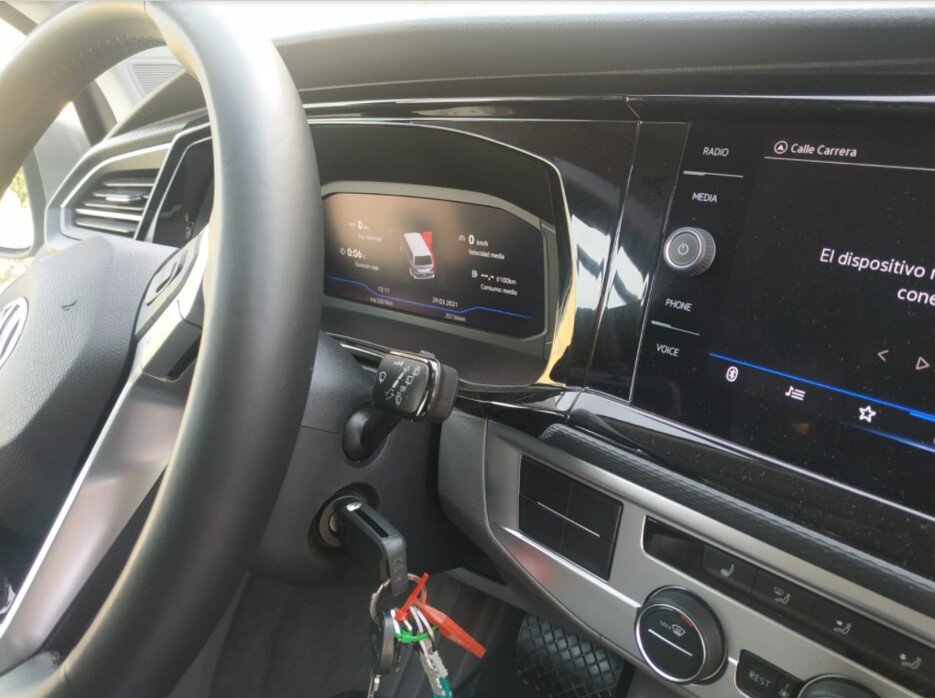 Once camped out, the VW CALIFORNIA SURFER SUITE becomes a true home.
And it is that inside you have everything you need to cook, have a good time and rest comfortably.
In the kitchen area, this model has a battery (fed with a clean water tank and another for gray water waste) kitchen (with two gas burners) and very spacious fridge that can stay on when we are not in the van since it charges the extra battery that the VW SURFER SUITE has.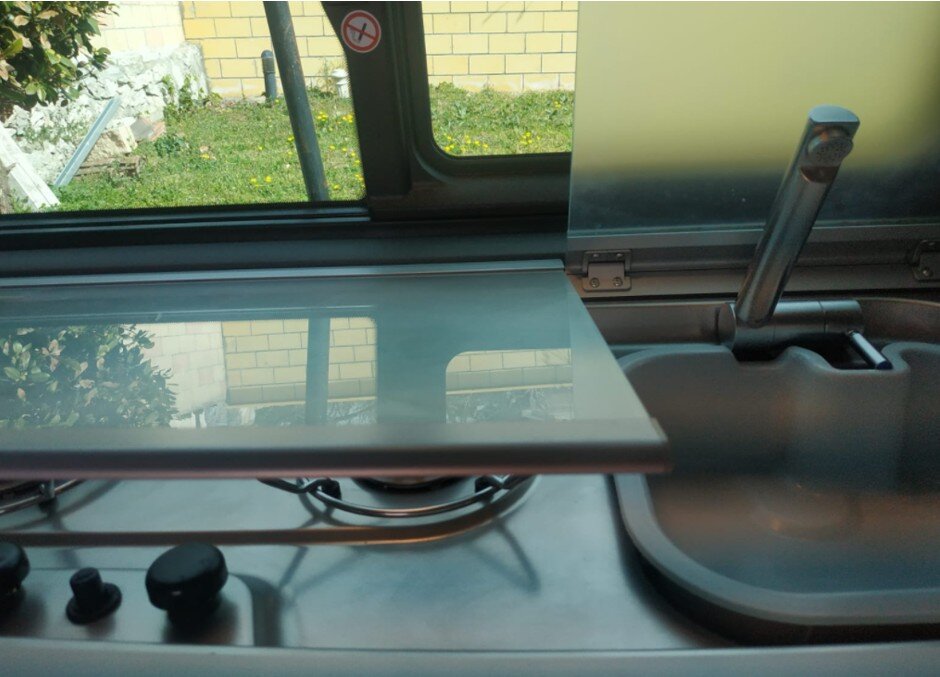 In addition, it has an interior table that is folded when not in use and the possibility to rotate the front seats to give the possibility of being four people comfortably inside.
As "but" we could say that it does not have a bathroom but it really is "all thought out" so that it is not necessary since in the back it has a shower "onion", where you can quickly take a water after a workout and / or competition (fed with its own deposit) and the company offers the possibility of renting an extra portable toilet for only an additional 35 euros.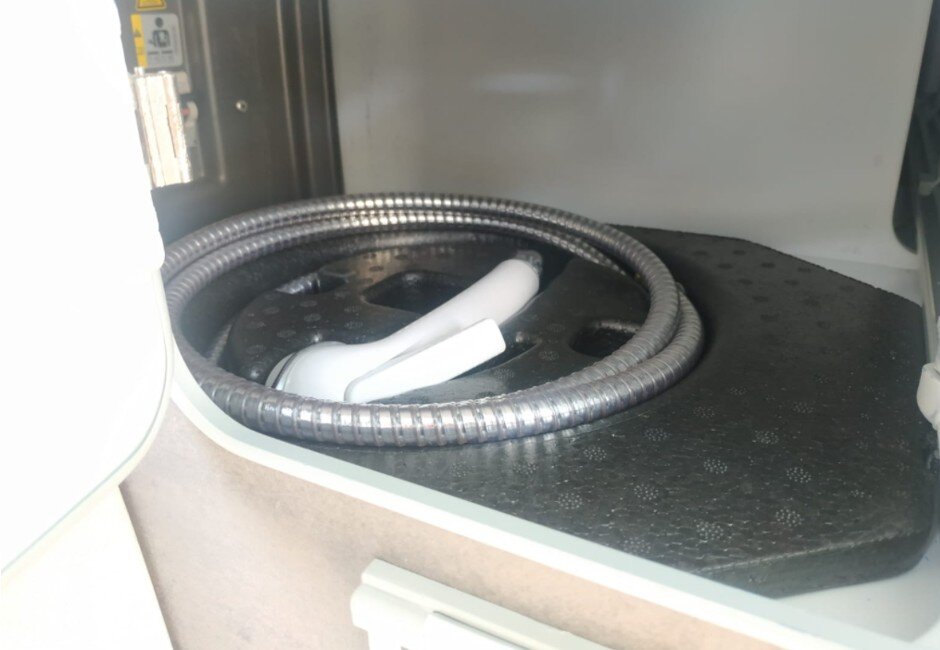 Today we "dined out"? No problem!
The sliding side door has an interior table that we can remove, as well as in the tailgate we find a zipper with a space that "stores" two really comfortable chairs.
We can also remove the awning and place it in the way that is most comfortable for us.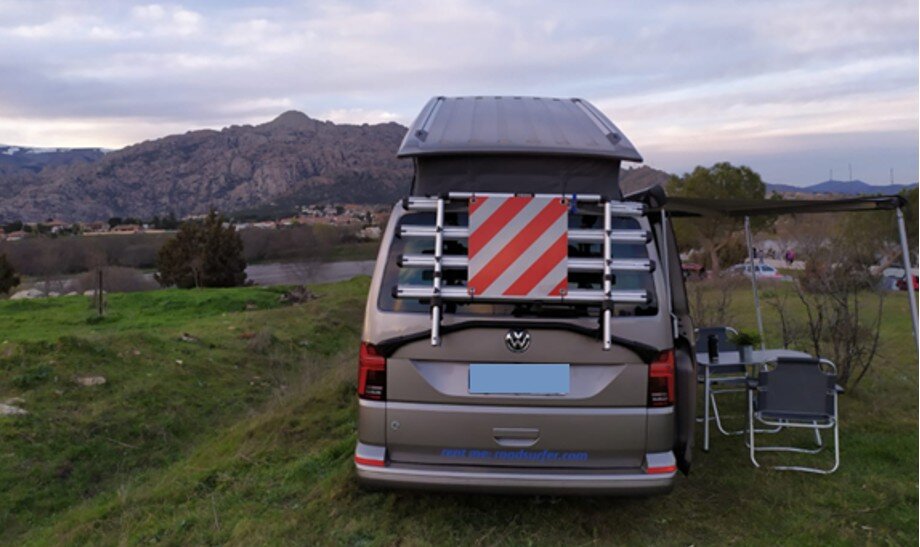 To sleep!
The night comes and we assemble their two bedsOne in the lower part, easy to assemble simply by reclining its seats, and another in the upper part that we operate from the VW display in a really simple and intuitive way.
Both beds have very comfortable latex mattresses approximately 10-12 centimeters thick that hardly take up space, but, despite their small thickness, they are extra comfortable.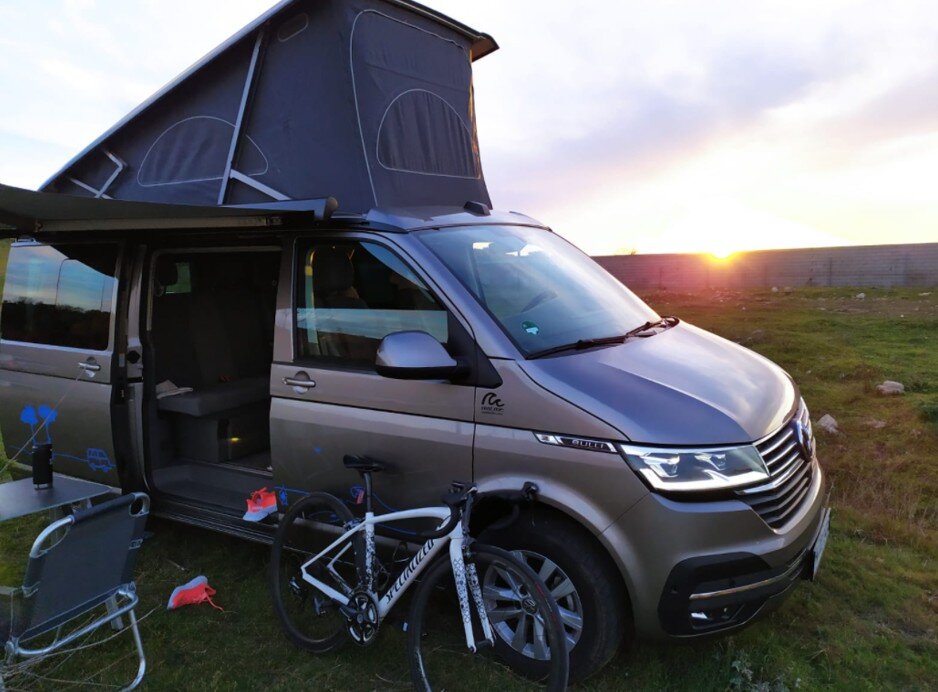 Sleeping on the top 'An unforgettable experience "
And it is that being able to park in a paradisiacal place, opening your windows (covered with mosquito nets or also with the possibility of opening them completely) is a luxury both when going to sleep and when watching a sunrise.
Su operation is really simple thanks to the on-board minicomputer that will indicate on the display the steps to follow to open the cover and have the upper bed as well as when it comes to storing it once we start driving again.
Also, thanks to its stationary heating with temperature control, This model achieves a pleasant and cozy atmosphere even for the coldest nights. 100% comfortable!
Can you imagine arriving from a triathlon and having your ROADSURFER in the finish area where you can have a very cold beer while you recover in good company?
Of course a great plan for this 2021 and something that you have to try once in your life!
Learn More https://roadsurfer.com/