Articles Sports equipment
Recover in record time and improve your performance with the new Reboots!
Reboots presents the new "PRO" model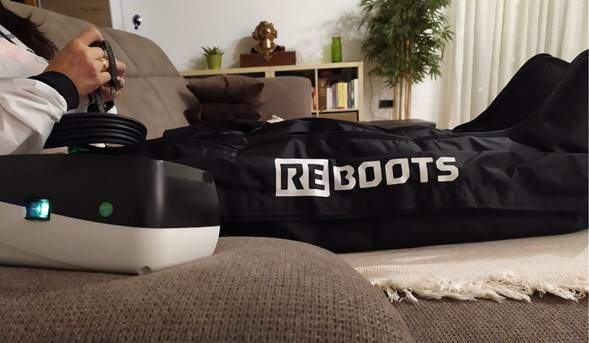 Pros
Recovery in record time
Very simple to use
We have not seen contraindications
Valid for all kinds of people
100% meets your goal
No wires
Cons
Can't see the area where pressure is applied
There are no more colors
It only serves to recover legs
Reboots take a step forward and present the new "PRO" model, 67% lighter, 40% smaller and offers 100% performance
In the cover photo you can see in detail the new model that can be charge the battery and transport wirelessly by wearing an on-off button and having 40% smaller than the previous model
What is Reboots?
Reboots, thinking the athlete who does high intensity training and who needs to recover in record time as the triathlete, has developed "boots" that help remove lactic acid and they offer you a massage recoveredr to be able to be ready the next day completely fresh and to be able to face the next training session with the maximum guarantees, which Clearly improve your performance.
Check our analysis of your earlier version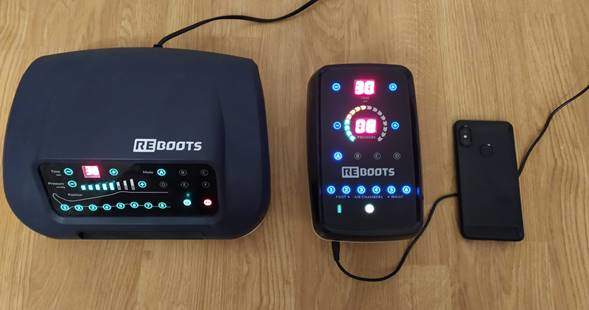 How do they work?
1.- After strong training, some waste occurs in the muscles, such as lactic acid, which affects performance
2.- The REBOOTS create a progressive massage with compressed air on your legs, in this way the leg debris can be removed more quickly
3.- After applying the massage recoveredr Your legs are fresh, which makes you ready for the next day's training and being more efficient in your performance.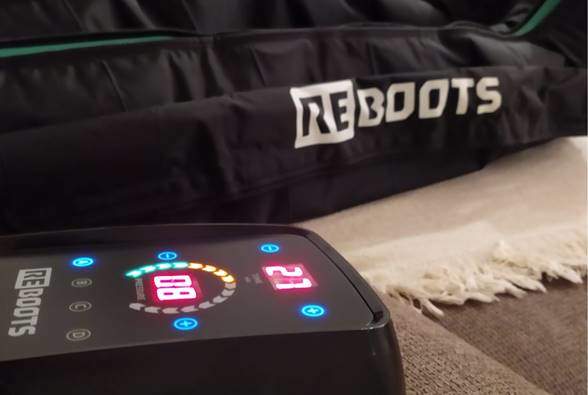 HOW IS THE PREVIOUS MODEL DIFFERENT FROM THE NEW "PRO" MODEL?
1.- On the one hand, clearly in its design and weight, Reboots wanted to develop a much lighter model that takes up less volume in order to Bring to competitions, an advantage to be grateful for.
2 In new model it has a battery that charges and can be transported without the need for any cables power as well as use anywhere.
2.- In addition, this model has a new INTENSIVE PULSE RECOVERY PROGRAM, which compared to the previous model the pressure in the last chambers increases and decreases the pressure three times, and this gives the metabolic waste more time to move through the tissues offering a more complete recovery.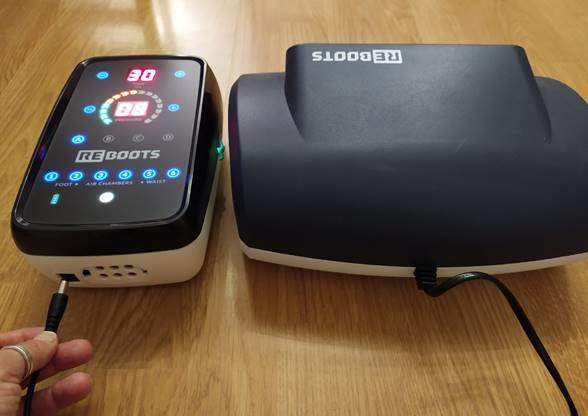 CONTENTS:
Command
Boots with multiple connection air hoses
Manual
Charger cable
PVPr: From 899 euros
WHERE TO BUY: https://reboots.de/collections
OUR OPINION
POSITIVE
Excellent tool for recovery in record time which helps to improve performance.
Very simple to use practically connect and ready
Very nice to use
We have not seen contraindications and you can use it daily
Valid not only for athletes, but for anyone that for his work or other reasons he needs to recover tired legs or improve his lymphatic system.
Very light weight
You can transport them without cables, which is an extra in relation to the previous model.
Includes a new extra recovery program that did not include the previous model.
Color discreet and easy to clean with a damp cloth thanks to the type of fabric it has
CONS
In the old model we can see a drawing that shows where the pressure is being applied, in the new one the drawing of the legs does not appear.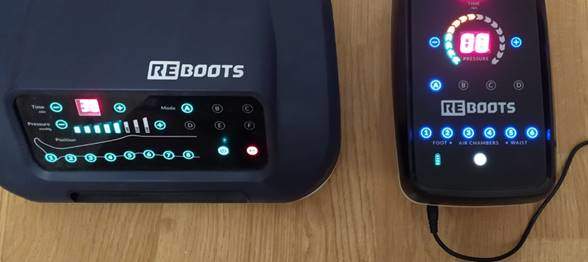 Another con is that there is no availability of this product in other colors and that it is only valid for the recovery of the legs, not from another part of the body
Academic Note:
We want to detail that Reboots could never be compared with a COMPEX type electrostimulator, since it is another type of recovery system.
In addition to having a different size and portability, COMPEX WIRELESS type electrostimulators have other force, force-resistance programs, offering a variety of other solutions.
Nor should we compare it with a physiotherapy session as this manual is tailored to each individual.
Conclusion
From TRIATLON NEWS we consider that it is a highly recommended product for all athletes who do high intensity training with several weekly sessions.
Reboots is a great ally because thanks to the fact that it helps to eliminate lactic acid, it facilitates a faster recovery, so it can allow you to carry out more high-intensity workouts.
More information: https://reboots.de/