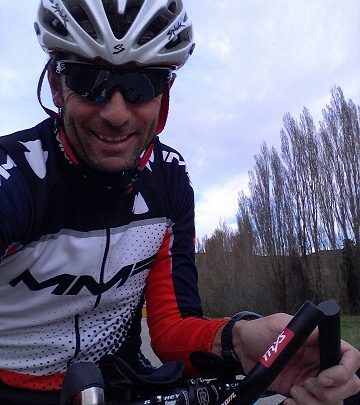 The ultra-distance triathlete Ricardo Abad, this year the goal of completing 52 ironman. He intends to do one a week for a year, which is why he has placed his trust in the cycling components brand: Maxs'System.
The bet has been clear: The brand Maxs'System offers revolutionary and innovative products that guarantee comfort when making long runs on the bike, a key piece when it comes to ensuring that you have the highest quality accessories to achieve your goal.
Ricardo Abad is a renowned ultra-distance athlete, twice nominated to the Prince of Asturias Award for Sport, which joins other great athletes who have already confirmed their commitment to this brand, Maxs'System, as they are: Miquel Blanchart, Raúl Amatriain, Miquel Erguezabal, Saleta Castro, Jose Almagro, Julian Sanz, Hektor Llanos y Xavi Llobet among others.
Ricardo Abad will use the following Maxssystem add-ons during this season:
COUPLINGS "AERO" STT DOUBLE CURVATURE, 370 grs.
"WHITE" and "BLACK" HOLDERS.
"TAPPY" HOLDER SUPPORT TO ADDRESS COVER, 45 grs.
PORTABIDON SUPPORT "SHORTY"27 grs., A COUPLING EXTENSIONS
Further information: http://www.maxssystem.com/