The versatile and lightweight Skechers Go Run Razor +
It is the perfect shoe for your fast training sessions and races.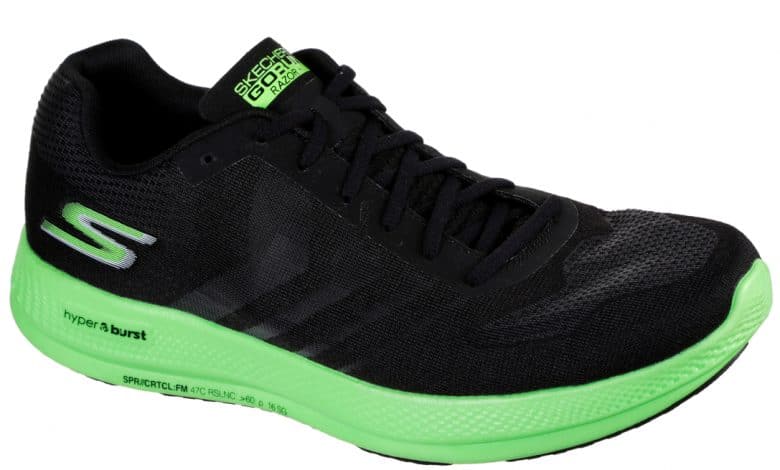 The developers of Skechers Performance have achieved the perfect shoe, both for those elite professionals who need the most specialized technical help to definitively improve their results in training and competitions.
It is also ideal for all those fans who are looking for a shoe capable of taking their sensations on the asphalt to another level, achieving a high energy return in every step and a extraordinary feeling of lightness, while improving their running style.
La Skechers Go Run Razor, the model for fast training and medium and long distance competitions from the technical division of the American firm, presents its most radical evolution, the Skechers Go Run Razor +™,.
This is one versatile and lightweight shoe with which you can get the best results in training and racing at full speed, while enjoying an ultralight experience and feel the ground you step on.
With a 184g weight in size 42 of man and a drop of 4 mm, this technical shoe from Skechers is equipped with the proven technology Hyper Burst®.
This technology is achieved thanks to a super critical foaming process that creates small compact spheres, developed after multiple biomechanical tests and with the input and experience of renowned elite athletes.
Thanks to the combination of this system, capable of helping runners to transmit power to the ground with reduced energy loss and thus improve running economy.
He does it through the new M-Strike® biomechanical technology, which favors good running technique and midfoot landing, resulting in a faster, more efficient and less injurious stride.
The new Skechers Go Run Razor +™ can boast of being one of the The most reactive and lightest technical shoes for professionals on the market.
In addition, the new Skechers Go Run Razor +™, with a minimal mono-mesh and polyester upper, also features the durable Goodyear® performance outsole.
It is made with the same technology used in Goodyear Best All Weather Traction tires -made with soybean oil-based rubber-, which increases grip, stability and durability on any type of surface and blurs the line between speed and style.
Finally, and always thinking about offer maximum comfort to runners, the Skechers Go Run Razor +™ features removable insoles, a very useful resource for r more technicians can customize the shoe and feel really comfortable without giving up its multiple benefits.
Similarly, details like its seamless tongue make the Skechers Go Run Razor +™ offer superior fit and comfort even for those who prefer to run without socks.
More information https://www.skechers.es/ hombre/calzado/skechers-go-run-razor/220211_BKGR.html