The new Skechers GORUN RIDE 11
Comfort and performance with revolutionary Hyper Burst Ice™ technology.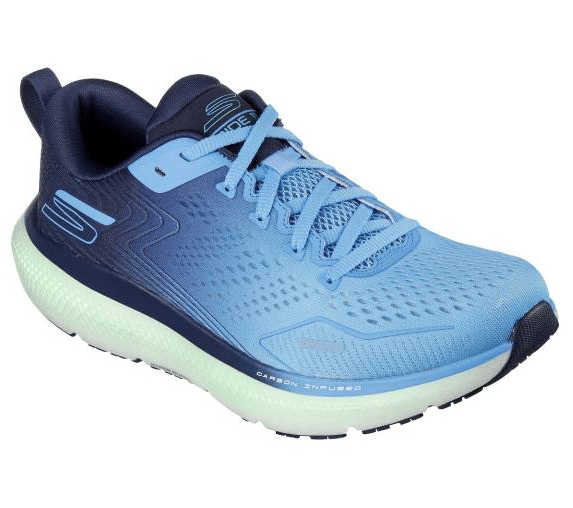 Our Skechers GORUN RIDE 11 They are an innovation in the world of running, providing runners with soft cushioning and superior performance thanks to the new dual-density Hyper Burst Ice™ technology.
The cushioning revolution: Hyper Burst Ice™
GORUN RIDE 11 debut HYPER BURST ICETM technology dual-density, an innovation that offers runners a smoother and more stable running experience.
This technology is based on a process of double density mechanical foaming, creating two layers of foam with different functions: the outer layer provides stability, while the inner layer provides additional comfort while running.
Designed for performance and comfort
In addition to Hyper Burst Ice™ technology, the GORUN RIDE 11 features the Hyper Arc® biomechanical system, which improves runners performance giving them a more dynamic racing style.
Arch Fit® insoles offer a total support and optimum stability in the race, distributing pressure throughout the foot.
The shoes also have a seamless polyester hypermesh, andExceptionally light, resistant and breathable.
the lasting Goodyear® high-performance sole, Manufactured with the same technology used by Goodyear tires, it provides stability and extraordinary grip on any type of surface.
Skechers: Innovation and global quality
Skechers is a world renowned company for its design, development and marketing of performance footwear, apparel and accessories.
Its commitment to technological innovation is reflected in each of its products, and the GORUN RIDE 11 are a clear example of this. His presence in more than 180 countries and territories endorses the confidence of athletes in the brand.
Experience the revolution in running shoes
The Skechers GORUN RIDE 11 are the result of years of innovation and development.
The incorporation of dual-density Hyper Burst Ice™ technology provides exceptional cushioning and enhanced performance, ideal for all types of runners.
Their careful design and the quality of their materials make them the perfect choice for those who seek to push their limits in each race.
More information in https://www.skechers.es/hombre/go-run-ride-11/246079_BLU.html