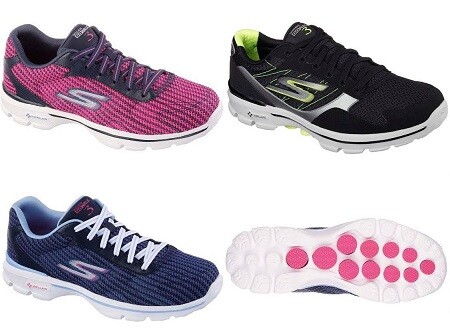 Innovation and technology are once again the keys in the third generation of the sneakers created for walking, Skechers GOwalk 3.
Experts Skechers they tell us about the benefits of this sport and of using specific sneakers like those offered by the brand, the world leader in walking shoes
Innovation and technology they are again the keys in the third generation of the shoes created to walk, Skechers GOwalk 3. Because the brand studies each model thoroughly and adapts it to the physical activity that is going to develop, the new line of walking has been born as technical footwear for this sport. And it is that walking has multiple benefits, and this is corroborated by the different experts of the brand.
The philosopher Nietzsche already said in his day "Do not trust an idea that has not appeared while walking", and that is that inspiration is one of the multiple benefits that is associated with the activity of walking.
"Walking we will improve breathing capacity, decrease cardiovascular risk, activate our metabolism and nervous system, promote venous return and control blood pressure naturally, so avoid the dreaded varicose veins, tired legs and retention of liquids ", explains Alberto Sacristán, expert doctor in Physical Activity and director of SportSalud.
It also "delays osteoporosis by improving bone mass, increases muscle mass and flexibility, strengthens joints, improves the body's defense capacity, intestinal digestion and transit, tolerance to glucose and lowers cholesterol", adds Concepción Vidales, a nutrition specialist and director of Nutrimedic, and creator of the Healthy Walks program, who advises that "to prepare for this specific physical activity you have to take a healthy snack such as fruit or nuts that provide energy."
Although from the psychological point of view, walking also has its advantages: "It increases endorphins and serotonin (substances responsible for well-being) and confidence and self-esteem, helps to" disconnect "from the stress of everyday life, to combat anxiety and depression, and keeps us in touch with nature and with more people with whom to share the sport and other experiences, "adds Dr. Vidales, who teaches Nutrition and Dietetics to medical students at the Francisco de Vitoria University.
In addition, if we compare it with other sports such as running, "the main benefit is the reduction of the impact on our joints, since it always remains one foot on the ground, which makes it suitable for people of any age and physical condition," underlines Soraya. Casla, specialist in Athletics and Dr. in Sciences of Physical Activity and Sports. This last one is precisely the most important reason why many are starting to walk, and not as a walk, but with energy. That is why many call it "power walking".
"It is not even a brisk walk, but walking with power, involving all the muscles of the body and at a pace that makes us break a sweat. Moving the arms in a rhythmic manner, contracting the abdomen, keeping the chest elevated and the body erect and with the tip of the foot always slightly elevated ", Cristina Mérida gives us the keys, personal trainer and director of Studio 39.
The main muscle groups are worked
According to Dr. Sacristan, "there are many scientific studies that to be effective we must get to walk 10 a thousand steps a day, which can be equivalent to walk more or less 1 hour. If we are not used to it, it is important to start little by little, with 15 min daily, after three weeks go up to 20 minutes and until 1 hour ". For this, there are already mobile applications that measure distances, steps, etc.
In this modality the main muscle groups are worked: legs, glutes, abdomen, back and arms. "The legs are toned without knees and ankles suffer, the abdomen always has to be slightly contracted, the back has to stand erect, without leaning forward so that it does not overload the lower back, nor backwards so that they do not the hips; and the head has to stand erect, facing forward, so as not to overload the cervical spine; and the arms are worked, when moving them in a rhythmic way with the legs, so that we give mobility to the shoulder joint, but it is important that we do not raise them too much, "advises Cristina Mérida.
A physical activity that provides endurance or cardiovascular work, and that Dr. Casla recommends combining "two days a week with toning or strength exercises with self-loads or low resistances such as gums. This allows us to improve muscle mass and increase strength, as well as prevent injuries or muscular problems ".
To do this, we must choose a good "lightweight" sports shoes that provide greater sensations in the tread and a greater degree of naturalness in our biomechanics; adequate cushioning, to prevent injuries; comfort and adaptability to the foot, looking for no areas to rub, with some reinforcements, "advises Dr. Casla.
Innovation, cushioning and comfort
Skechers GOwalk 3 combines Resalyte cushioning with the latest innovative technology in comfort with the insole, inspired by yoga mats. The Go Pillars pillars TM adapted in the sole under the foot offer the softest footprint. And its lightness and upper mesh seamless and reinforced instep and heel, comfort. Because innovation was never felt so much:
Memory TM Form Fit of the heel and the instep creates an incredible hold that embraces your feet providing maximum comfort.
Goga Mat TM Technology The most revolutionary and new template provides high cushioning with an amazing response.
FitKnit TM Upper. Ultralight and highly breathable upper, offering a feeling of comfort and unique support.
Go Pillars TM. Pillars with rebound technology that feel at every step, providing the ultimate in comfort.
Many people have already made the slogan "The one who moves the legs moves the heart" and do it with Skechers GOwalk 3, shoes created exclusively for this physical activity.