TOP 5 Best swimming goggles of 2022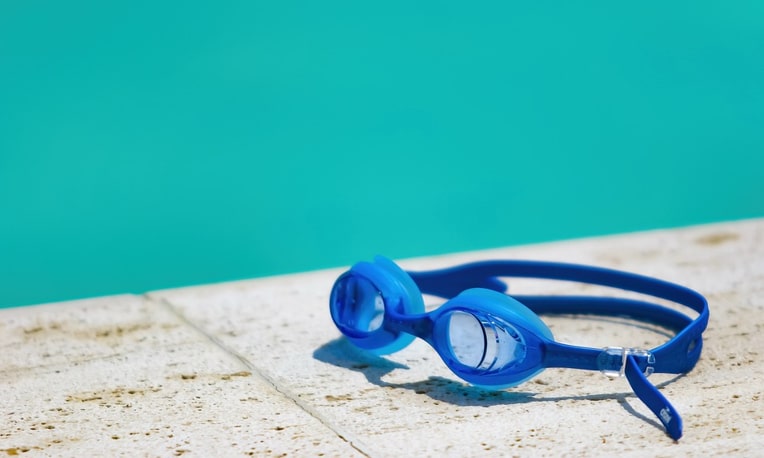 choose some glasses swimming of our TOP 5 of the best swimming goggles of 2022.
It will allow you to compare value for money, will make it easier to select the appropriate model, and will also help to check additional values.
Guide to buy swimming goggles
The glasses must be selected personally, not all of them are destined for us, due to the different shape of the head that each athlete has. They require a good fit, which is made possible by the plastic elements mounted on the strap (in the center or right next to the glass).
The manufacturers of some models of glasses, add additional settings of different widths for even more customization options.
You have to take into account the following concepts.
Air tightness: is a key issue that glasses are airtight and that water does not enter under the lenses.
Adjustment- Best possible fit to our face and therefore fit on the strap and replaceable nose pads.
Purpose: we need to know under what conditions we will use our glasses. Performance swimming, diving, or using them in open water.
Price range: For many, this is a key issue. It pays to invest in a good quality product, not necessarily a top product, but paying attention to details and materials used in production.
TOP 5 What swimming goggles should I buy?
The good and cheap models that exist in the market they can also do their job well. However, they are the best swimming goggles those that provide above-average comfort and total stability.
Of course, the specific product selection must reflect the expectations of the customer. You can choose one of several types, that is:
Low: with a pleasant and flexible shell that does not compress and does not cause irritation. Useful for occasional swimmers.
medium hard: Provides a wider viewing angle through a certain degree of compression.
hard: are intended for professionals. Thanks to them, you can get more speed.
That's how one should be good swimming goggle
Arena The One Swimming Goggles
16 New From 8,95 €
9 Used From 12,28 €
free shipping
Features
Comfortable swimming goggles for training with universal fit and soft seal.
Hard lenses with UV protection and anti-fog film.
Self-adjusting nose bridge, split strap, PVC-free
Also suitable for triathlon and open water
50% polycarbonate, 30% thermoplastic rubber, 20% silicone
When considering what glasses of swimming to choose, it is worth taking a look at the model The One of the Arena brand.
Is a model Orbit Proof: curved lenses made of durable polycarbonate, a liquid silicone mask, built-in UV filter. Provides a wide range of vision underwater in all directions.
Arena Zoom X-Fit Goggles
5 New From 9,89 €
free shipping
Features
Sand hard material
Swimming goggles Swimming Unisex Adult
High quality
They have protection against: chlorine, sand particles or harmful UV radiation. you're hot Swimming goggles they will become the necessary equipment, they also have a coating to prevent fogging.
This is especially important underwater, because visibility also means safety.
Its main advantages include, for example: soft and flexible silicone gaskets, perfect fit, hydrodynamic shape of the glasses, as well as a wide range of protection.
Speedo Futura Biofuse Flexiseal Goggles
4 New From 18,85 €
1 Used From 16,24 €
free shipping
Features
Soft yet effective edges offer the softest, most cushioned fit.
Edges move with your body for excellent performance and comfort.
Exclusively designed with Speedo's Biofuse technology, which offers a comfortable and cushioned fit.
Every face is unique, so the flexible frame adapts to you, not the other way around.
Don't miss a thing with the wide range lenses.
When considering what glasses swimwear should be recommended, you should also buy Speedo Futura Biofuse.
Potential users will appreciate, among others: a UV filter, an excellent field of vision even under water, an anti-fog coating or a thermoplastic elastomer gasket.
It is important to note that glasses they are resistant to accidental mechanical damage, including scratches and cracks.
Vetoky swimming goggles
1 New From 12,99 €
1 Used From 8,97 €
free shipping
Features
Anti-fog: The crystals have anti-fog property so you will not need the anti-fog spray for swimming goggles, they are also protected against falls or scratches and with a rigid frame with details that enhance it in terms of design
UV Protection: UV resistance coated lenses can block glare, protecting your eyes
No Leakage: The most comfortable environmentally friendly silicone waterproof eye protection, according to 3D ergonomic design, super comfortable comfortable eyes, silicone double sealed ring, the perfect solution to the inner orbital problem of water
High Definition: Wear resistance HD polycarbonate lens provides clearer vision
Warranty: The unconditional, 6-month warranty ensures long-term enjoyment of your purchase. Contact us with any questions or concerns - VETOKY's 24-hour friendly customer service
When analyzing what swimming goggles to buy, it is worth trying the model of VETOKY. It has specific functional advantages that affect service life and ease of use.
For example, it is intended for children from the age of three and adults, interchangeable settings in the set, interesting colors or a form of comprehensive protection.
Protection against: chlorinated and salt water, UV radiation or contact with certain substances. It has an adjustable silicone strap that makes it fit faster to the profile of the face.
Arena Tracks Mirror Goggles
2 New From 16,95 €
free shipping
Features
Double silicone strap and RFA adjustment system
Mirror coated lenses
Complete protection against UV rays.
3 interchangeable nose bridges
Comfortable silicone seal
Best glasses swimming for a large group of swimmers are the Arena Tracks Mirror model.
Users appreciate the perfect wearing comfort during swimming, adherence to the face regardless of gender, glasses will be adapted to the user's profile.
The main advantages include: a rational quality-price ratio, a variety of colors, it has a UV filter that protects against the harmful effects of this radiation.
Advantages of buying swimming goggles
The best swimming goggles They guarantee perfect comfort and optimal visibility both above and below the surface of the water.
The swimming goggles are a must to avoid irritation with chlorinated water and red eyes after each visit to the pool. If we choose the goggles well, the comfort of swimming will be much greater, and at the same time we will take care of our eyesight.
Why is it worth equipping yourself with swimming goggles?
Basically, some good swimming goggles They offer a number of benefits to the user. We can mention, among others:
Perfect fit to face spacing.
Total hermeticity.
Materials resistant to possible damage or deformation.
Protection against conjunctivitis or irritation by chlorine.
Perfect visibility even with a visual impairment.
The last aspect definitely makes it easier for the visually impaired. They don't have to skip swimming lessons or their favorite activity. For security reasons, simply select the corrective version of the product.
This will be the best swimming goggles. Remember that the water in a river, lake, beach or swimming pool is never perfectly clean. The eyes, on the other hand, can be extremely sensitive to contact with certain microscopic substances.