Jonathan Bronwlee wins again in the Gold Coast World Series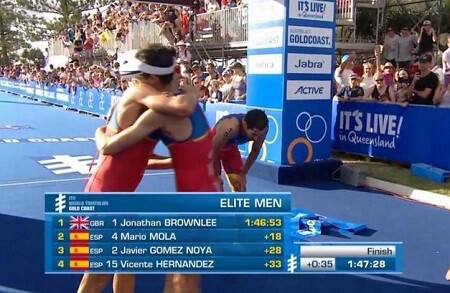 Great performance of the Spaniards who have achieved 4 positions in the TOP 10 of the test.
Mario Mola it has been second, Javier Gómez Noya third, Vicente Hernández fourth and Fernando Alarza seventh
The British Jonathan Brownlee He has demonstrated his great state of form getting the victory in the third round of the world series
Brownlee has dominated the test from the beginning, coming out in swimming with an advantage over the Spanish. On the bike, a leading group was formed with Brownlee, Richard Varga and Dimitry Poliansky reaching T2 with 21 seconds ahead of the group of Noya, Mola and Alarza.
Already in foot race, the British printed a great race pace putting leader from the beginning and managing the advantage to get his second consecutive victory with a time of 01: 46: 52.
From behind Mario Mola pulled the group of Gómez Noya and Vicente Hernández, until finally the Mallorcan distanced himself entering the goal with a time of (01:47:11) followed in third position by Javier Gómez Noya (01:47:21) and Vicente Hernández (01:47:26) fourth.
Fernando Alarza (01:48:18) completed a great race getting the seventh place entering the finish line with a 1:25 disadvantage compared to the English.
Francesc Godoy and Jesús Gomar did not complete the test
| | | | |
| --- | --- | --- | --- |
| Pos | First Name | Last Name | Time |
| 1 | | | 1:46:53 |
| 2 | | | 1:47:11 |
| 3 | | | 1:47:21 |
| 4 | | | 1:47:26 |
| 5 | | | 1:47:45 |
| 6 | | | 1:47:55 |
| 7 | | | 1:48:18 |
| 8 | | | 1:48:19 |
| 9 | | | 1:48:23 |
| 10 | | | 1:48:30 |