Triathlon News
1.100 triathletes will participate in Challenge Madrid 2019
A total of 1100 triathletes will participate next Sunday in one of the most important 10 events in the world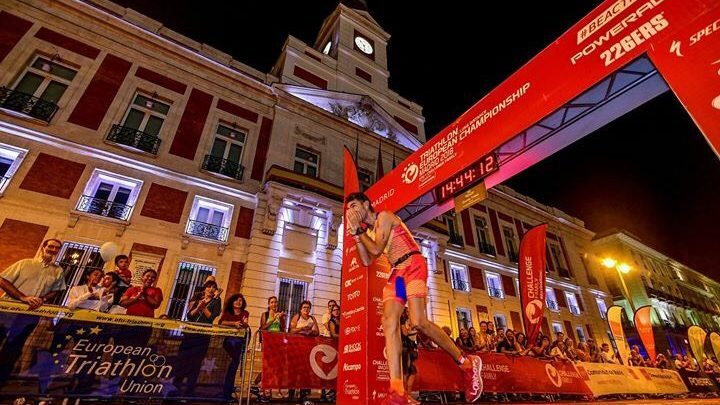 Next Sunday, September 22, the 4th edition of the Challenge MADRID , one of the most important international triathlon events on the calendar.
The test will have a total of 1100 participants who must cover the distance LONG 226km (3.8km swimming, 180km by bike and 42.2km running), and MIDDLE 113km (1.9km swimming, 90km by bike and 21.1km running).
Departure on Sunday at 7: 45
The triathlon will kick off on Sunday at 07:45 in the San Juan reservoir (Pelayos de la Presa). The arrival of the first runner is expected around 16:30 at the finish that will be located at Puerta del Sol - km0 in Madrid.
Highlight that the Challenge Madrid not only distributes € 40.000 in prizesit is also a test World Cup qualifier (The Championship) to be held in Samorin, Slovakia, next May 2020.
International consolidation
Madrid consolidates its international prestige with a spectacular team of triathletes from all over the world Among those that stand out 30 professional triathletes that will take the start in the PRO category.
Among the most prominent names in the male category stand out Pablo Dapena (ESP), which repeats in Madrid for the second consecutive year, as well as Tymothy Van Houten, winner in the 2017 and 2018 edition, and the last minute incorporation of Víctor Del Corral.
In the female category, the favorites that this year will take the start are Lisa Roberts, Elisabetta Curridori, Verena Walter y Mirian Van Reijen.
Faster and safer circuit
It will be possible thanks to the joint work between Challenge Madrid and more than 1.000 people who collaborate with the organization.
Civil Guard, Local Police of all municipalities, 20 Civil Protection Groups, VOST, SUMMA 112, SAMMUR, Salvage and Lifeguard, and of course the invaluable help of the more than 500 volunteers who will be at all points of the test.
Sponsors
The Challenge Madrid organization wants to thank once again the indispensable collaboration of Coca-Cola, Crédito y Caución, 226ERS, Totto, Cupra, Specialized, David Toro Watches, Fixme, Chula Craft Beer, Diario AS, Campofrio, Alcampo, OK Rent a Car, Calidalia, Taymory, Red Bull, Shock Absorber, Manolo Bakes, Sockers, Zone3, Triatlon World, Sport No Limit Travel, Optima Quiropráctico, Podoactiva, Game Ready, XR Motos, Arrueda, Reebok Sports Club, DOC, Atrys, Asomafrut, Community of Madrid, Madrid City Council, San Martín de Valdeiglesias City Council, Pozuelo de Alarcón City Council, Madrid Federation of Rescue and Relief, Spain Volunteer Platform, ONCE Foundation Volunteer, Down Madrid, Gil Gayarre Foundation, Don Bosco, Talisman, Madrid Volunteer, Youth Tour, Las Rozas Triathlon, Enphorma Triathlon, Pozuelo Los Tigres Triathlon, Gestrion, Tricrazy, Tri Sin Fronteras and Majadahonda Cycling Club. Thank you very much for making it possible!